"If Nigeria Good Wetin I Dey Find For Germany?" – Man Breaks Down In Tears Following Tinubu's Announcement As President-Elect (Video)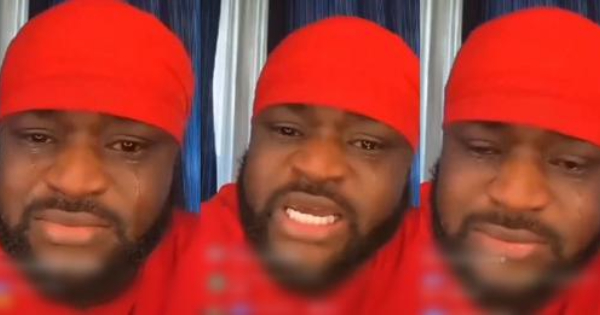 A Nigerian man living in Germany has broken down in tears after Bola Ahmed Tinubu of the All Progressive Congress (APC) was declared the winner of the 2023 presidential election.
In the trending video, the young man can be seen crying profusely as he asks if Nigerians aren't tired.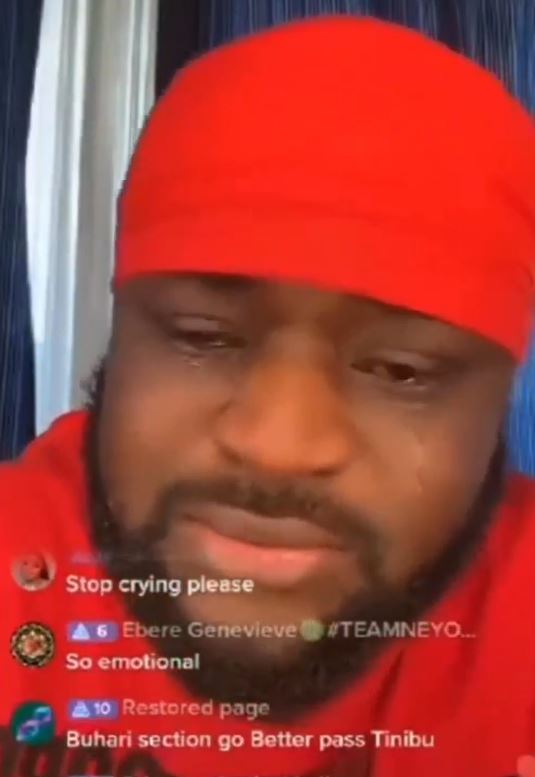 He noted that if the situation in Nigeria was good, he would not be in Germany looking for greener pastures.
"If Nigeria good wetin I dey find for Germany?", he said amid tears.
Watch the video he shared video
Meanwhile, President Muhammadu Buhari has congratulated the winner of this year's presidential election, the All Progressives Congress (APC) candidate, Asiwaju Bola Ahmed Tinubu.
What President Muhammadu Buhari Said About Election Results
Responding to the presidential election results announced this morning by the Chairman of the Independent National Electoral Commission (INEC), Prof Mahmoud Yakubu, President Buhari said: "I congratulate His Excellency Bola Ahmed Tinubu on his victory. Elected by the people, he is the best person for the job. I shall now work with him and his team to ensure an orderly handover of power."
"The election was Africa's largest democratic exercise. In a region that has undergone backsliding and military coups in recent years, this election demonstrates democracy's continued relevance and capability to deliver for the people it serves.
What President Muhammadu Buhari Said About Democracy's Ripening
The President urged that the results revealed Democracy's Ripening in Nigeria as the electoral map has changed drastically.
"Within Nigeria, the results reveal democracy's ripening in our country. Never has the electoral map shifted so drastically in one cycle. In the presidential elections, states in all regions across the nation changed colour. Some amongst you may have noticed my home state amongst them.

"The winning candidate did not carry his own home state either. That happens during a competitive election. Votes and those that cast them cannot be taken for granted. Each must be earned. Competition is good for our democracy. There is no doubt the people's decision has been rendered in the results we look at today".
What President Muhammadu Buhari Said About Election Faults
In his statement, Buhari noted that the exercise also had its shortcomings, citing technical problems with the electronic transmission of the results.
"That is not to say the exercise was without fault. For instance, there were technical problems with the electronic transmission of the results. Of course, there will be areas that need work to bring further transparency and credibility to the voting procedure.

"However, none of the issues registered represent a challenge to the freeness and fairness of the elections".

"I know some politicians and candidates may not agree with this view. That too is fine. If any candidate believes they can prove the fraud they claim is committed against them, then bring forward the evidence. If they cannot, then we must conclude that the election was indeed the people's will – no matter how hard that may be for the losers to accept. If they feel the need to challenge, please take it to the courts, not to the streets.

"However, to do the latter means they are not doing it in the interest of the people, but rather to inflame, to put people in harm's way and all for personal, selfish gains.
The President added that after a degree of polarization that necessarily accompanies any election, it is now time to come together and act responsibly. I call on all candidates to remember the peace pledge they signed just days before the election. Do not undermine the credibility of INEC. Let us now move forward as one. The people have spoken.
Man Sends Wife To School After She Worked As Cleaner To Send Him To Canada To Study [Video]
A man living abroad has sparked backlash on social media after revealing his wife worked as a cleaner to finance his studies in Canada.
In a video reel that has gained popularity on the video-sharing app, TikTok, the man shared his growth and wonderful story.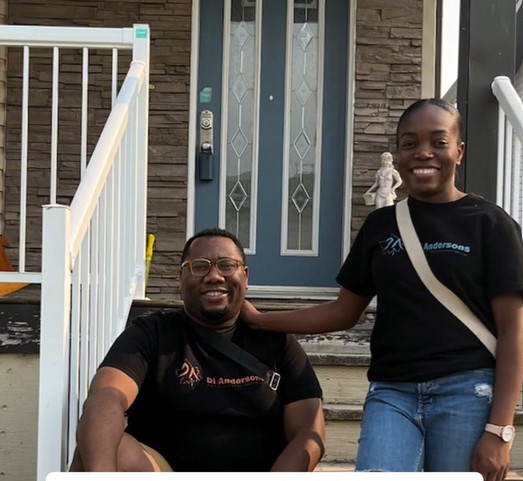 He revealed that his wife had a demanding job as a bathroom cleaner and used the money she earned to pay for his education.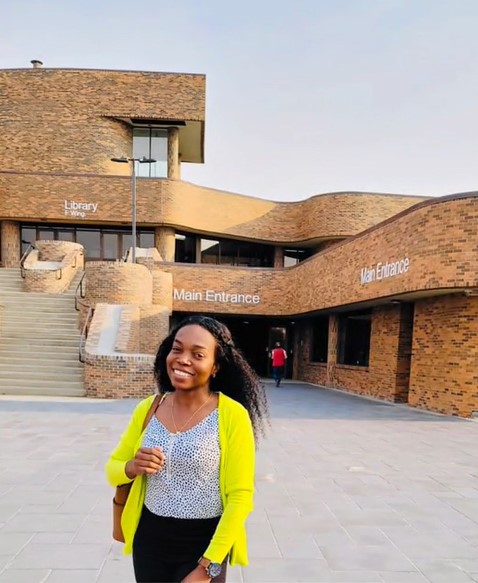 The man returned the favor by sending her back so she could finish her studies.
Captioning the video, he wrote,
"When your wife cleaned the bathroom to send you to school in Canada. You then become a bank manager and send her to school."
Watch the video below,
Housekeeper Job Openings In Canada Apply Now!
"I Can't Calm Down" — Garri Lady Davido Gave N2M Sheds Tears As Someone Gifts Her Brand New iPhone 14 Pro Max (Video)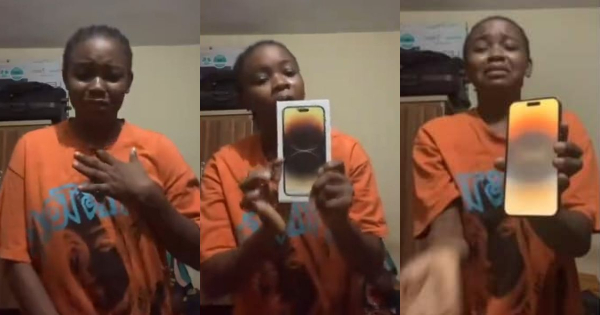 Okoli Chinonye, ​​the viral young lady whom the DMW Boss, Davido, recently gave N2 million, has been surprised with an iPhone 14 Pro Max.
Days after Davido gifted her 2 million naira over her viral Garri drinking video, Okoli Chinonye is now the proud owner of an iPhone 14 Pro Max smartphone. An excited Chinonye took to her TikTok account to share this wonderful development.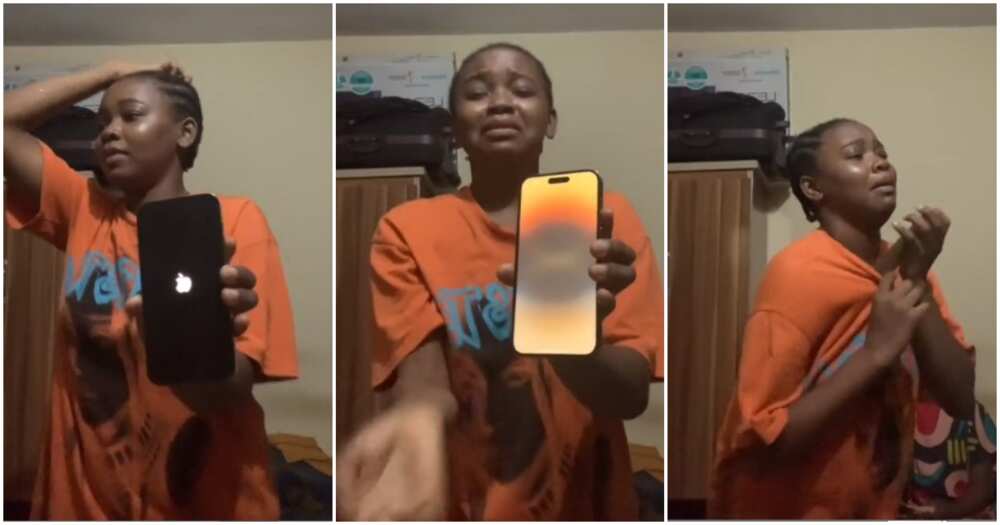 The young woman burst into tears and struggled to contain her joyful emotion as she unwrapped the new phone in front of the camera. She expressed her shock at the phone gift and thanked her patron and influencer, Tunde Ednut for sharing her video.
Chinonye pleaded with social media users to help her thank whoever gave her the phone. "All I can say is God is not done with me, it's just getting started and I'm ready for it," She Wrote On TikTok.
Watch the video she shared below:
Designer Of Nigeria's Flag, Pa Taiwo Akinkunmi Dies At 87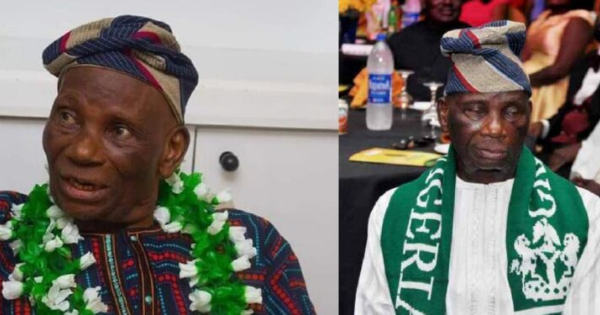 Nigerian civil servant and the designer of the National flag, Pa Michael Taiwo Akinkunmi has died at the age of eighty-seven (87).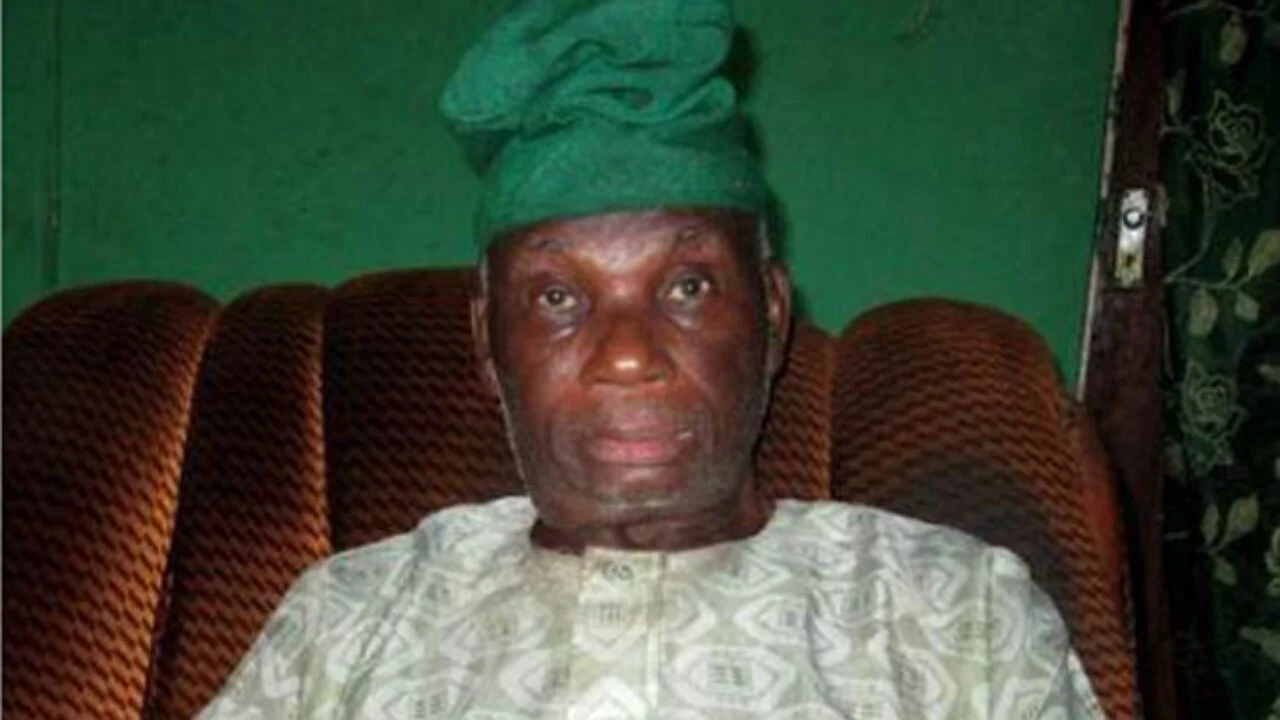 According to his family, Pa Michael Taiwo Akinkunmi died in the early hours of Tuesday, August 29th, following a brief illness.
One of his children announced his tragic death on Facebook.
"Life is indeed transient; I can say boldly that you live a life with a landmark. Continue to rest, my father! Pa Michael Taiwo Akinkunmi (O.F.R.): Great Man has gone."
The late Pa Michael Taiwo Akinwunmi, born on May 10th, 1936, had his primary education at Baptist Day Secondary School, Ibadan, and his secondary education at Ibadan Grammar School. He started his career as a civil servant at the Ibadan Secretariat and then went abroad to the Norwegian Technical College to study agricultural engineering.
While living abroad in 1958, Akinkunmi came across an article in a national newspaper requesting for ideas for the Nigerian flag in light of the country's impending independence from British rule. His application was selected as the best among approximately 2,000 others.
A red sun with flowing rays was placed on the white band of the initial flag design, which was bordered by two green bands. The oversight committee ultimately left the sun to create the current design.
The ingenuity and subtlety of Akinkunmi's design were key factors in his choice (the white band symbolizes peace, while the green bands reflect the country's immense natural resources and forests). On Independence Day (October 1, 1960), the American flag was raised in place of the British Union Jack.
When Akinkunmi's project was chosen, the government gave him 100 pounds. Additionally, President Goodluck Jonathan awarded him the MON (Member of the Order of the Niger) award.