Mixed Reactions As Video Of 21-Year-Old Couple At Their Wedding Trends (Watch)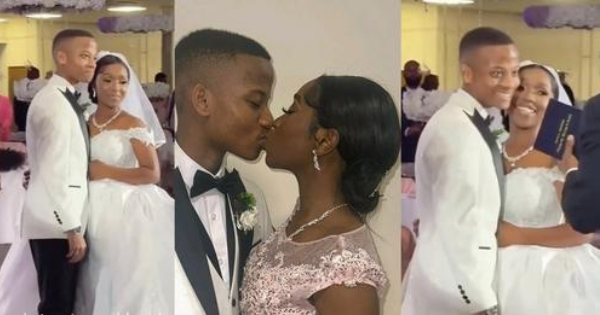 A trending video of a couple who just got married at 21 has drawn mixed reactions among social media users on the internet.
In the video from the wedding, which was posted online, the couple could be seen looking elegant in their wedding attire as they posed for the camera while surrounded by their loved ones who had come to celebrate with them.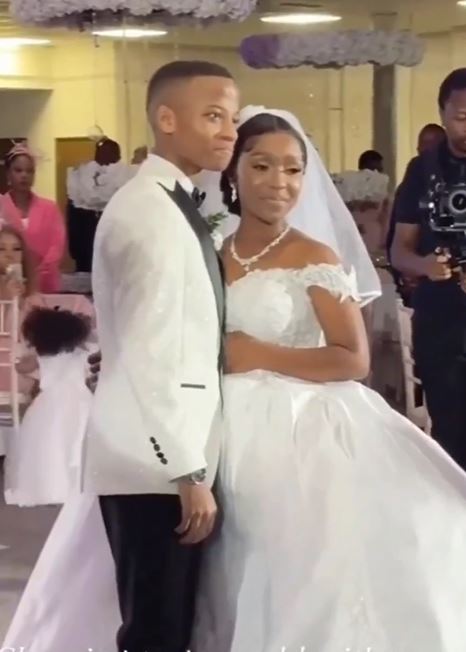 The Bride, @meethencubes shared the video and expressed her excitement to be settling down quite early with her boyfriend.
She noted that deciding to get married at age 21 might have been a big decision, but they made it happen with God.
"Choosing to grow old with your best friend at 21 years old. We made it with God. Married at 21", she captioned the video.
However, the video has received mixed reactions from social media users. While some thought it was a good thing that the couple are venturing into marriage at a young age, others argue they're still too young.
An Instagram user @Geena wrote: "As long as they have jobs and earn, Big Congrats to them 
".
@Floral wrote: "If you say the bride is 21, it's okay but for the groom
 that dude is not up to 18 from his look."
Another user added,
"So beautiful to watch, my brother married at such an age too. Once they have a good support system financially, they will be fine. Maybe the boy is the only son or surviving son of his parents, they will want him to marry early especially if the girlfriend got pregnant. May God bless their union
".
Watch the video below,
Nigerians React To Video Of Lady Who Shared What The Minimum Wage Per Hour In The UK Will Get You (Video)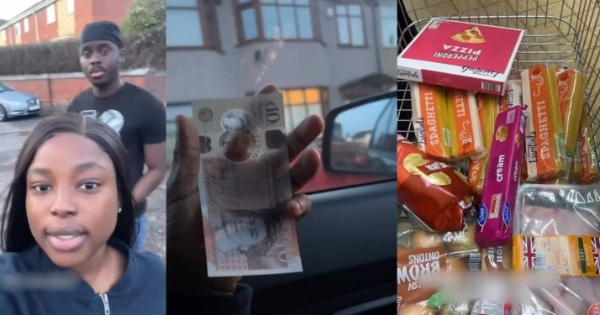 Nigerians have caused a stir after a woman living in the UK shared a video showing what an hourly minimum wage earns her in the supermarket.
The lady first revealed that the minimum hourly wage in the UK is £10, which is equivalent to N14,000 or N15,000 in Nigeria.
She then went to a store to start shopping. She selected several foods including spaghetti, onions, chicken, etc., and then went to the checkout.
After completing the purchase, she realized that she had not used the entire £10, leaving her with just five pence left.
After the video was shared by @the.pretty.oreo on Instagram, different reactions followed with the majority being surprised at the amount of products she purchased with that amount.
Below are some of the reactions;
@bolbelle wrote:  This video will trigger so many Nigerians
@anthonumeh wrote: Oya now I have decided where I am going
@meetemmanueljacob wrote:  10 pounds well spent! No "P" at all.
@generallado wrote:  E reach our turn to be adults, everything kon hard like this
@thefunke.og wrote:  Don't come to the UK" "Abroad is a struggle, Nigeria is better " If you don't geddifok
@kayoflagos wrote:  If you carry 14,500 enter Nigerian supermarket, nothing concern you with trolley.
@bright__r wrote: In this current economy, You can't even get those items with nothing less than 30k
Watch the video below,
Watch As Two Uniformed Police Officers Publicly Exchange Blows (Video)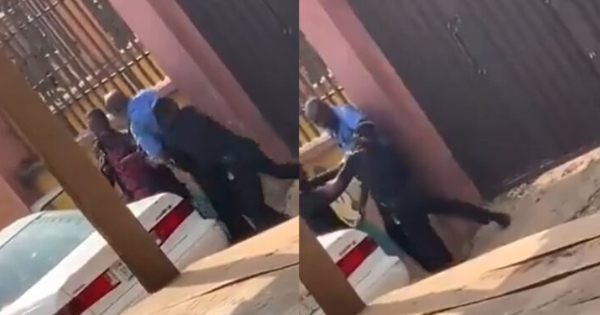 Police Officers Video
Two uniformed Nigerian police officers were captured on video exchanging blows over an unknown matter in public.
In a video that went viral on social media, the men were seen punching and pulling each other as they got out of a patrol car.
They all returned to the car when the argument became so serious that one of their colleagues had to intervene and separate them.
The Gombe Police Public Relations Officer, Maheed Muazu condemned the behavior of the security personnel, writing: "Bad behavior; "This cannot be tolerated."
The trending video sparked reactions from social media users who found the act very unprofessional and undisciplined.
@ChibuzoUdolisa wrote; "So unprofessional, and the one who waded into them with an assault rifle in his hand. He never thought a provoked enough one could have snatched the rifle from him and do regrettable things with it."
@GbemigaOgunwale commented; "That's called anger venting. That journey is more important 
"
@alexandaevergr1 wrote; E be like say dem no share the 
equally And query to this cameraman for shaking his hand during recording
@Imarahoo wrote; "@PoliceNG members of the force fighting with their uniform on should be immediately dismissed. The force has failed to uphold discipline for too long. The effect of that is destroying the possibilities of seeing an effective policing system."
Watch the video below:
"My Wife And I Walked Out Of This Scene Without A Broken Bone" – Nigerian Man Shares How He And His Wife Survived A Ghastly Car Accident (Video)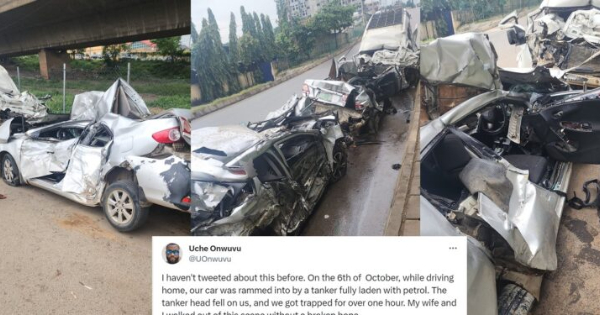 A Nigerian man who identifies himself as @UOnwuvu has taken to his social media page to narrate how he and his wife escaped a horrific car accident.
The young man shared this on the microblogging platform X and included photos and videos of the impact of the accident on their car.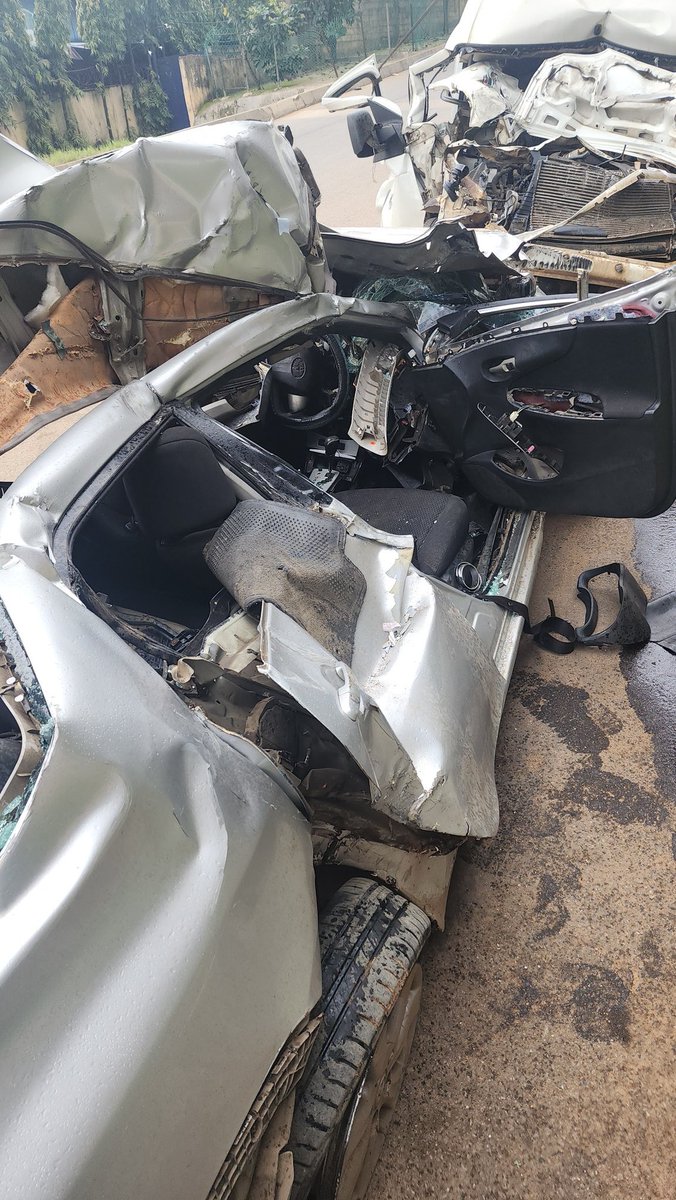 According to him, a tanker's head fell on their car as they were returning home from an unknown location on October 6, 2023.
He further stated that he and his wife were trapped in the car for more than an hour but emerged from the scene with no broken bones.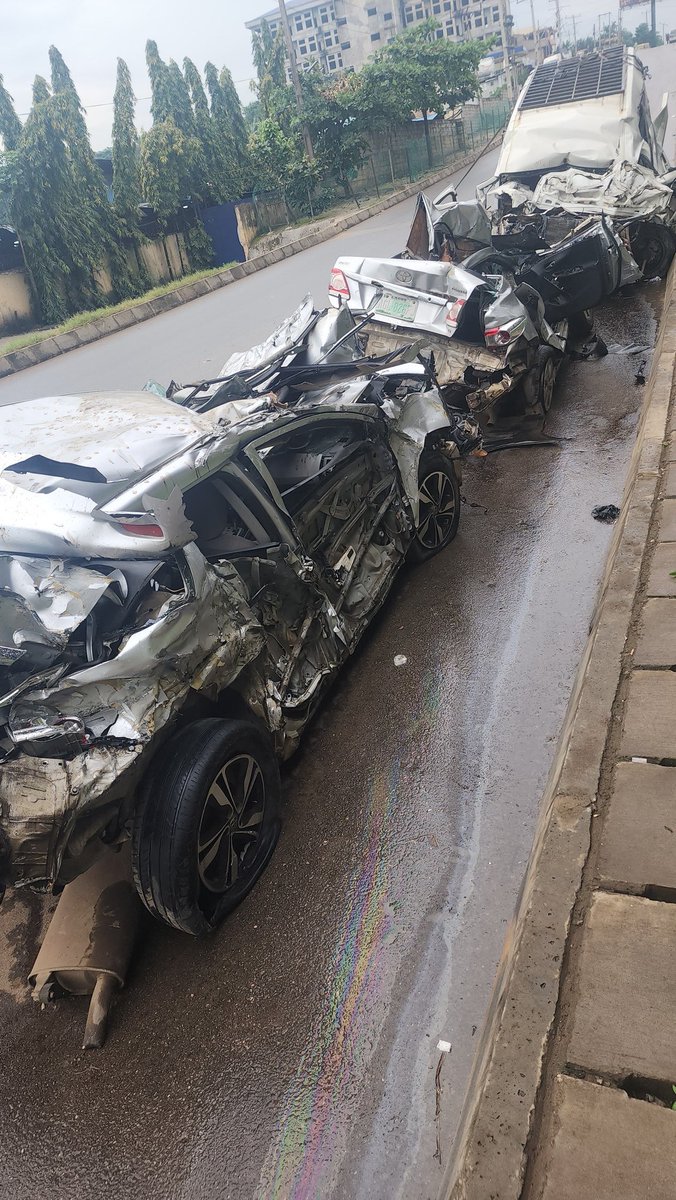 Sharing the testimony, he wrote;
"I haven't tweeted about this before. On the 6th of October, while driving home, our car was rammed into by a tanker fully laden with petrol. The tanker head fell on us, and we got trapped for over one hour. My wife and I walked out of this scene without a broken bone. I am a believer of Christ, and I have heard of miracles before. Now, I am a living miracle. If someone is in doubt of what God can do, show them these photos. For context, that's a Totoya Corolla, I am 6'3 and my wife is 5'10. We were rescued without a broken bone."
See tweets below;
Watch the video he shared below;