"It Was Bants, I've Never Had An Abortion" – BBNaija Star Phyna Makes U-Turn (Audio)
Big Brother Naija Season 7 winner, Phyna, has refuted her original claim of having terminated two pregnancies in the past.
Just recently, the Big Brother Naija Season 7 winner got the internet buzzing after revealing she had two abortions, aged 19 and 24 respectively.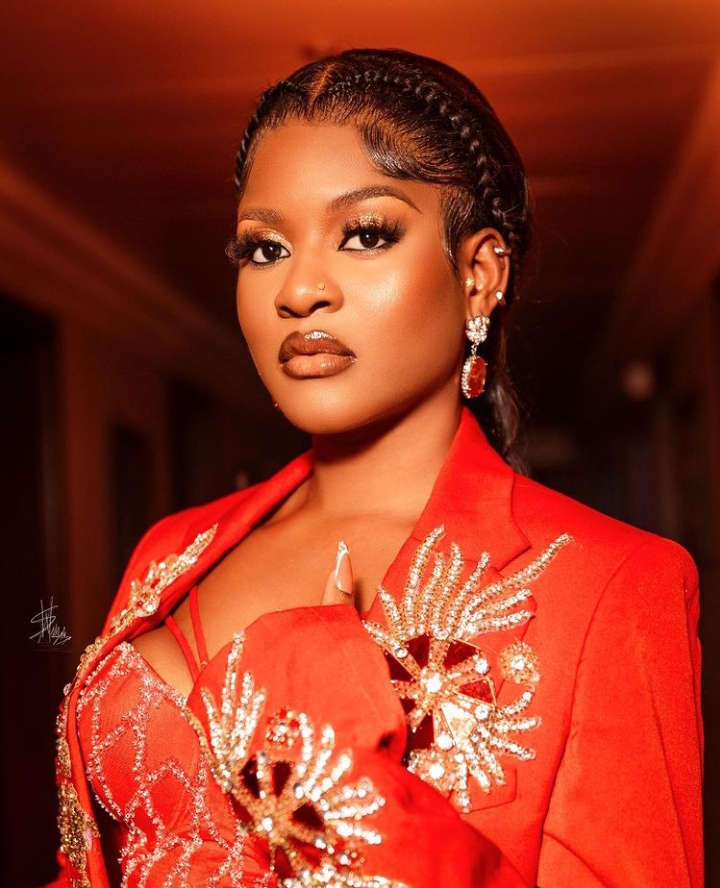 In an interview with Punch, she explained the reason behind her decision to terminate the pregnancies, saying she terminated her first pregnancy when she was 19 because she was too young and couldn't tell her parents about it.
She added that she terminated the second pregnancy at 24 because she didn't want to have children with her then-boyfriend because he was physically abusive and toxic.
"As for my reasons for taking abortion pills, if there are 100 women in Nigeria today, 98 have done abortions. So, no one should judge me. I was in a 12-year relationship then and I was so young. The first abortion was when I was 19; I couldn't go home to tell my parents that I was pregnant at that age. And the two pregnancies were so early like two to three weeks that I could just use tablets." She said in part.
However, following the backlash that followed the revelation, Phyna has now debunked her original claim of having had two abortions.
In an interview with Nollywood actor, Uche Maduagwu, she explained that the whole abortion drama started as a simple joke after a troll made an unflattering remark about her on Twitter.
Listen to the audio below,
#BBNaijaAllStars: "Don't Play Games With Me" – Whitemoney Goes Off On Ilebaye As She Accuses Him Of Being Disrespectful (Video)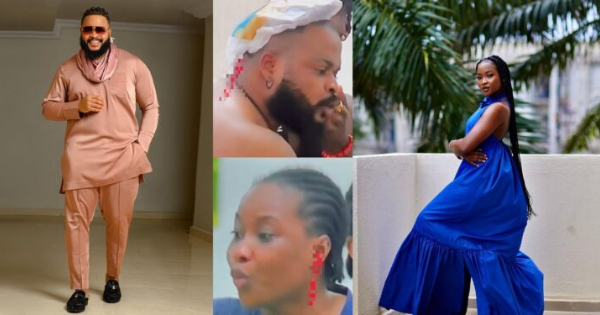 Big Brother Naija All Stars housemate, Ilebaye caused a ruckus in the house when she got into an argument with her fellow housemate, Whitemoney, because he denied her the use of musical instruments.
Ilebaye, who was playing the piano and reportedly trying to compose a song for their wager, was offended when Whitemoney asked her to turn down the volume because it was late after a night of partying and some housemates were already in bed.
This didn't sit well with Ilebaye, who claimed that she wasn't allowed to use the musical instruments for their group wager task just because Whitemoney is older than her.
She went on to say that Whitemoney wouldn't have tried to turn down the volume if it had been someone else.
Whitemoney reacted angrily and accused her of using this as a strategy, but warned her not to try it with him.
However, many social media users have flocked to the comments section of the post to voice their opinions on Ilebaye's outburst and her alleged tactics.
Read some comments as you scroll,
@iam_karl3x wrote: "Illebaye is playing a very manipulative game cajoling viewers with her tears for issues that were so basic. She can't win that money people are clocking her pity card game."
@tiwani___wrote: "This girl nah confirm Ogbanje go look for trouble, come Dey shed nonsense tears, and overnight fanbase won't let us talk."
@gracefully_scribed wrote: "While they were enjoying a pool party, he was busy working on this and she wanted to come spoil am at the last minute."
@zaddies1 wrote: "Watch people blem Whitemoney forget that this wager has everyone department, leave musician to do theirs and skit acting to do theirs, which category are you."
@dupcy_minaj wrote: "Despite the fact that Whitemoney was not even shouting at her, he was talking to her politely and now her fans will say na alcohol. God go help Una since Ceec is not there make I no get bp."
Watch the videos below.
Alex And Ike Get Into A Physical Fight In The Pool (Video)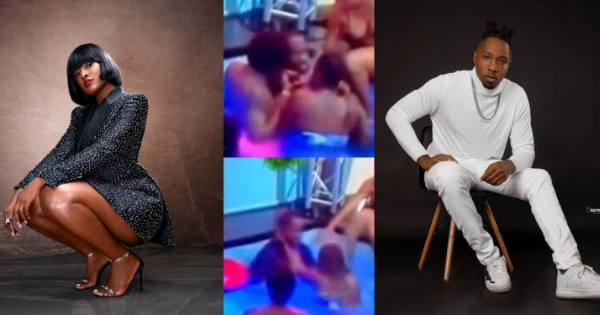 Big Brother Naija stars, Alex Asogwa and Ike Onyema, were captured on Thursday night throwing hands during the swimming pool party.
The housemates left for their swimming pool party in the garden after the arena games and were having fun before the camera played against Alex and Ike in the water.
They two (Alex Asogwa and Ike Onyema) were captured to be fighting, but many of the other housemates were unaware of the reason.
After the pool party, Alex was heard explaining that she had become aggressive towards Ike because he pushed her into the water and was about to drown. She added that she had to react because her breasts came out when she was squeezed.
Later we saw Ike and Alex talking about their problems under the covers.
It is currently unclear whether the fight would be viewed as a prank by Big Brother or a serious altercation that should be punished.
Watch the video below.
#BBNaijaAllStars: "Tox!city Won't Win This Season" – Mercy Eke Reacts To CeeC's Face-Off With Pere (Video)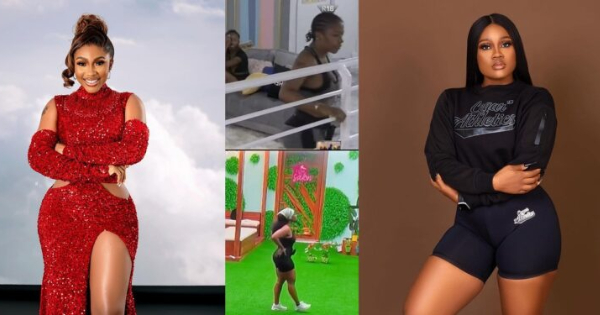 Big Brother Naija All Stars housemate, Mercy Eke, has shared her thoughts on the clash between CeeC and another housemate, Pere.
The disagreement between both housemates (CeeC and Pere) arose due to her absence at a general meeting for their weekly wager task.
Ike had gone to inform CeeC that the housemates were not happy with her decision to snub the meeting and shared some of the things the housemates had said about her.
This made CeeC angry, and she wondered why they singled her out when Angel, Alex, and Mercy were also absent from the meeting.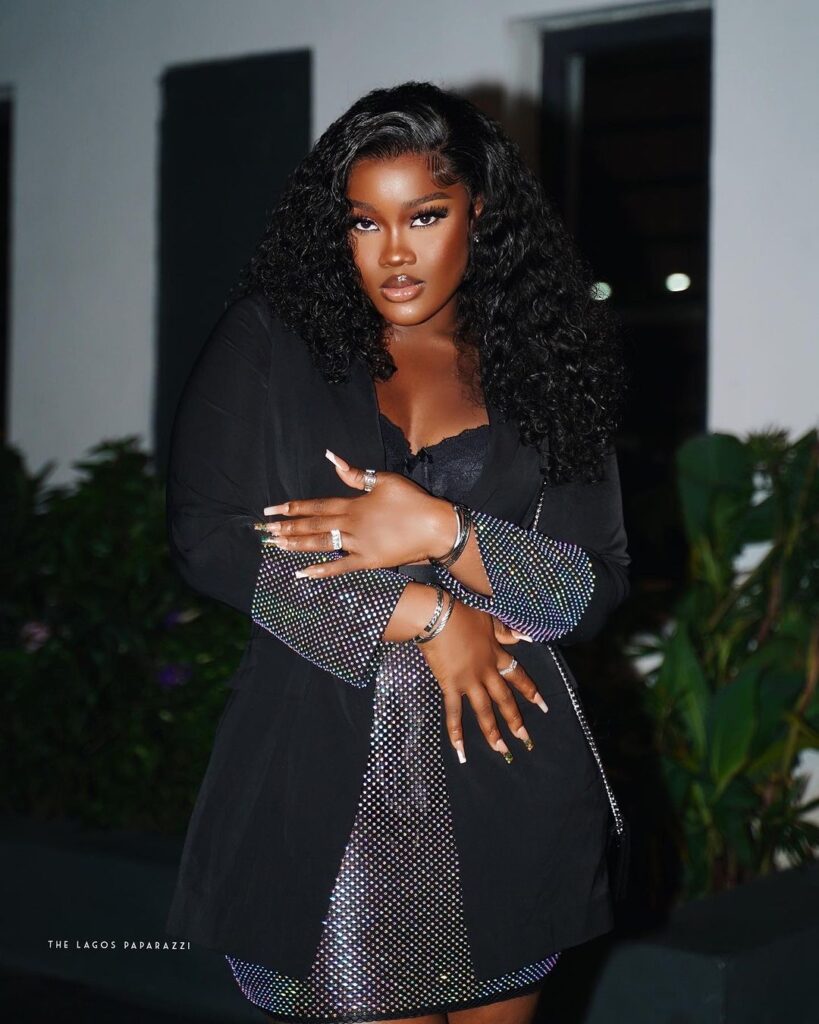 She specifically attacked Pere, who Ike had said was complaining about her refusal to show up for the meeting. This escalated into a serious confrontation, with CeeC hurling insults at Pere and calling him names.
At one point, Pere stated that he is not Tobi Bakre, CeeC's romantic interest in the "Double Wahala" edition of the show, with whom she fought fiercely during their season in 2018.
This obviously sparked her anger and she lashed out at Pere, claiming he had been in her DMs since 2018, begging for her attention.
Minutes after their clash, Mercy Eke expressed her opinion and claimed that CeeC was just trying to create problems and unnecessary toxicity.
She said,
"They say they don't want to do chores so it can cause issues. They pick on it and shout, then create toxicity. Toxicity will not win this season, it's scratching them to be angry, to be mad and fight the whole universe. It's not going to work this All Stars."
Watch the video below.