BBTitans: "Don't Touch It, I'm Reserving It For My Girlfriend" – Marvin Warns Blue Aiva Against Touching Him Inappropriately (Watch)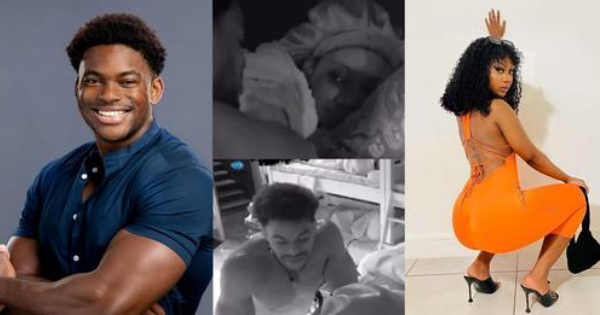 Big Brother Titans housemate, Marvin Achi, has been praised online for stopping his South African colleague, Blue Aiva from touching his groin.
Marvin, from Port Harcourt, Nigeria, was chatting with Blue Aiva on Wednesday night when she made a move to touch his lower body.
Intuitively, he stopped her and warned her not to touch him inappropriately. Blue Aiva, who seemed surprised by the rejection, had to ask him why.
In response, the fitness enthusiast said he is saving his body for his girlfriend back at home and warned her against touching his nether region.
"You can't touch it. I'm reserving it for my girl," he said.
Upon his reply, Aiva asked curiously, "So you have a girlfriend?"
Marvin retorted: "I didn't get in here single. She'll get jealous and hurt if I try anything because she's watching me. Right now, I'm sure she's at home, missing me."
However, the 28-year-old housemate – who previously claimed he is single – said he is keeping his relationship with his girlfriend "light" in case he gets intimate with a girl in the house.
Watch him speak below,
Marvin's self-control and respect for his girlfriend earned him praise and admiration from the show's viewers.
See how some responded to his statement below,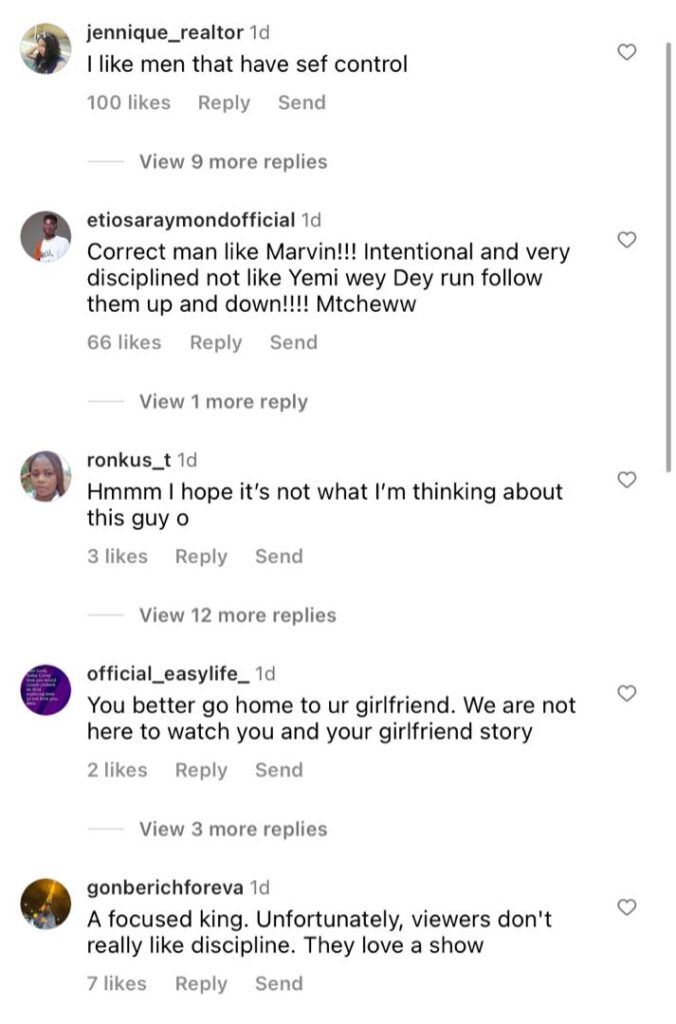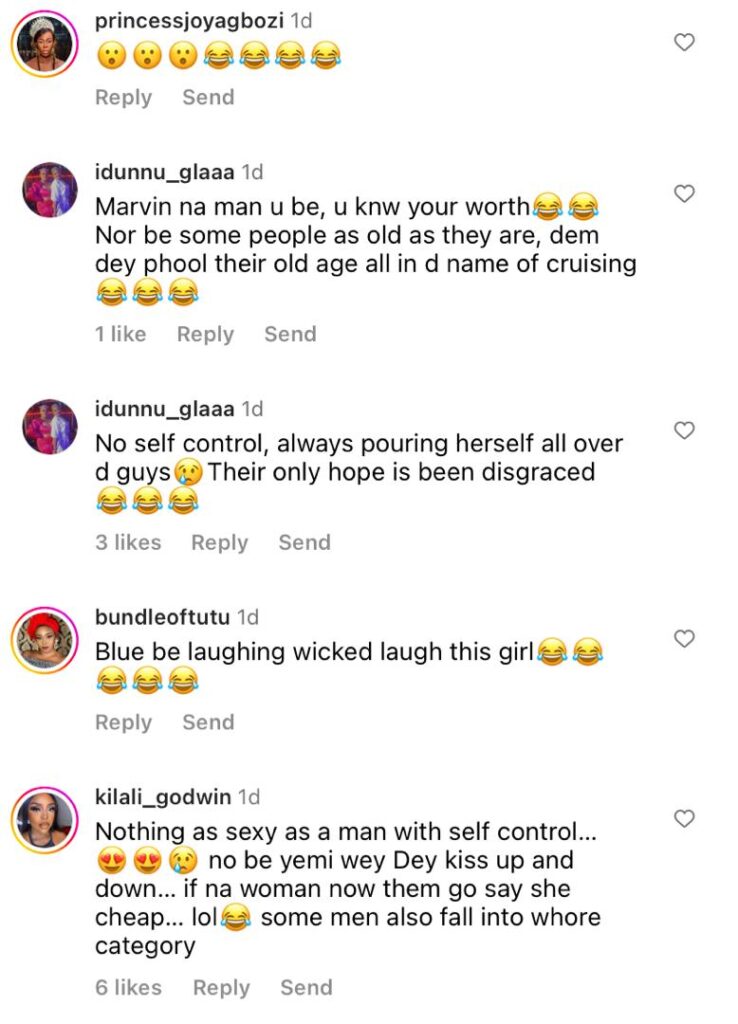 BBNaija Star Khloe Reacts To Alleged Leaked Bedroom Tape
Big Brother Naija star and entrepreneur, Abiri Oluwabusayomi, better known as Khloe, has responded to allegations that her bedroom tape has leaked on social media.
The curvaceous reality TV star broke her silence in a series of posts through her Snapchat account and vehemently denied being the one in the viral tape.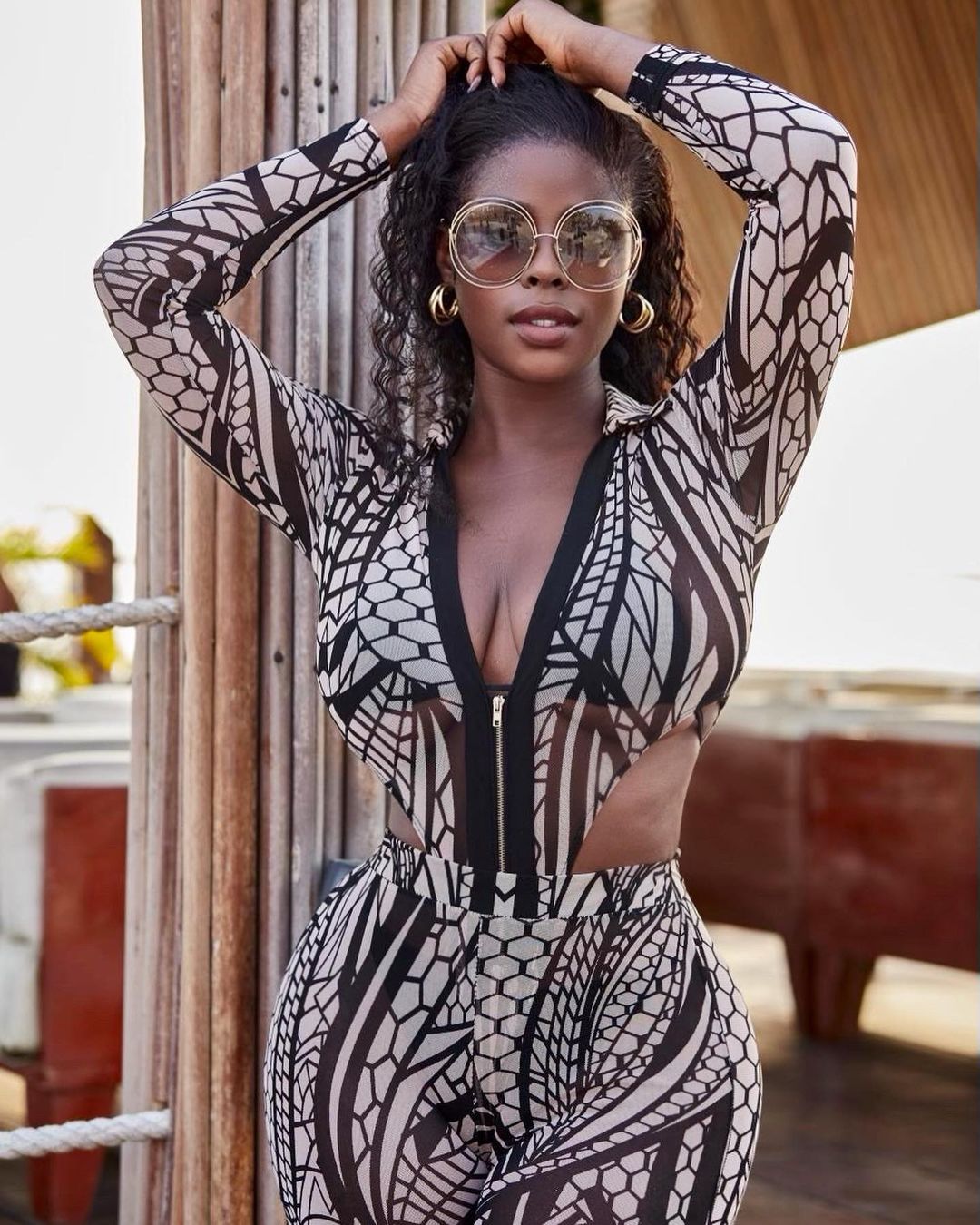 In her opinion, she doesn't look like the lady on the leaked tape and wondered why some people would link her to the video.
She dismissed the report as fake, noting that if she had such an intimate video, she would sell it for a huge sum of money instead of having it on blogs.
"Even if !!! Even if that's me !!! (Which will never be) .. you think I II fold about it ??? Like am I a Nun ???? But the fact that you all wish it was me is the height and everytime we shame women for men's mistake. Are we normal ????

If a man do that to me, I'm killing his whole family I swear with my life.. I Il find his family and kill all of them and watch him suffer. And trust me I'm that demonic (ask around) like how you gon turn pleasure to mockery ???? But women gets to be blame and attached… are we even growing or drowning????

If I ever indulge myself in such activities,,, you ll not see it on your smelling blogs, I'm selling that shit and making money off it cos what's done is done BUT AS I SAID " IT CAN NEVER BE ME " Never
Last time I'm speaking about this !!!" She wrote.
See her posts below,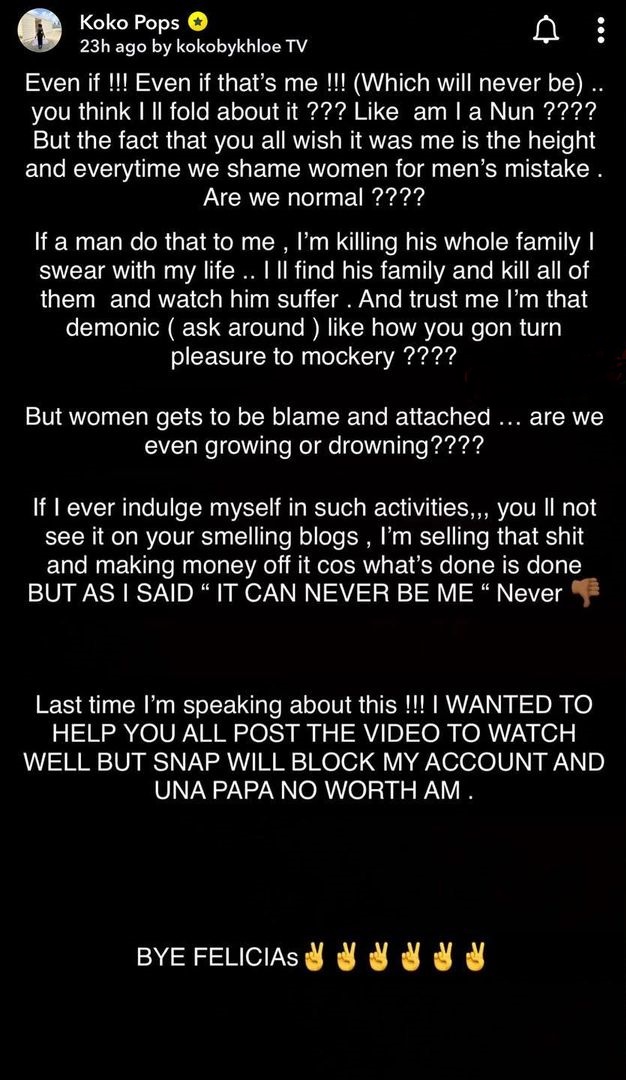 "Good Heart No Go Kill Me" – BBNaija Phyna Blows Hot After Her Friend Crashed Her New Mercedes Benz
Big Brother Naija season 7 winner, Ijeoma Josephina Otabor, better known as Phyna, has expressed her outrage after her friend was involved in an accident driving her brand new Mercedes Benz.
The Edo-born hype priestess took to her official Instagram page to express her anger at her friend for misusing her car while she was out of town.
According to Phyna, who currently lives in Lagos, she traveled to Abuja and apparently left her car in the care of a friend.
However, upon her return, she received a brutal shock and found that her friend had crashed her car into an electric pole, destroying the rear bumper.
Due to the situation, the 25-year-old Big Brother Naija star complained that she's way too nice to people and it will get her in trouble one day.
She also berated all of her friends and family, stating that she is done with them because of the incident.
Phyna posted a photo of the accident and wrote,
"I can't believe I'm coming from Abuja to bad news and I have not even gotten home, this was done to my car, good heart nor go kill me. And I'm finally done with everybody. Just Imagine."
See her post below,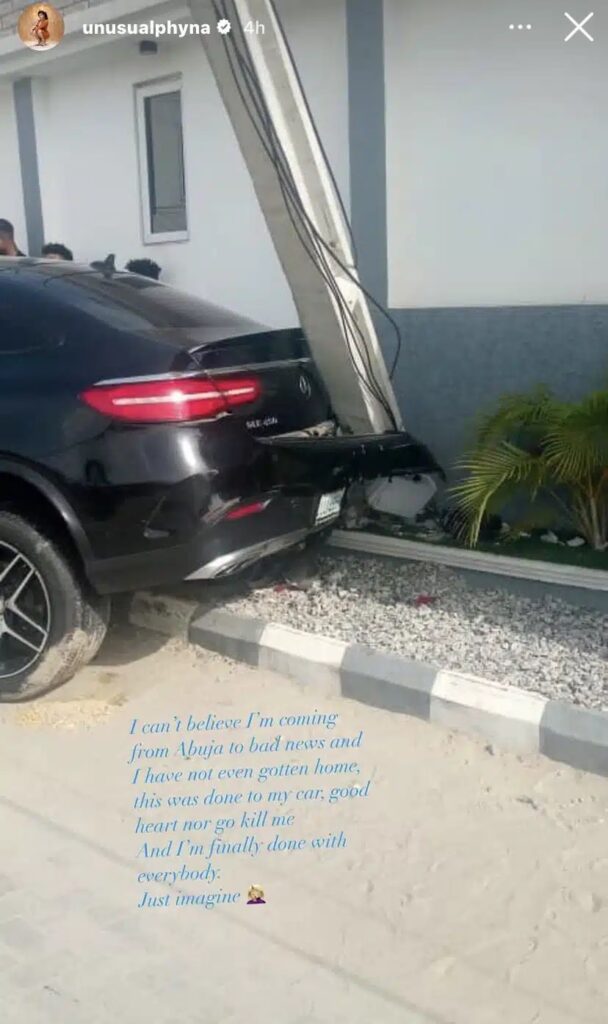 BBNaija Star, Tacha Reacts After Being Dragged For Appearing Naked In New Video (Watch)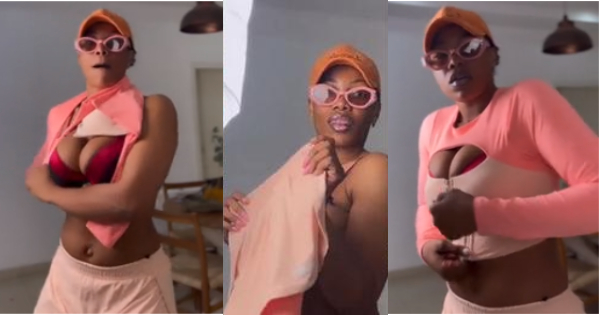 Big Brother Naija star and serial entrepreneur, Natacha Akide, better known as Tacha, recently found herself at the center of controversy after she appeared scantily clad in a video she shared on social media.
Tacha, who owns a clothing line, recently shared a video on her Instagram page to announce her new collections that will be launched soon.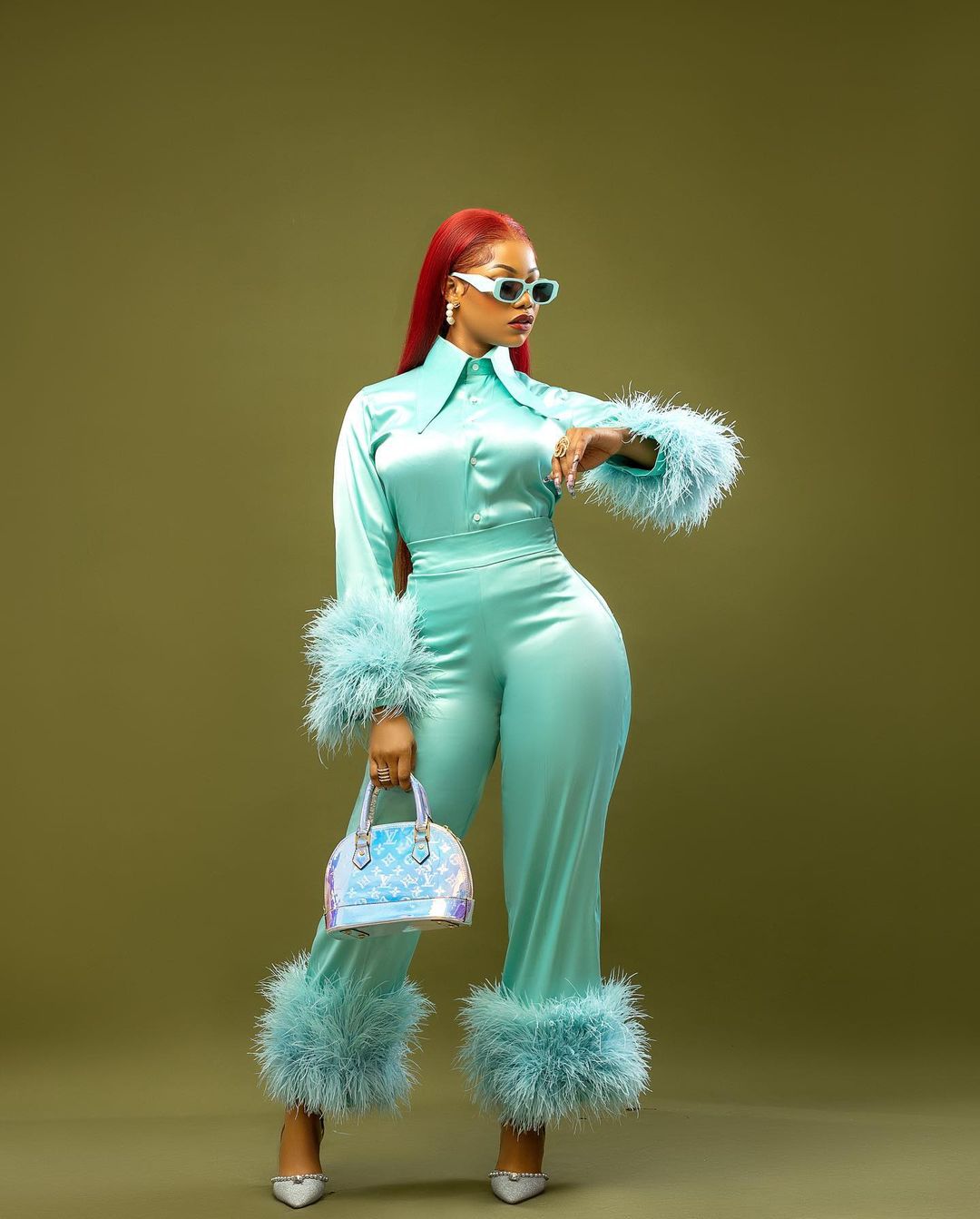 In the video, Tacha can be seen only in her underwear, leaving little to the imagination as she dresses in a sample of the new design.
This didn't sit well with a number of social media users, and she was dragged to filth on social media by fans and critics alike.
See some comments below,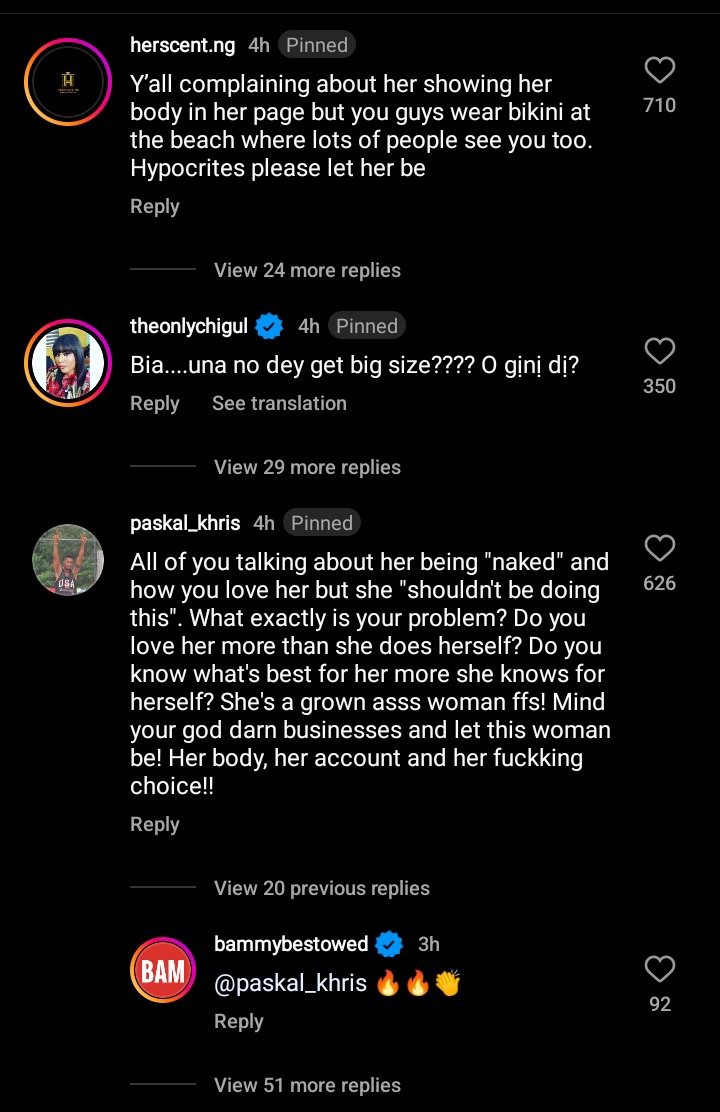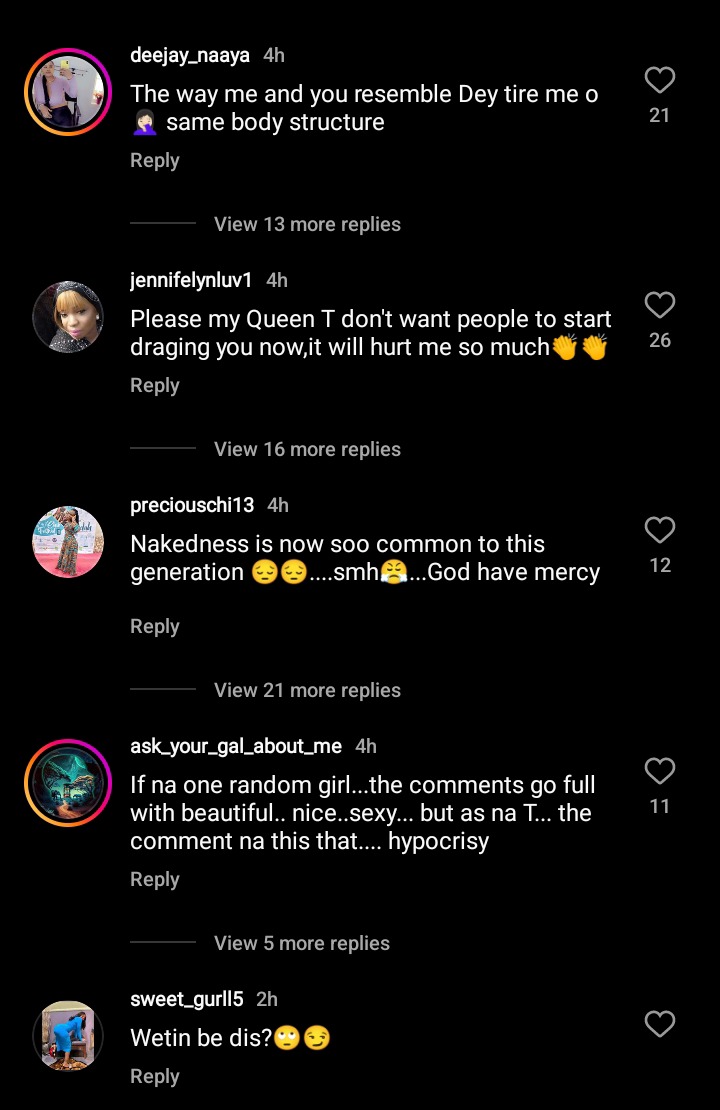 Watch the video below,
However, Natacha Akide aka Tacha was quick to respond to the backlash in a series of posts on her respective social media pages.
On her Instagram Stories, Tacha revealed that she blocked people who left nasty comments on the post.
"The Way I'm blocking people cause of this post is such a relief!! Something is really wrong with a lot of you ♡♡". She wrote.
As if that wasn't enough, the former Big Brother Naija housemate shared the video on the microblogging platform, Twitter, and asked why tongues were wagging in her comments.
"Why's Everyone Crying??
", She Asked On Twitter.
See her posts below,