American Rapper, Cardi B Reacts To BBNaija Mercy Eke's AMVCA Outfit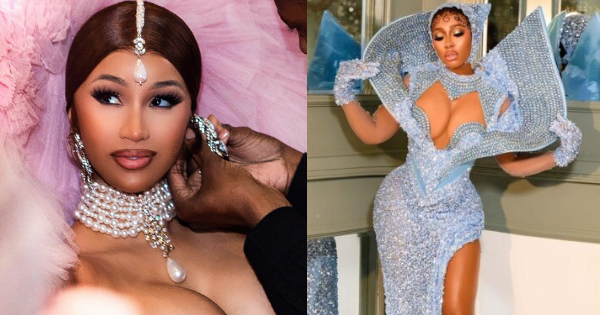 American rapper, Cardi B, has praised Big Brother Naija star, Mercy Eke's look at the 2023 Africa Magic Viewers Choice Awards (AMVCA).
The 9th edition of the Africa Magic Viewers Choice Awards (AMVCA) took place in Lagos on Saturday evening, 20th May. The glamorous event brought together many celebrities from the entertainment industry, all elegantly dressed in mesmerizing and exquisite fashion ensembles.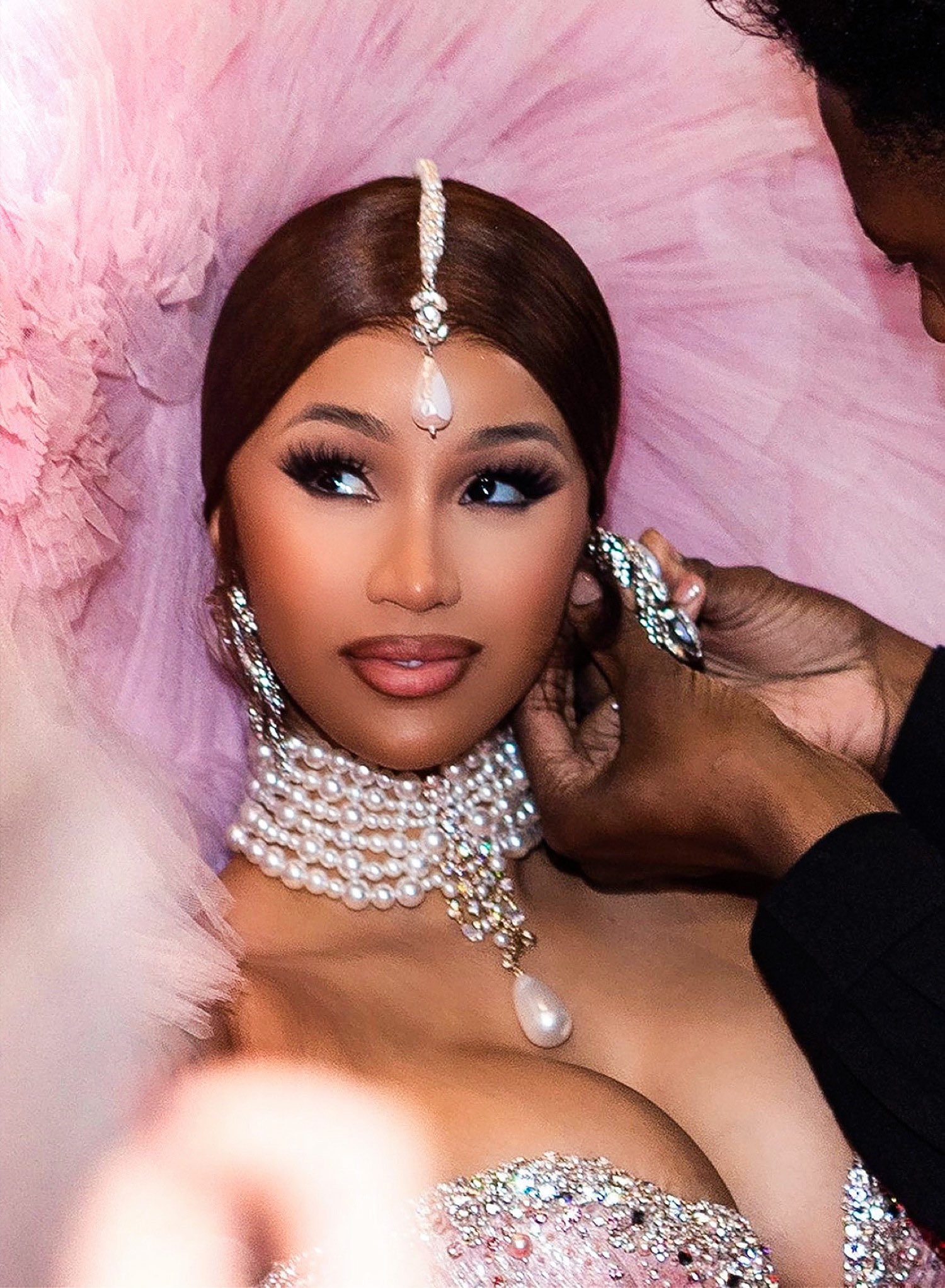 Reality TV star and entrepreneur, Mercy Eke recreated a look of American rapper Cardi B for the event, and she looked stunning.
Without a doubt, the Big Brother Naija season four winner was the center of attention in her stunning stone blue caped dress.
Interestingly, the dress caught the WAP singer's attention and she took to her Instagram Stories to express her admiration.
American rapper, Cardi B, has praised Big Brother Naija star, Mercy Eke's look at the 2023 Africa Magic Viewers Choice Awards (AMVCA).
She shared a photo of Mercy Eke wearing the dress and commented that she absolutely nailed the look.
See her post below,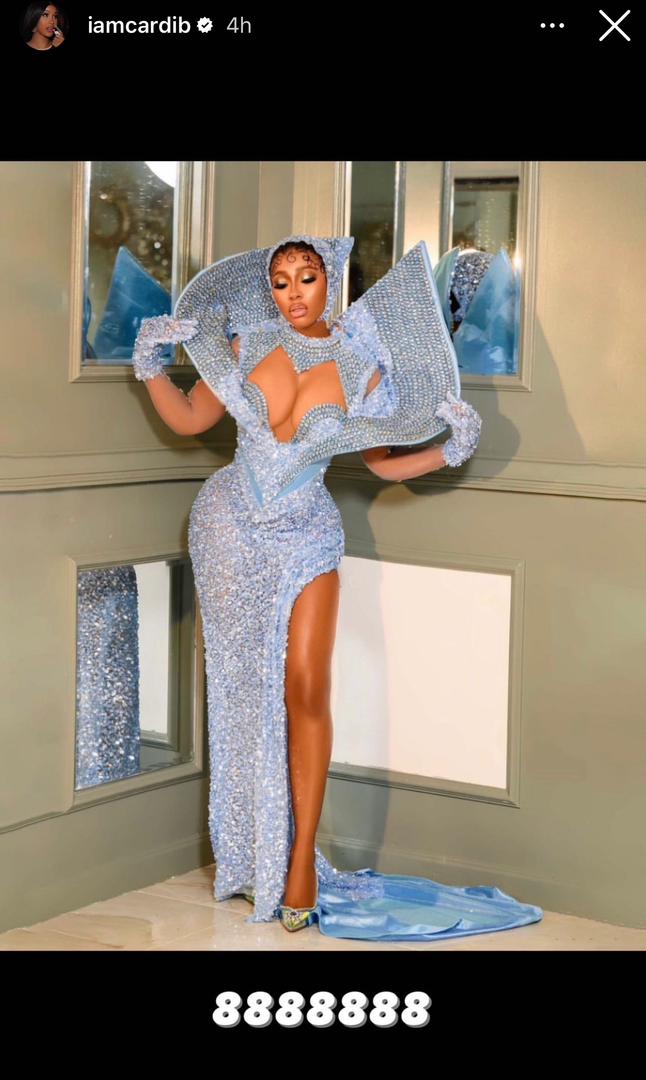 Ex-BBNaija Star, Joseph Ada Is Dead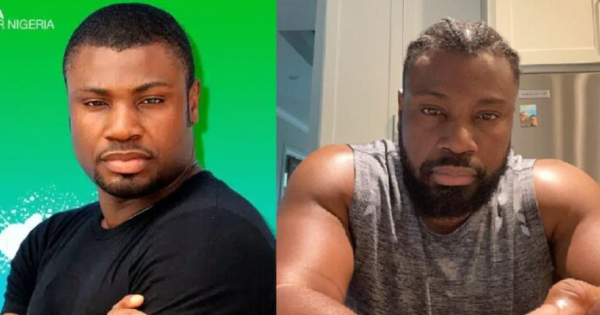 Joseph Ada, a former housemate on the Big Brother Nigeria reality TV show, now popularly known as BBNaija, has died.
Joseph, who participated in the first edition of the BBNaija show in 2006, is believed to have died on Wednesday, May 24 in Delare, USA.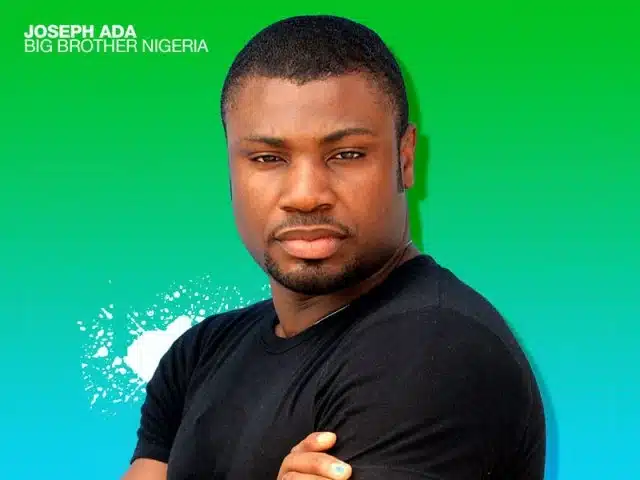 He was diagnosed with pancreatitis, which led to his early death. Joseph Ada, a former flight attendant with Virgin Atlantic, had relocated to the United States after the show.
He appeared on the reality show in 2006 alongside other housemates such as popular media personalities, Ebuka Obi-Uchendu, Maureen Osuji, and Gideon Okeke.
Earlier today, Big Brother Naija star and entrepreneur, Tacha, took to social media to express her excitement after first meeting with veteran actors, Pete Edochie, Kanayo O. Kanayo, and Victor Osuagwu.
The reality TV star recently met the Nollywood legends at the 40th birthday dinner party of Elizabeth Jack-Rich, the wife of billionaire Tein Jack-Rich.
Tacha, who attended the birthday dinner as a valued celebrity guest, met with the legendary actors during the event.
Overjoyed, the Big Brother Naija Star took to her social media page to share a video of her exchanging pleasantries with them.
In the video, Tacha can be seen asking Pete Edochie for a photo and praising the 76-year-old actor for his timeless looks. She also expressed her admiration for Kanayo O. Kanayo, mentioning that she grew up watching him on screen as a child and was fascinated by his youthful looks. (Watch the video here)
Watch As BBNaija Star, Ka3na Broke Down In Uncontrollable Tears During Her Husband, Mr. Jones' Funeral In London (Video)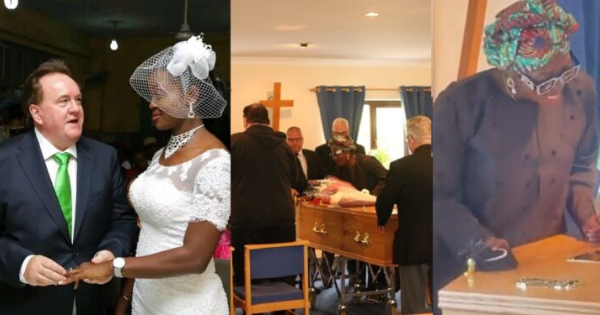 Big Brother Naija star and entrepreneur, Ka3na Jones is currently mourning the reported death of her Caucasian husband, Mr. Jones.
Although details of the incident reaching us at the moment are still unclear, it is said that Mr. Jones has been buried in London, United Kingdom.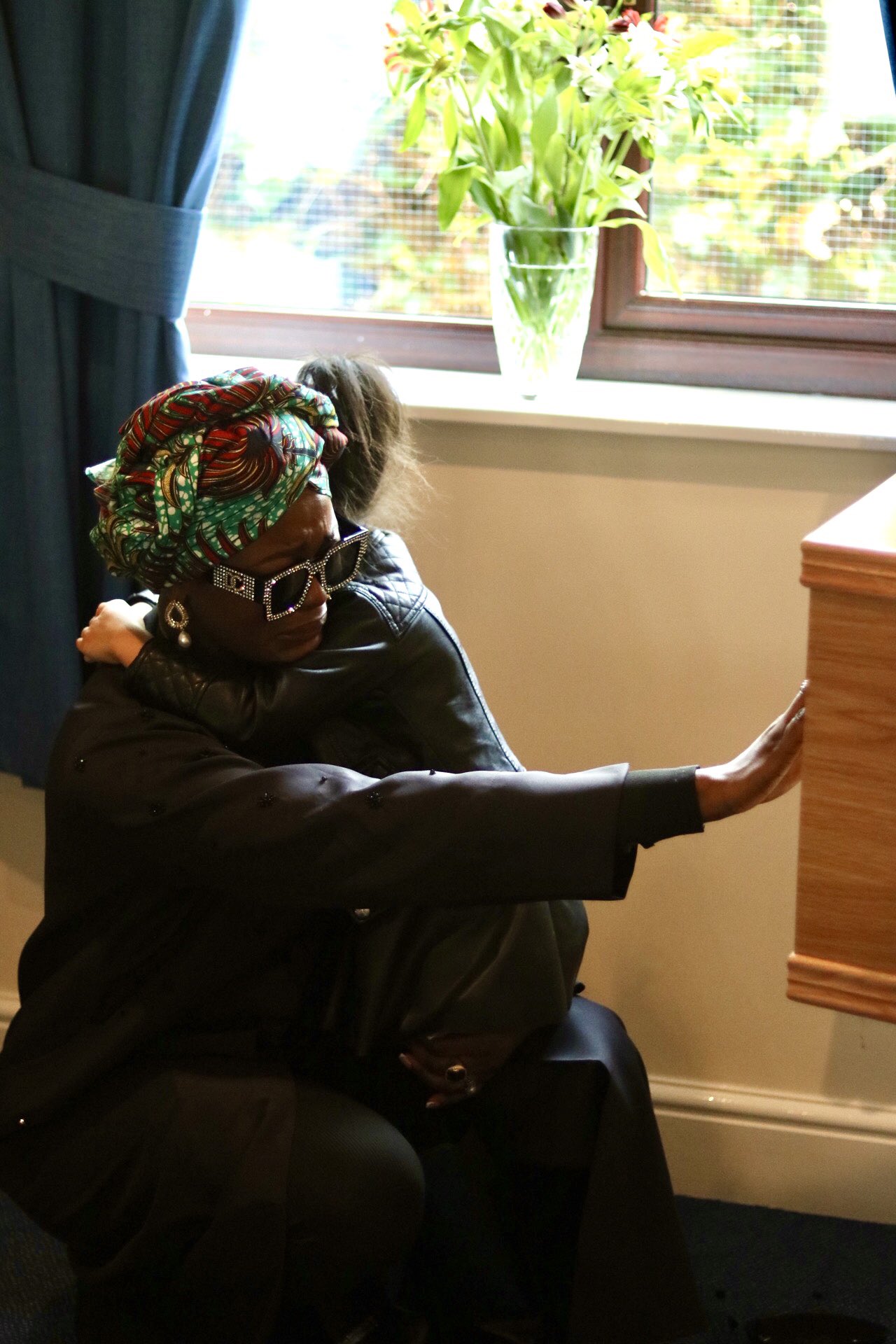 A video from the burial has surfaced on social media, capturing the heartbreaking moment the mother-of-one bursts into uncontrollable tears during the ceremony.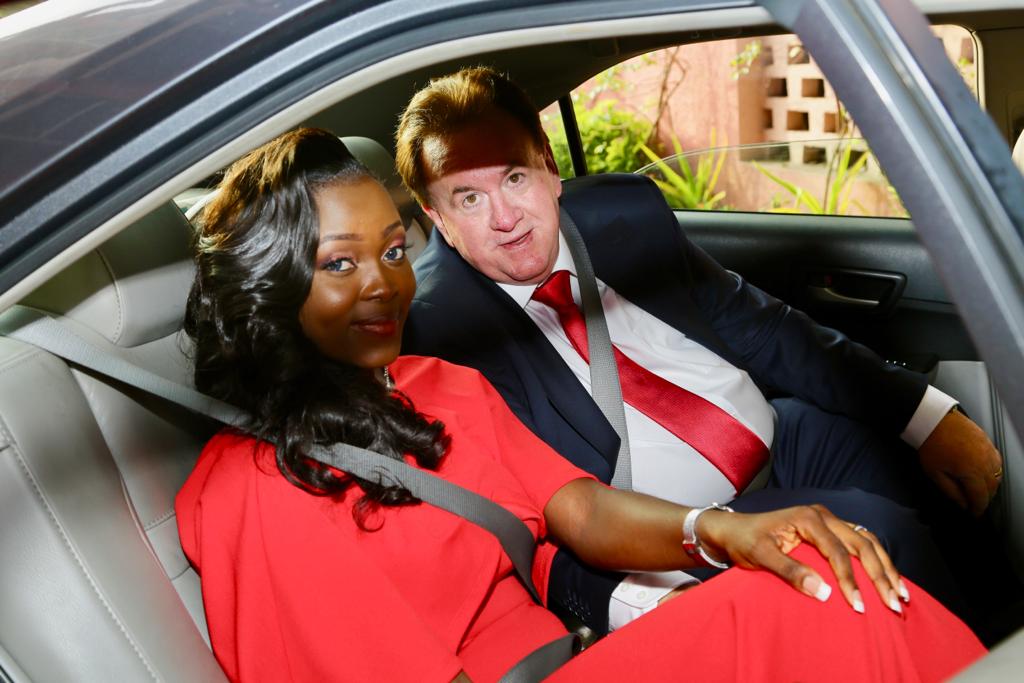 It is worth recalling that Ka3na and Mr. Jones got married in 2015 and have a child together. The self-proclaimed boss lady has not been seen on social media for some time and has not yet responded to the news of her husband's death.
Watch the video below,
"Have You Ever Left The Comfort Of Your Home To Support Your Friend's Business?" – Teddy A Tackles 'Fake Souls' Supporting Hilda Baci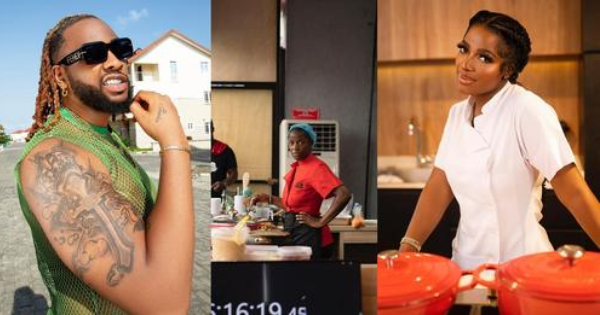 Big Brother Naija star and singer, Tope Adenibuyan, popularly known as Teddy A, has targeted people who went out of their way to show their support for Nigerian celebrity chef, Hilda Baci.
This is coming after hundreds of people gathered at Amore Garden in Lekki, Lagos to support Hilda Baci in her quest to break the Guinness World Record for the longest cooking time by a person.
In response to the massive show of support, in a post shared via his Instastory, Teddy A asked some of the supporters, whom he described as "Fake Souls and clout chasers" if they had ever shown the same level of love and support to their close friends.
Read his full post below,
"I'm so proud of Hilda the chef. Personally, I don't know her but iv seen her work. It's also a great thing that Nigerians are supporting and showing up to support.
However, I have only one question. And this is for the clout chasers. And fake souls. Now ask yourself. The way you left your home and drove all the way to the location where she's cooking have you ever done the same for your friend who also cooks?
Just to support their business and hustle?
Have you left the comfort of your house to ever go support a friend's canteen or buka or even regular business? But you would drive miles to go and take pictures and hide under supporting one another. The fakeness for this una blood go die with una
Some people won't even still go there and support it's how to do hook up they would be
looking for
God be with you"
See below,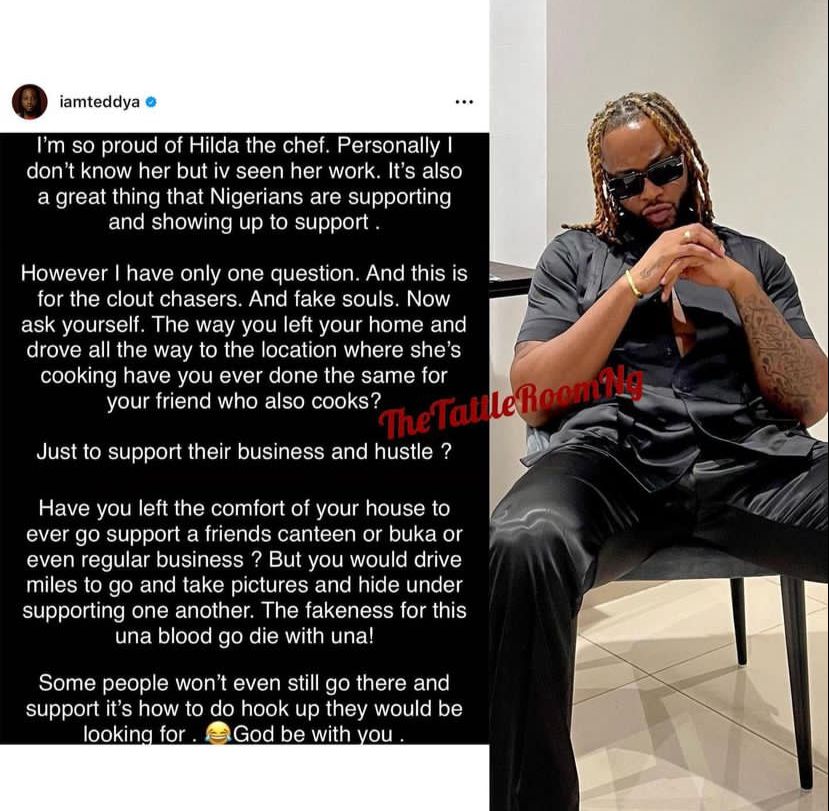 Meanwhile, Guinness World Records has explained why Nigerian Hilda Baci's new record for the longest cooking time by an individual has yet to be confirmed.
In response to a Nigerian Twitter user who questioned why Guinness World Records is yet to recognize Hilda's new record, they said that the standard procedure is to review the evidence before confirming a record.
"We're aware of this amazing record attempt. We need to review all the evidence first before officially confirming a record," a tweet on GWR's official Twitter handle read…(Read More Here)
Nigerian dancer Kaffy, who broke the Guinness World Record for "Longest Dance Party" with her dance group in 2006 after they danced for 55 hours and 40 minutes, has also confirmed that it takes up to two weeks for a record to be verified.
"Yes, this is standard procedure! Even during our own, we had to wait for almost two weeks for them to review the videos and all records before they confirm. A lot of people attempt and succeed in beating timelines but don't get verified because of technical errors. It's not Hilda's portion IJN!" She wrote.