Popular Nollywood actress, Destiny Etiko, has responded to calls to reunite with her adopted daughter, Chinenye Eucharia.
An ongoing feud between them has been speculated for some time as Destiny Etiko and Chinenye Eucharia have not been seen together or posted photos of them together on their respective social media pages.
Chinenye Eucharia on the other hand denied the rumors during a recent Facebook Live session, but that didn't seem to convince her fans, who have continued to call for the pair to reconcile.
Amidst these rumors, Destiny Etiko, aka Drama Doll, took to her official Instagram page a few days ago to advise her followers to learn how to apologize when they make mistakes and not let pride get in the way of their happiness.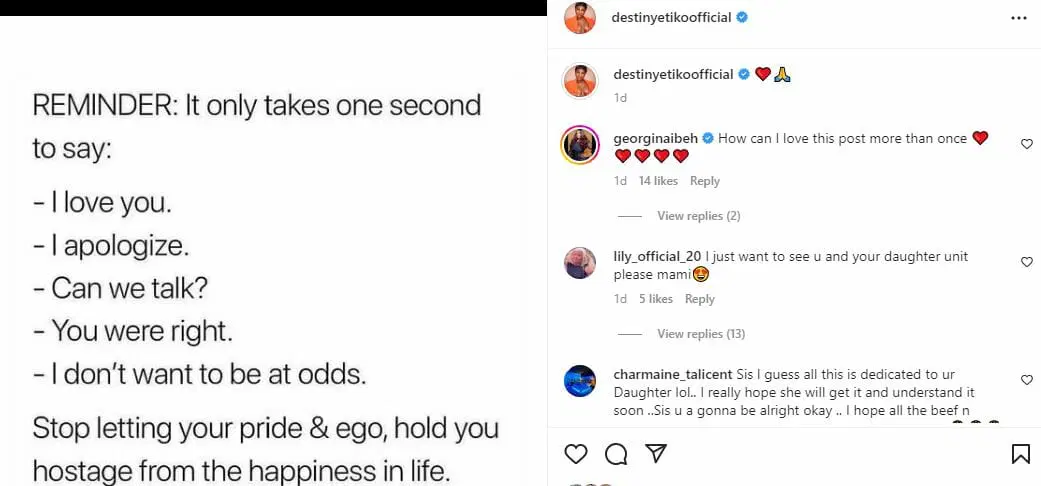 Once again, fans took to the comments section of Destiny Etiko's post to beg her to reunite with Chinenye Eucharia.
A lady, identified simply by her Instagram account @lily_official_, said that she is looking forward to seeing Etiko and her adopted daughter reunite, and the comment caught the actress' attention.
"I just want to see u and your daughter unit please mami", the lady wrote.
In response, the popular Nollywood actress made a cryptic remark, declining to elaborate on what had happened.
"If only you know," she responds with crying and heartbreak emojis.
See the exchange below,