Curvaceous Nollywood actress, Destiny Etiko, has shared a hilarious behind-the-scenes video of an upcoming movie.
The screen diva, also known as Drama Doll, recently gave her fans and followers a glimpse into the process of creating the perfect masterpieces to bless their screens.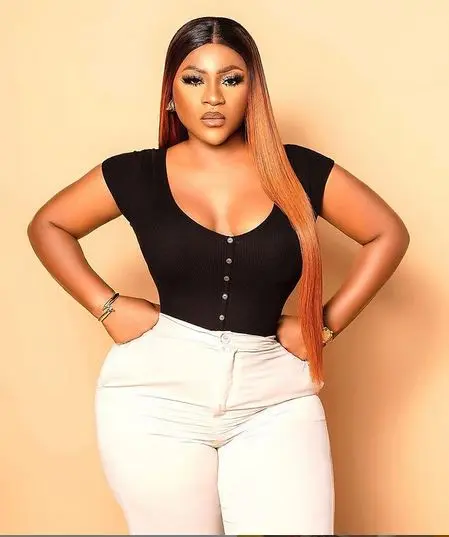 In the scene from the upcoming film that Destiny Etiko Shared, she was forced to carry a dog in her right arm and drag three others in chains.
The thespian can be seen in the video fidgeting because she was afraid that the dogs would bite her. She struggled to hold the dogs for a few minutes before calling for someone to take the animals.
Sharing the video on her Instagram page, she wrote, "What we go through to make movies no be here 
 I almost jumped out of my skin chai. Imagining carrying VILLAGE EKUKE
".
Watch the video below,
A few days ago,
Destiny Etiko took to her social media page to
express her excitement after receiving a personalized necklace from a fan.The Nollywood actress took to her Instagram page to share a video of the moment the lady, who identified herself as Sorochi, fixed the pendant with her name "Destiny Etiko"  boldly written around her neck.
A Happy Destiny thanked the lady for the gift and urged people to learn to give from what little they have instead of waiting for the day when they have more than enough. (Watch Here)