"I Was Shocked When My Wife Offered To Donate Her Kidney" – Eedris Abdulkareem Speaks On His Kidney Transplant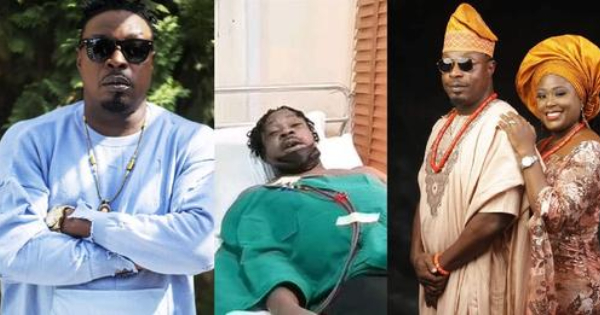 Popular Nigerian rapper, Eedris Abdulkareem, has said he was shocked when his wife, Yetunde, offered to donate her kidney when he was terminally ill.
He said so during an exclusive interview on TVC's Entertainment Splash while discussing how he struggled with kidney failure for years.
The 49-year-old singer said his wife made the offer during one of their consultations at the hospital after being told that the donor had to be a family member.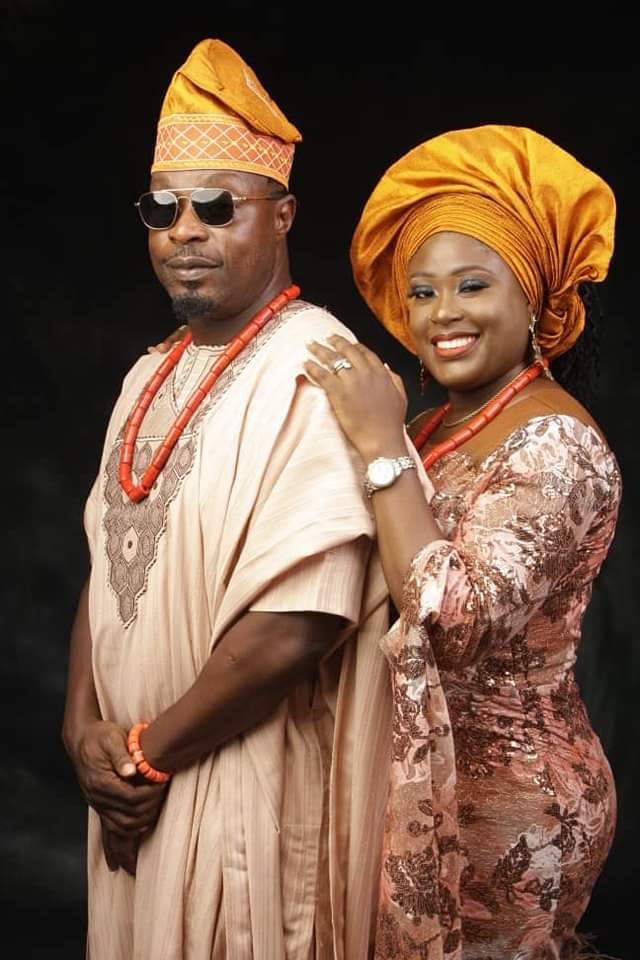 According to Eedris Abdulkareem, his wife offered without hesitation to donate her kidney and underwent a series of tests to confirm their compatibility.
The rapper, who previously dedicated a song to his wife titled "Thank You," also said that even before she donated her kidney to him, he had always known that she could do anything for him.
Speaking in a chat with The Punch; "I had always known that she could do anything for me; just like she knows that I can do anything for her. It has always been that way with us."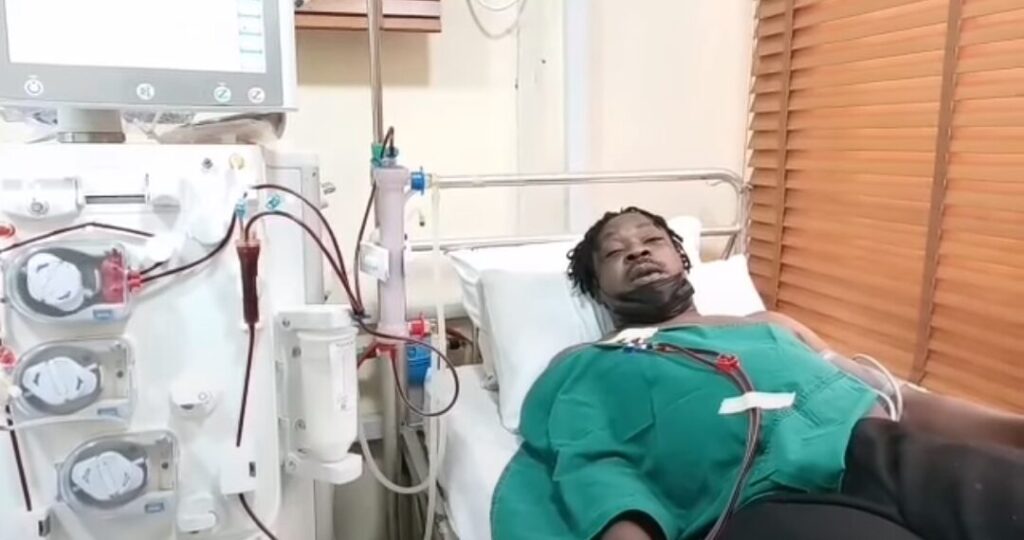 Eedris further explained that he previously released a song to pay tribute to his wife, Yetunde, for her selflessness and unconditional love.
"There are a lot of ways I have been showing my jewel of inestimable value my unalloyed appreciation for what she has done for me, and I will never get tired of doing that. She is the most awesome person alive.
She is actually my Siamese twin and our bond is unbreakable. Making a special song for her is one of those things I am doing to thank her, though this is not the first song I have dedicated to her 'royal loveliness'."
The singer also advised people to marry for love and not for any other reason, saying:
"While coming up in the industry as a young guy, I had the option of marrying for more money and high society connections. But, I refused to be a gold digger and clout chaser, and instead diligently worked and prayed for my own soul mate.
The day I saw her, I knew immediately that I had found my missing rib. My advice to young people out there is that they should marry for love; not any other thing."
Davido's Aide, Israel DMW Shares DMs From Women Asking Him To Marry Them Following His Marital Crisis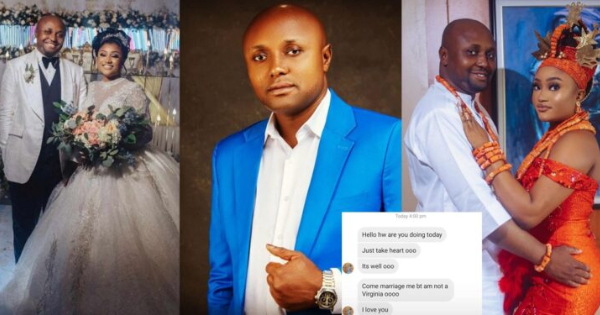 Israel DMW Marital Crisis
Davido's personal logistics manager, Israel DMW, has shared screenshots of messages he received from women taking shots at him following his recent marital crisis.
It is worth recalling that Israel DMW and his ex-wife, Sheila Courage, made headlines this weekend after revealing the reasons for the breakdown of their marriage.
Israel took to social media to call out her family, accusing them of pressuring him to pay N1 million for marrying their daughter, who was a virgin.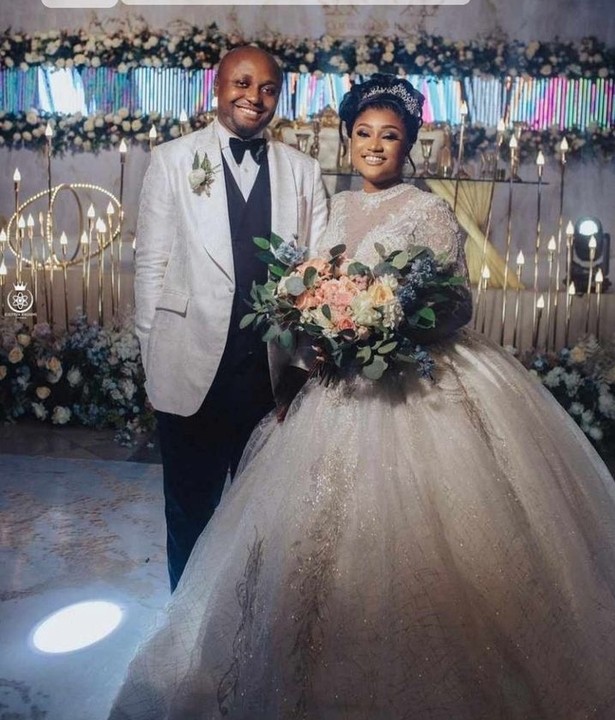 Sharing a screenshot of a bank transfer receipt through his official Instagram page, he wrote in part: "The receipt of [N]1m, part of money sprayed at the wedding. Sheila's parents held my neck to share with them since their daughter was a virgin. They also compelled me to buy her iPhone 14 Promax [N]1.2m, which she's using."
He also shared a lengthy post explaining his side of the story and detailing why their marriage fell apart just seven months after their society wedding in Benin City in October 2022.
He claimed that she abandoned him as soon as she became popular on Instagram and accused her and her family of being gold diggers who defrauded him.
However, Sheila took to her social media page to counter his accusations, revealing that she walked out of the marriage due to emotional and domestic abuse.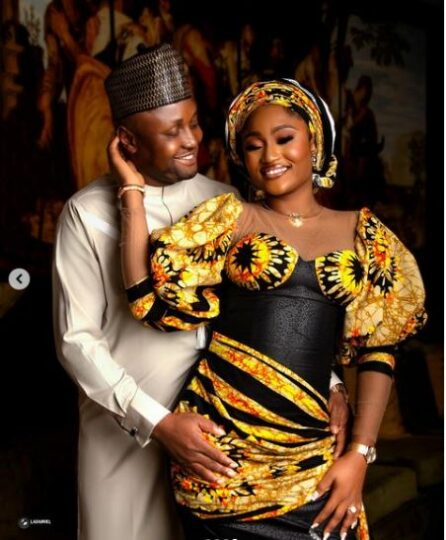 She recounted instances when he locked her out of their marital home for minor issues and warned her not to turn on the generator when he was not around.
She also claimed that she encouraged him to start a business and "build an empire" in addition to working for his boss, Davido, but he refused to listen to her advice.
Contrary to Israel's claims that her family is "gold diggers", Sheila revealed that she comes from a wealthy family, adding that her father and the former governor of Edo State, Adams Oshiomhole, are "first cousins".
Despite the dirty drama, some women rushed to Israel's DM to ask him to marry them, since his wife was not cooperating with him.
He took to his page to share screenshots of the messages and explicitly stated that he is no longer interested in marrying a "Church Girl."
See below,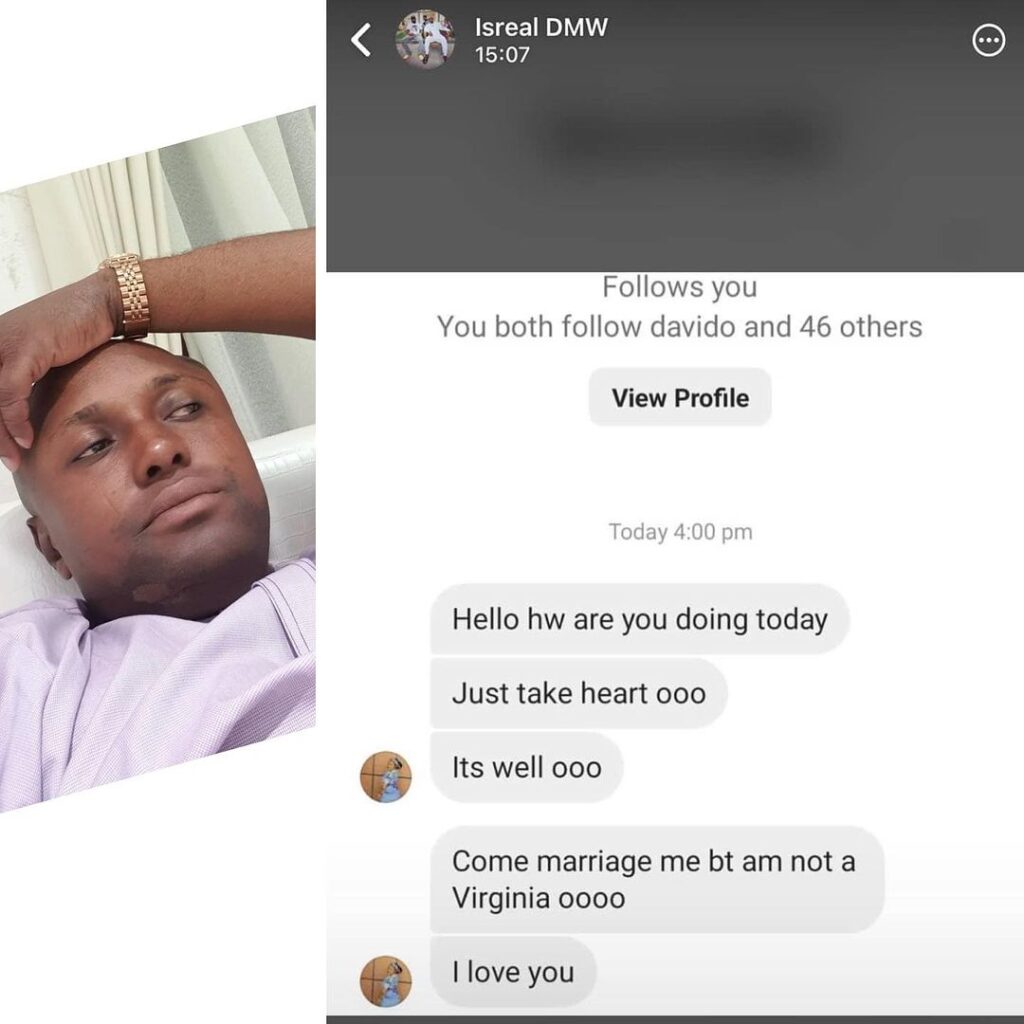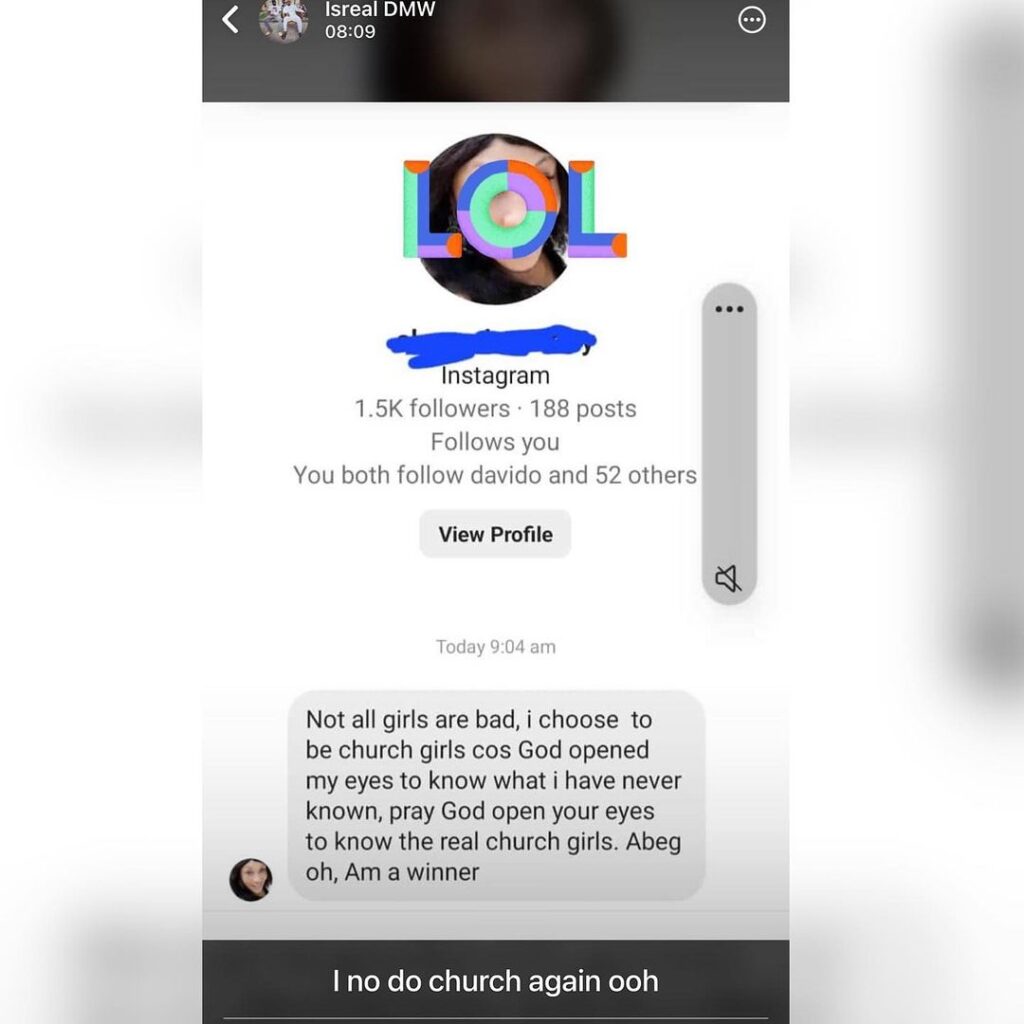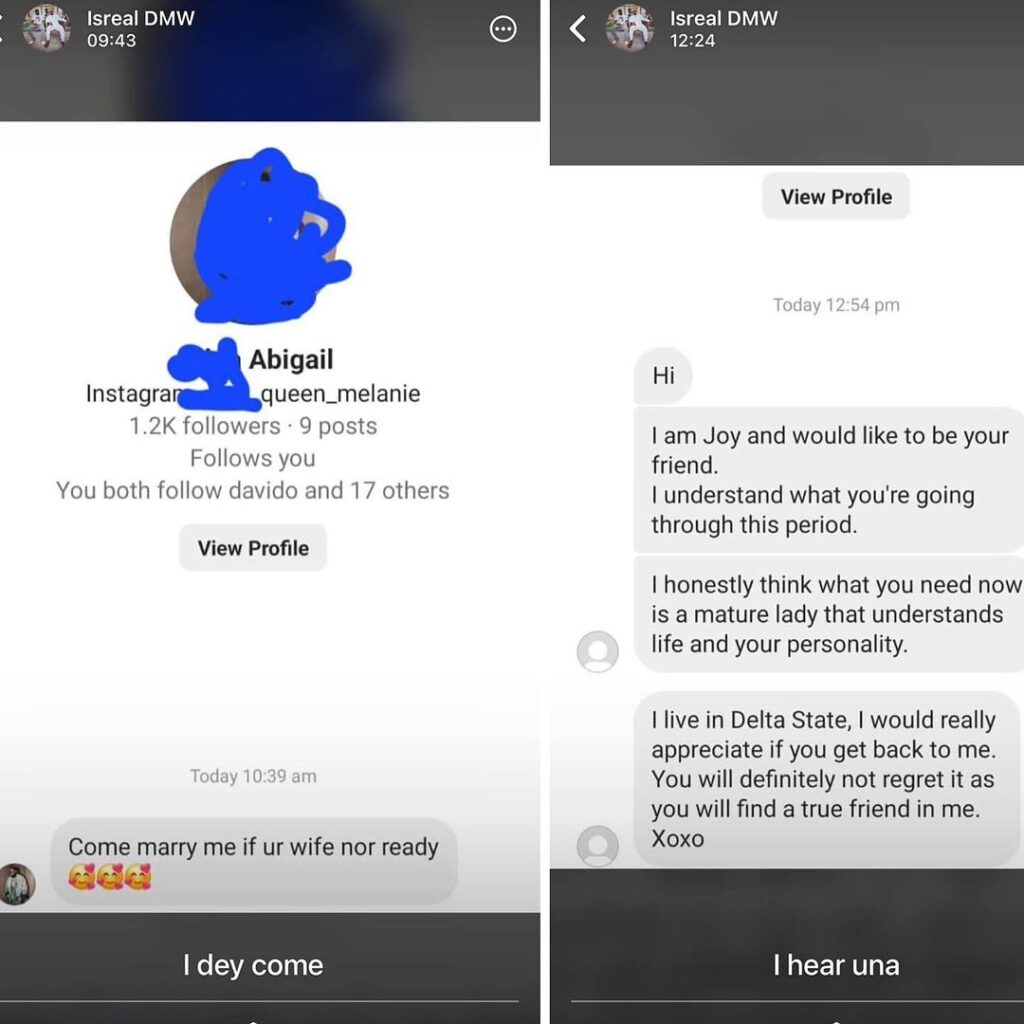 "Some Road Girls Better Pass Virgins" – Israel DMW's Friend Drags His Ex-Wife To F!lth As She Defends Him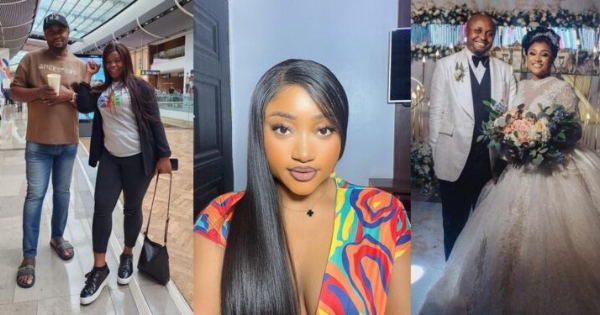 Israel DMW Ex-Wife
A lady who claims to be friends with Davido's logistics manager, Israel Afeare aka Israel DMW, has come to his defense following his marital crisis with his ex-wife, Sheila Courage.
The lady, identified as Jessica Amafe, shared a photo of herself with Israel DMW in London on social media and said he is an easy-going person who had peace before marrying Sheila Courage.
She also accused Sheila of allegedly asking to stay overnight in a hotel while Israel was out of town, mentioning that she knew of other things that had happened between the former couple.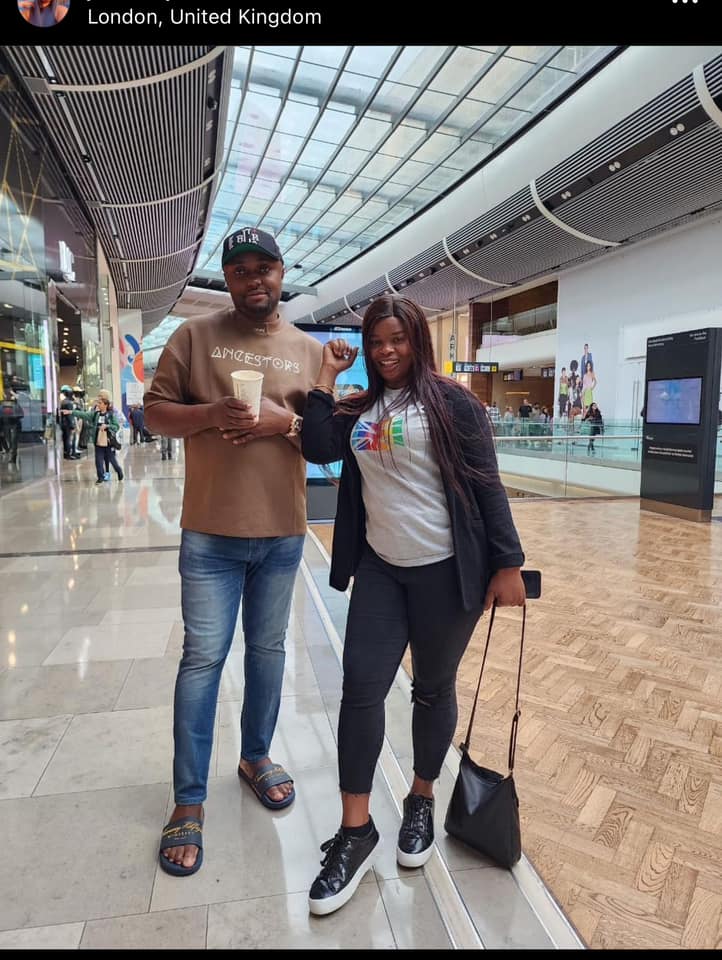 Speaking further, she criticized Sheila's virginity status at the time of her marriage to Israel, stating that some "Road Girls" are better than some virgins. She added that virginity is not a guarantee of a successful marriage.
Jessica also criticized Sheila for agreeing to marry Israel despite knowing the nature of his job and being fully aware that she was uncomfortable with it.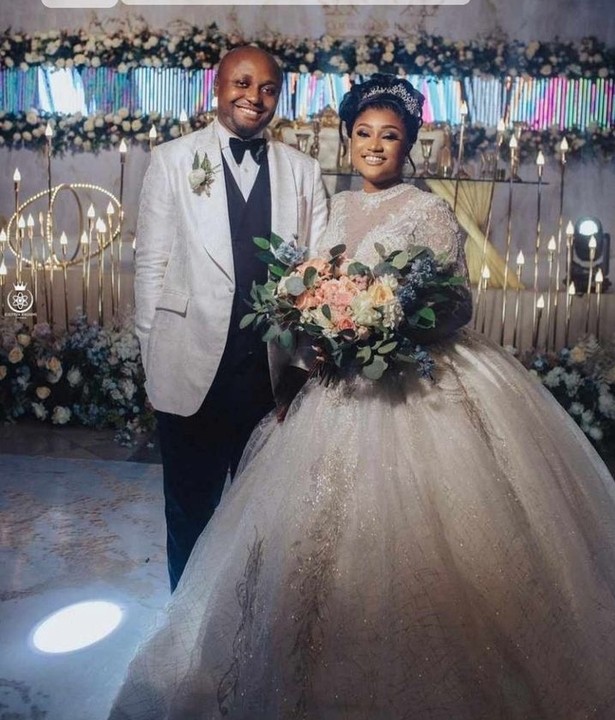 Read her full post below,
"Israel is my friend, he is very down to earth and loyal person. He may have his flaws no doubt but he did his best! I know Isreal and know some things that happened," she wrote.

"He was almost depressed and if this is the best way for him to vent his anger and move on with his life, I stand with him. His estranged madam was busy cruising up and down, the young man was down.

"He had peace before he got married, and peace departed after marriage. Which wife tells husband to lodge her in a hotel since he is travelling for business meeting outside their state?

"How many of you men want to be the woman in the house while your wife become the man? Isreal doesn't want to do business this bla bla bla, cut the crap

"You know his nature of job yet you accepted his PROPOSAL AND SAID YES TO HIM, suddenly you dislike his life style. Did he ever tell you he was working in an oil company?

"Do not tell me pressure pushed you into marriage because you are only 21. If you are dating anyone and you do not like their lifestyle QUIT FAST, do not marry anyone thinking you can change them, what you cannot change you learn to live with it.

"There are better ways to talk to a man to make him see reasons with you, Isreal married you not your mother and family.

"In all, avoid broke girls and avoid broke guys. Being a virgin is not a guarantee for successful marriage, some Ihama road girls better pass some holy holy. Na we wey de talk our own come out na be bad person! I am allergic to poor boys, go and call police. "
See below,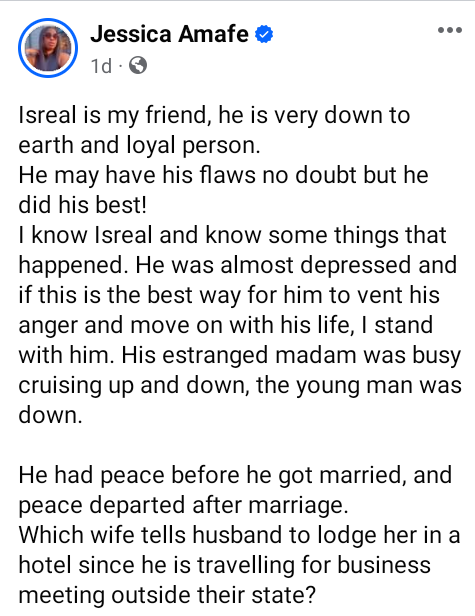 "This Is Not Funny" – Controversial Skitmaker, Trinity Guy Under Fire For Making A Skit Out Of Israel DMW And Ex-Wife's Marital Woe (Video)
Trinity Guy Skit
Nigerian content creator, Trinity Guy, has come under heavy criticism for creating a skit about the marital problems of Davido's personal logistics manager, Israel DMW, and his ex-wife, Sheila Courage.
9JaGistreel.com earlier reported that Israel DMW and Sheila Courage had separated just a year after their lavish wedding in Benin City, Edo State in October 2022.
Last weekend, both parties shed more light on the reasons for their breakup. Israel accused his wife and family of being gold diggers, alleging that they made him pay N1 million to marry her because she was a virgin. In contrast, Sheila cited emotional abuse, domestic violence, and lack of vision as the reasons she left the marriage.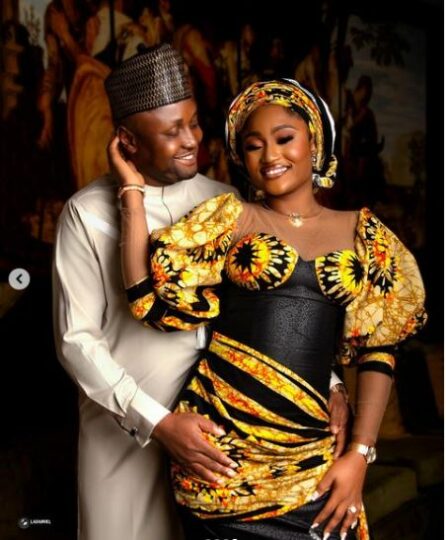 Amid the drama surrounding their marriage, controversial content creator, Trinity Guy, decided to create a comedy skit based on their marital crisis.
The skit maker, who recently spent a few weeks in jail for a controversial skit involving a minor, went so far as to use the ex-couple's real names in the skit.
In the video, he portrays Israel prioritizing his boss over his wife and even abandoning his wife during intimate moments to care for his boss.
Watch the full video below,
This clearly did not please many internet users, who did not hesitate to criticize Trinity Guy for making a joke about the fate of Israel.
They also urged him to delete the video and apologize to Israel and his wife for his lack of respect.
Read some comments under the post below,