Davido's Ex-Girlfriend, Faith Nketsi Allegedly Dumps Husband For Going Broke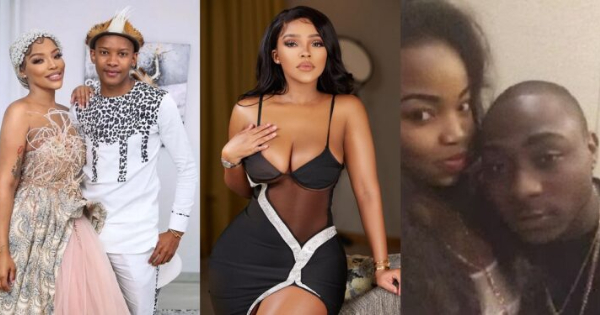 South African socialite, Faith Nketsi, has reportedly left her husband, Nzuzo Njilo, because of his financial difficulties.
Faith Nketsi, who made headlines in 2015 for dating famous Nigerian singer, Davido, is said to have left her husband just a year after their marriage.
The couple had reportedly been going through a rough patch following their private wedding in April 2022. Four months later in August, they welcomed their first child, Sky.
New reports from the South African publication City Press shows that Faith Nketsi dumped her husband over bankruptcy.
Sources close to the couple have revealed that Faith left her marital home and is now back in hosting clubs, which she left after getting married.
The source also claimed that one of the reasons she left was because of Nzuzo Njilo's endless financial woes.
The source said;
"She moved out about three weeks ago. She left Njilo and has gone back to hosting clubs again with her friend Kim Kholiwe and making money. Just a few days ago, she was hosting at Booth Night Club, and she has put herself out there once again for the work that she used to do before she got married.
"Faith has lost a lot since she married Njilo. She, like all of us, was under the impression that Njilo was monied, but he is not. She lost her Jeep, which they had to sell after sorting out another debt, and then her furniture was taken by the court last year to pay the debt involving those other two guys. It is a lot in a very short space of time. Faith loves the soft life, so she went back to doing what she loves the most, which is club hosting."
"She Ignored Me Despite Being A Star" – Davido Recounts First Time He Tried Speaking To Wife Chioma (Video)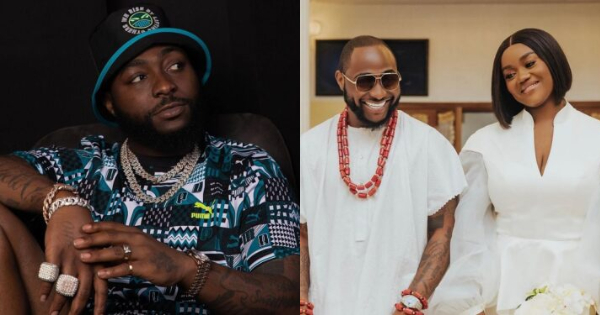 Nigerian superstar singer, David Adeleke, popularly known as Davido, has opened up about meeting his wife, Chioma Avril Rowland, and sheds some light on the evolution of their blossoming relationship.
Davido and Chioma first met at Babcock University, where Chioma was studying economics and Davido was pursuing a music degree.
In a gripping documentary with YouTuber and vlogger, Tayo Aina, Davido gave his fans a fascinating insight into his everyday life.
The 43-minute documentary delves into the artist's busy everyday life, which is punctuated by the constant travel, fleeting moments of rest, and leisure time aboard private planes hovering several thousand meters above sea level.
In the captivating documentary, Davido revels in his love for his beloved wife Chioma, recalling the story of how they first met and how he tried to strike up a conversation with her during their freshman year.
In his words;
"I was in school for a year before I blew up. That was when I met my wife. I remember the day I saw her. I can never forget it. I was in a Prado, and I looked behind, and I saw this girl walking. Just there with her bag, it was Chioma. I told Lat (Davido's personal assistant), 'Omo, I like that girl. Go and call that girl for me."
However, initial attempts to make contact failed as Chioma did not respond, but fate intervened and she eventually found her way to Lagos where they met up again.
Watch the video below,
Singer Davido Reacts After Cheque 'Disrespected' His Wife, Chioma In Viral Video (Watch)
Nigerian superstar singer, Davido, has reacted after his junior colleague, Cheque publicly apologized over a viral video in which he appeared to disrespect his wife, Chioma.
Cheque, a Nigerian singer-songwriter whose real name is Akanbi Bamidele Brett, sparked widespread internet reactions a few days ago after posting a freestyle video.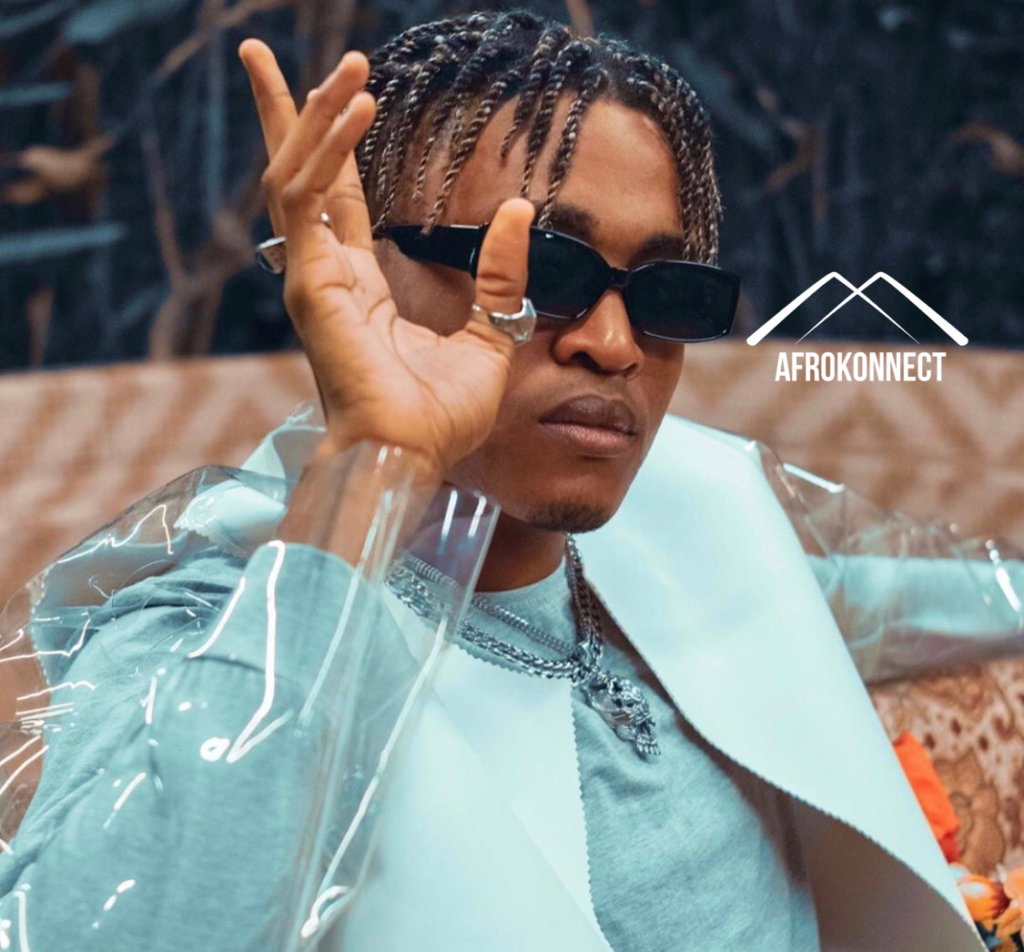 In the video, Check could be seen apparently admiring Davido's wife and Chioma's photos on his phone while he sang her a love song to her.
He had slid past Davido and his wife, Chioma's pictures, and when he got to a photo of Chioma alone, he zoomed in on it and continued singing.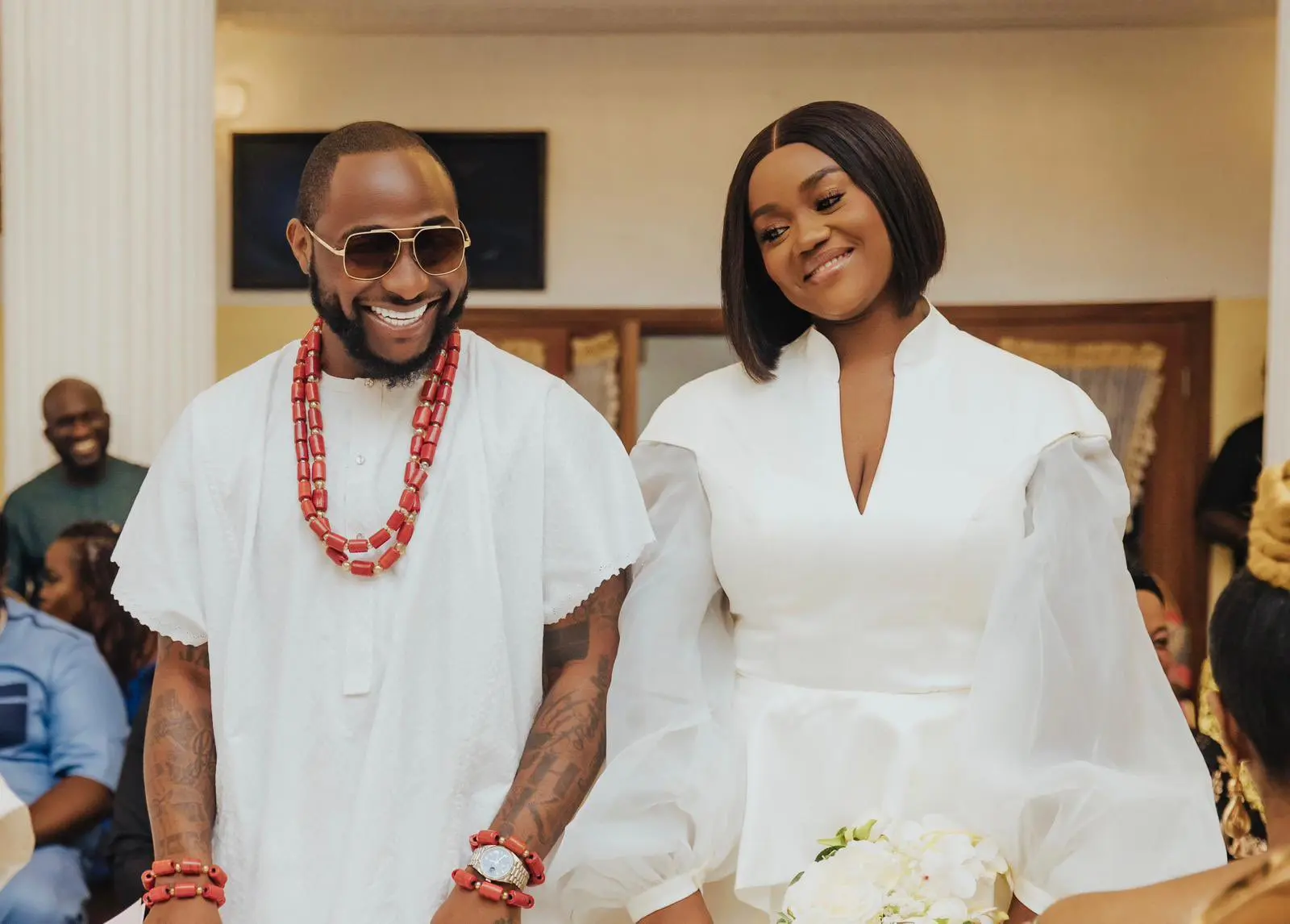 The gesture sparked controversy among fans and followers, with many saying it was disrespectful to zoom in on Chioma's photo and sing to her.
As you scroll, check out some of the reactions that followed the video.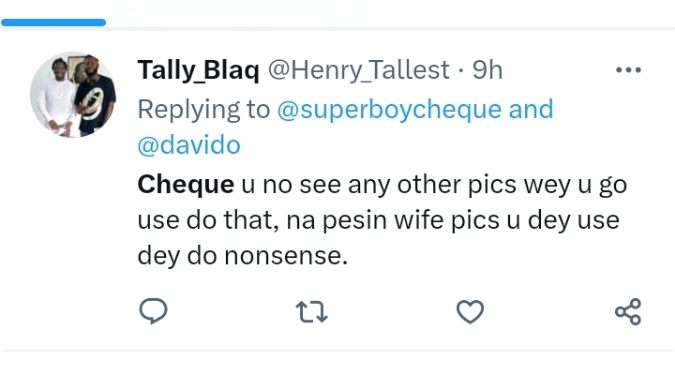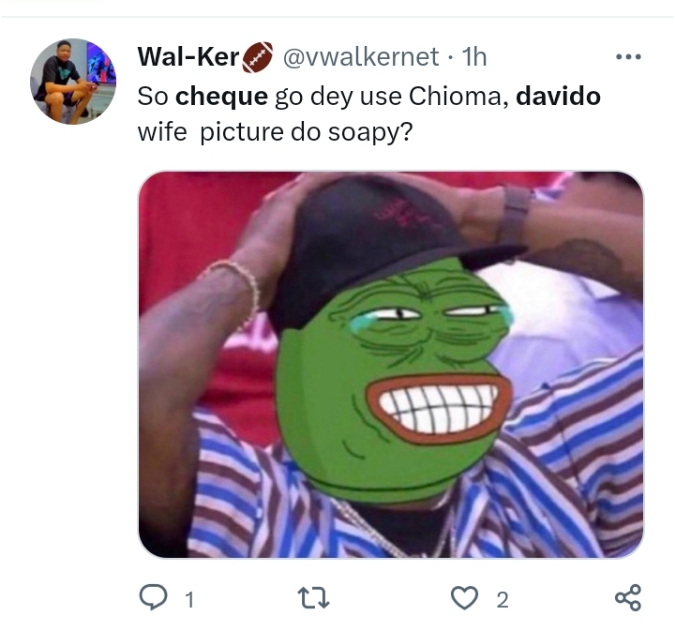 Following the backlash, Cheque deleted the video and apologized to Davido on his Twitter account, saying he meant no disrespect.
"Never meant any form of disrespect to Davido. baba has been there for me anytime I need am, even on Zoom remix. I no just reason am well before posting. Thank you and love you big bro .. OBO", he wrote on Twitter.
In response to Cheque's public apology, Davido quoted the tweet with a love emoji, expressing his acceptance and forgiveness.
See below,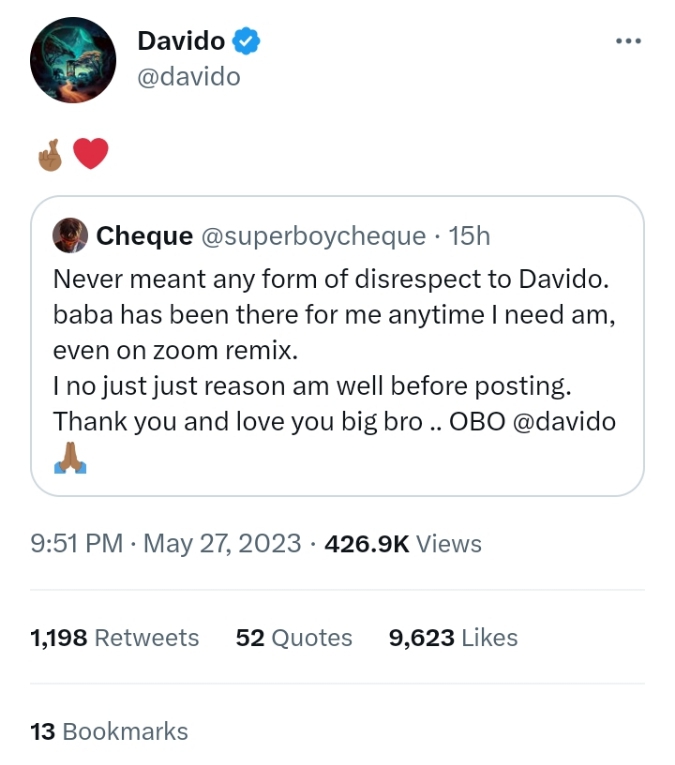 Watch the video he shared below,
"Why I Ran Away From My Family, Changed My Identity" – Actress Chacha Eke Recounts Terrifying Episode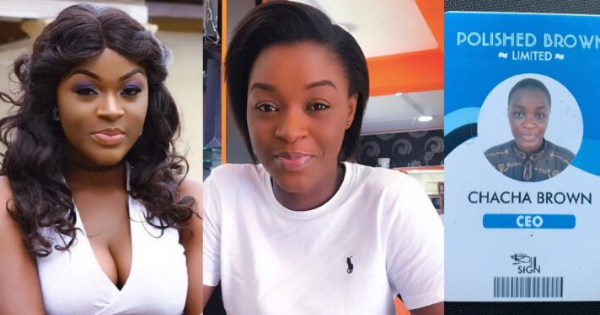 Popular Nollywood actress, Chacha Eke Faani, has shared her experience of a horrific "manic episode" she went through a year ago.
The talented actress – who recently celebrated her 10th wedding anniversary with her husband, Austin Faani – opened up about her mental health struggles in an Instagram post on Friday, June 2.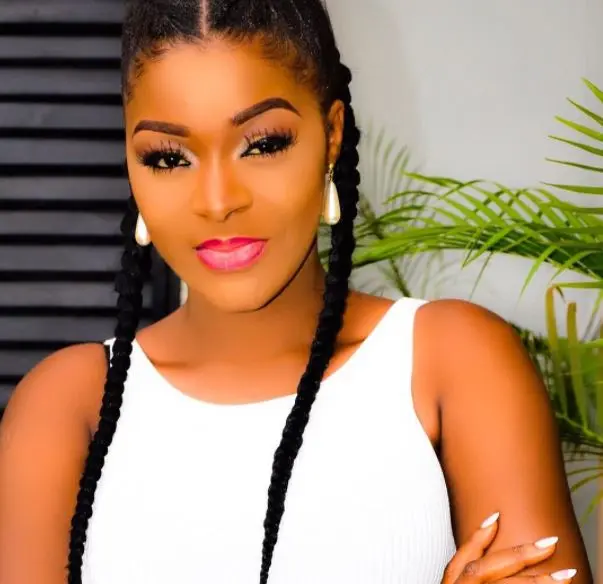 She revealed that she had her scariest episode around this time last year when she woke up at 3 am and felt unsafe at home.
Chacha Eke revealed that she was given a fake ID in a desperate attempt to run away from home during the manic episode, which she says lasted for months.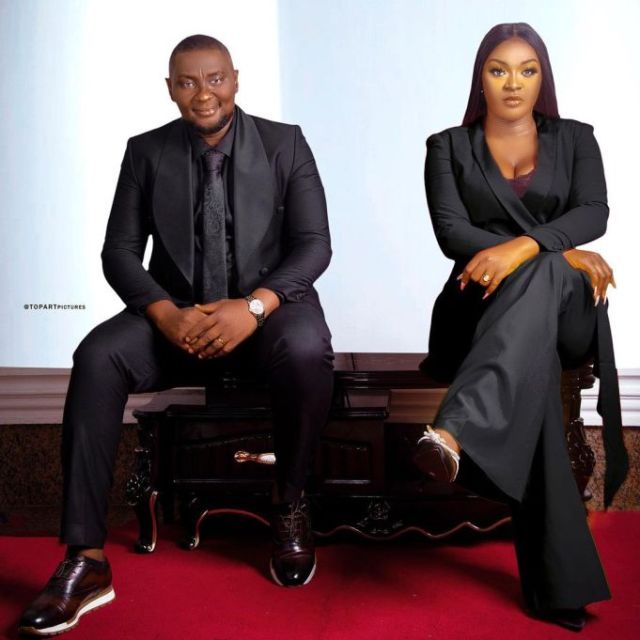 In her story, Chacha Eke revealed that she walked to a parking lot in Asaba at 3 am and then drove to Lagos. She spent days wandering the streets, hotels, and beaches of Lagos. Eventually, she used the fake ID to travel to Ghana by boat.
Luckily, with the help of an employee named Esther from First Bank Plc in Ghana, Chacha Eke was able to regain her memory. Esther recognized her and helped her remember her true identity and home.
Read her full story below,
"Slide 1 photo was me by this time last year-1st June 2022. I was in the middle of a manic episode that lingered for months. One day, I woke at 3am feeling unsafe and ran vigorously to a nearby motor park. I travelled to Lagos from Asaba like a fugitive.

Loitered the streets/hotels and beaches in Lagos for days. It was a rough blend of schizophrenia, depression, identity crisis and bipolar disorders. Using this "made-up" Identity card of me from one of my imaginary companies; I headed for Ghana by boat. Clad in black jalabia, I kept moving. I passed border after border; terrified & unrecognized.

In that moment, I was a "Drifter". It was at First bank in Ghana through a lovely bank staff named "Esther" that somehow, I remembered me. I remembered home. Esther was an Angel the universe used to open my eyes to the reality I disconnected from. I began to make my way back home. It took days but I returned, albeit sickly & in denial. One year later, l'm thankful to have survived one of my craziest episodes ever recorded."