Businesswoman Shares How She Found Out Her Regular Customer Stole Her iPhone 14 Pro Max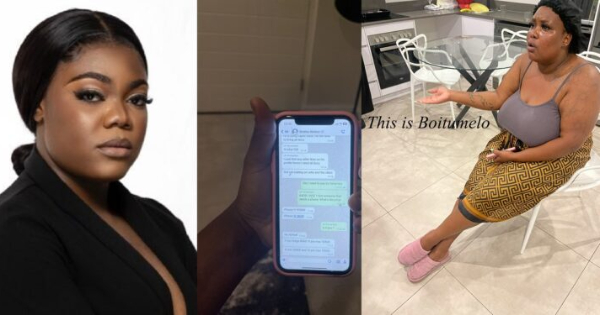 A South African entrepreneur, Chantel July, has called out a customer named Boitumelo, for allegedly stealing her iPhone 14 Pro Max.
The nail salon owner claimed that she initially thought the phone had been misplaced, but it was actually taken by a regular customer.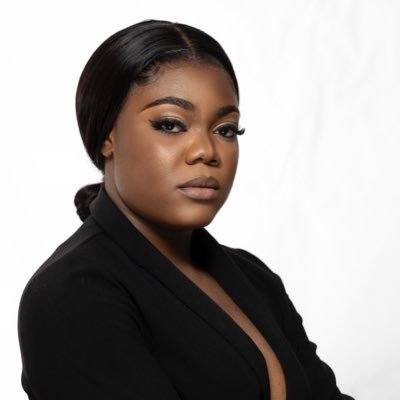 In a series of tweets shared on the microblogging platform, Twitter, Chantel described what happened when the customer requested door-to-door service at her Randburg apartment.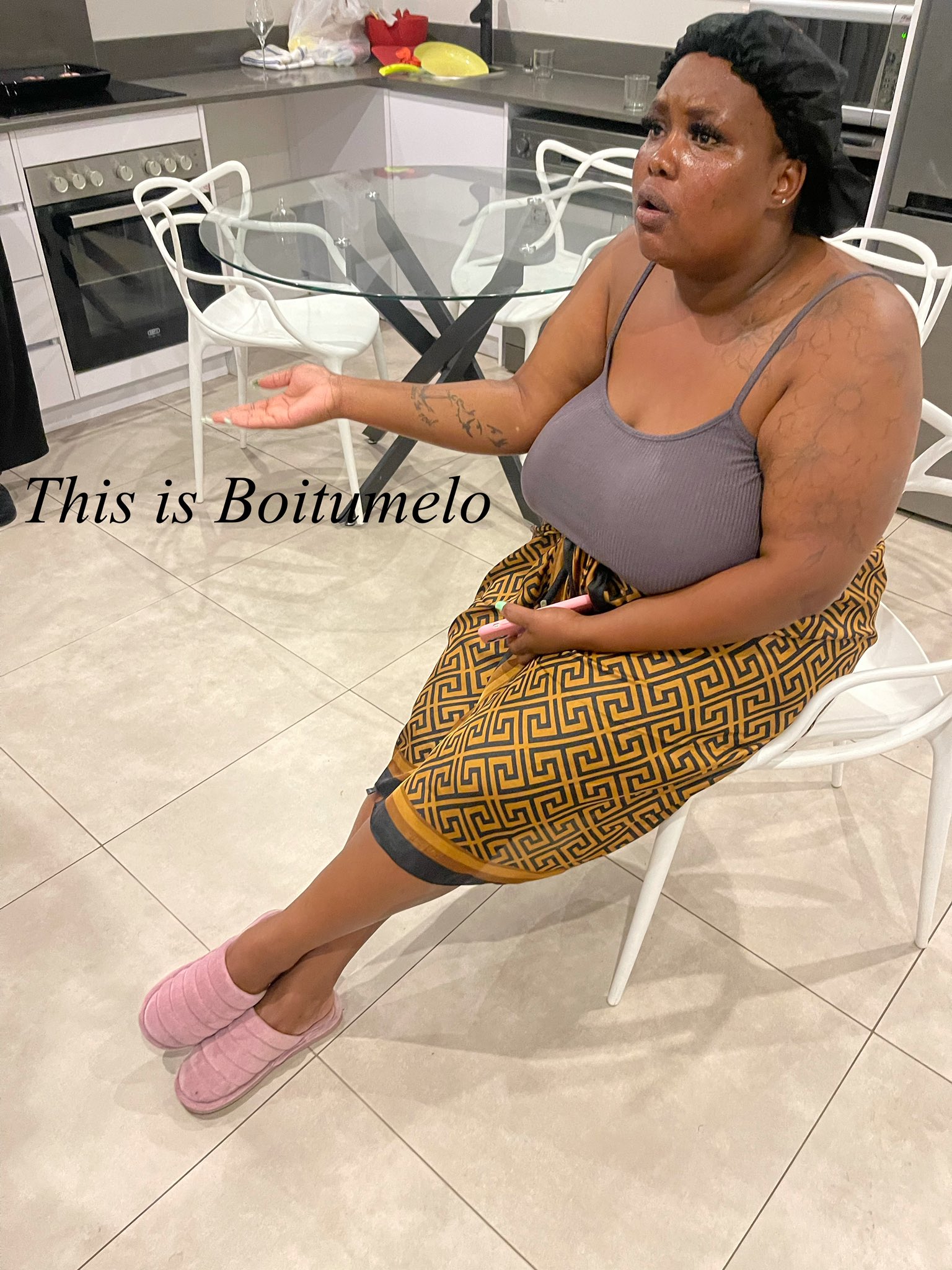 She wrote;
"HOW I LOST MY IPHONE 14 pro max AND MY REGULAR CLIENT TOOK IT.
On the 31st of May 2023, BOITUMELO C MHLANCA or MHLANGA called me out for a house call and she is a regular client once told her that I only service my regular clients for house calls. It was her and her friend BONGI.
They stay at Mint Apartment in Randburg Greenside. I went there on a Sunday around 3 pm, arrived, and gave them my service, load shedding happened I had to wait for it to come back. Came back and continued, done
. I had to leave, and she insides to reverse my car because I couldn't
She insisted to reverse my because I couldn't reverse it from that parking and my phone the 14 pro max was inside my car playing music. She then sent me to tell the receptionist to not close the gate. When I ran there, she took out my phone from the car and hide. The footage shows my car it's the one in a blue/grey the one that's reversing there. She (boitumelo) she is the one in light pink. I realized that my phone was gone when I got back into the car. I made a turn and quickly ran to her and said; my phone is missing.
She acted as if she didn't take it. We tracked it was showing Around the area where she stayed. But I couldn't find it. She then mentioned a guy called Mashudu saying he will help me find my phone. It was a scam, this people got access to my phone. She told me about naked
She told me about Naked Insurance, her friend Allan works there, lies, I called naked insurance and I asked them, they said they don't have someone called that. By the way, I never got paid for the service I provided. She said I should insure a phone that's already lost.
And said I shouldn't block or do a sim swap, and said I should wait for 2weeks. She was very manipulative. I did the opposite. She asked for my ID number I never gave her only to find out they were able to access my phone go to my banking app and increase my limit.
When I was asking for my money, they are busy posting, Posing with my nails. Difebe tse
! Yes, they increased my banking limits but they couldn't withdraw anything course I had already blocked my cards. They live this lifestyle by stealing from people.
Went back to her place on Tuesday to find out what exactly happened that's when I saw how she took my phone. I asked to search her apartment she agreed I then asked to search her phone she gave me went to the business account. It was July Nails my business."
They stay at Mint Appartment in Randburg greenside. I went there on a Sunday around 3pm , arrived and gave them my service, load shedding happened I had to wait for it to come back. Came back continued, done ✅. I had to leave, she insides to reverse my car because I couldn't pic.twitter.com/DDK0mOkqzS

— IG:@July_Nails_02 (@Chantel_July) May 4, 2023
Man Sends Wife To School After She Worked As Cleaner To Send Him To Canada To Study [Video]
A man living abroad has sparked backlash on social media after revealing his wife worked as a cleaner to finance his studies in Canada.
In a video reel that has gained popularity on the video-sharing app, TikTok, the man shared his growth and wonderful story.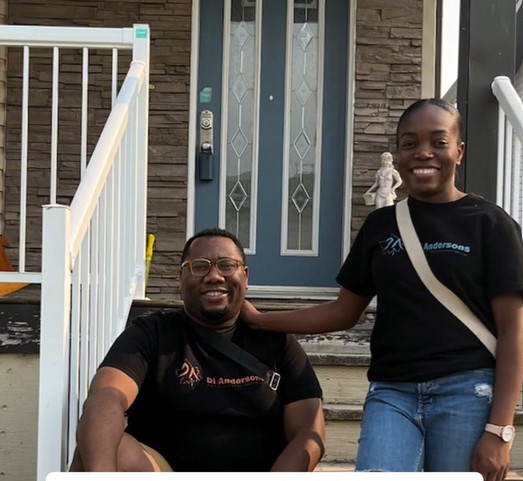 He revealed that his wife had a demanding job as a bathroom cleaner and used the money she earned to pay for his education.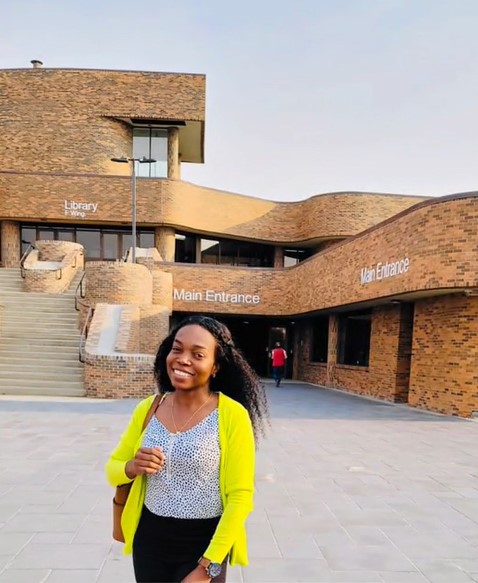 The man returned the favor by sending her back so she could finish her studies.
Captioning the video, he wrote,
"When your wife cleaned the bathroom to send you to school in Canada. You then become a bank manager and send her to school."
Watch the video below,
Housekeeper Job Openings In Canada Apply Now!
"I Can't Calm Down" — Garri Lady Davido Gave N2M Sheds Tears As Someone Gifts Her Brand New iPhone 14 Pro Max (Video)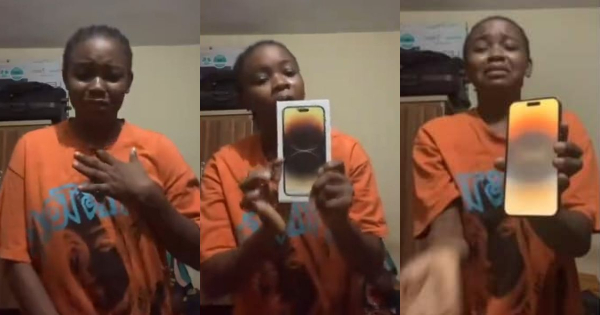 Okoli Chinonye, ​​the viral young lady whom the DMW Boss, Davido, recently gave N2 million, has been surprised with an iPhone 14 Pro Max.
Days after Davido gifted her 2 million naira over her viral Garri drinking video, Okoli Chinonye is now the proud owner of an iPhone 14 Pro Max smartphone. An excited Chinonye took to her TikTok account to share this wonderful development.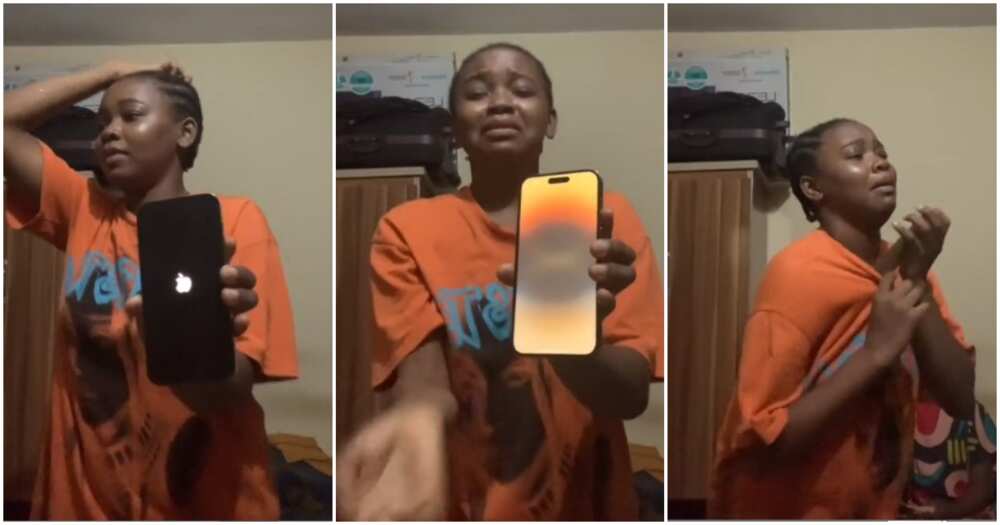 The young woman burst into tears and struggled to contain her joyful emotion as she unwrapped the new phone in front of the camera. She expressed her shock at the phone gift and thanked her patron and influencer, Tunde Ednut for sharing her video.
Chinonye pleaded with social media users to help her thank whoever gave her the phone. "All I can say is God is not done with me, it's just getting started and I'm ready for it," She Wrote On TikTok.
Watch the video she shared below:
Designer Of Nigeria's Flag, Pa Taiwo Akinkunmi Dies At 87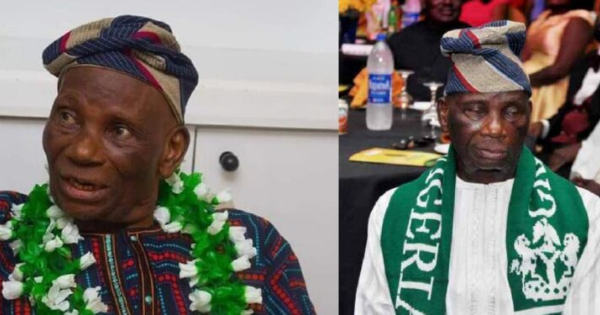 Nigerian civil servant and the designer of the National flag, Pa Michael Taiwo Akinkunmi has died at the age of eighty-seven (87).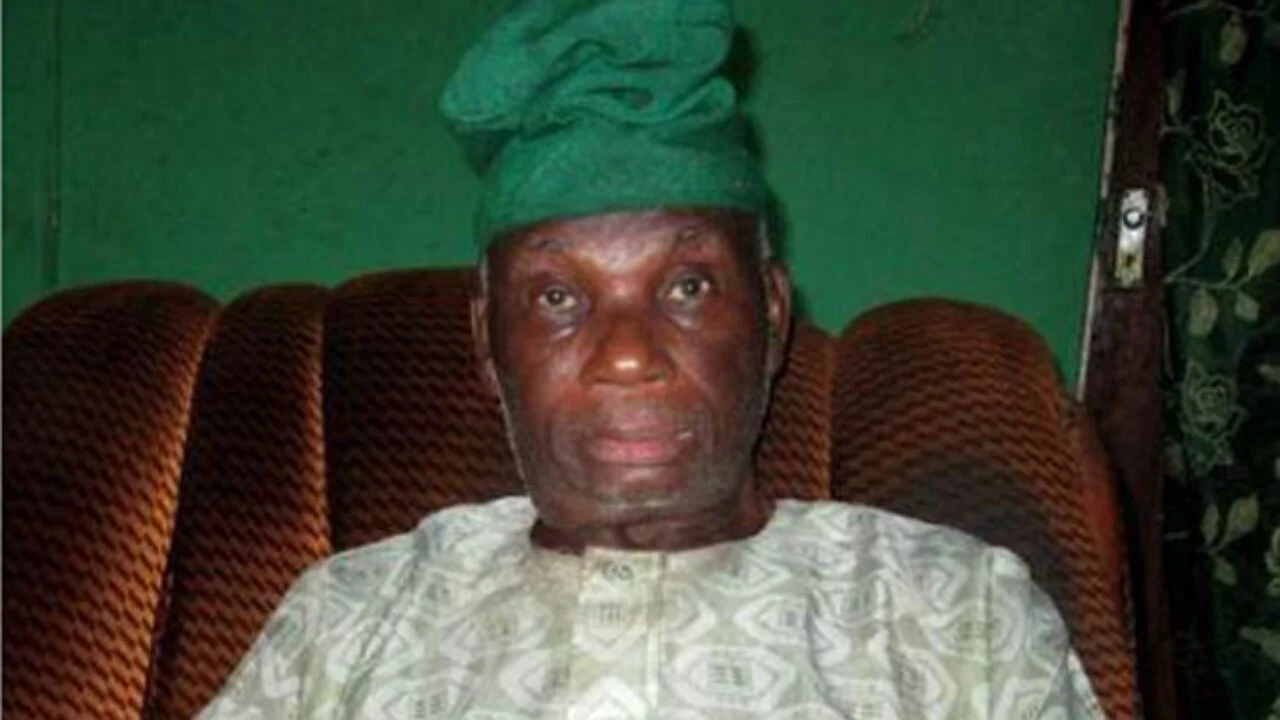 According to his family, Pa Michael Taiwo Akinkunmi died in the early hours of Tuesday, August 29th, following a brief illness.
One of his children announced his tragic death on Facebook.
"Life is indeed transient; I can say boldly that you live a life with a landmark. Continue to rest, my father! Pa Michael Taiwo Akinkunmi (O.F.R.): Great Man has gone."
The late Pa Michael Taiwo Akinwunmi, born on May 10th, 1936, had his primary education at Baptist Day Secondary School, Ibadan, and his secondary education at Ibadan Grammar School. He started his career as a civil servant at the Ibadan Secretariat and then went abroad to the Norwegian Technical College to study agricultural engineering.
While living abroad in 1958, Akinkunmi came across an article in a national newspaper requesting for ideas for the Nigerian flag in light of the country's impending independence from British rule. His application was selected as the best among approximately 2,000 others.
A red sun with flowing rays was placed on the white band of the initial flag design, which was bordered by two green bands. The oversight committee ultimately left the sun to create the current design.
The ingenuity and subtlety of Akinkunmi's design were key factors in his choice (the white band symbolizes peace, while the green bands reflect the country's immense natural resources and forests). On Independence Day (October 1, 1960), the American flag was raised in place of the British Union Jack.
When Akinkunmi's project was chosen, the government gave him 100 pounds. Additionally, President Goodluck Jonathan awarded him the MON (Member of the Order of the Niger) award.