"I Paid Outrageous Amount To Kidnappers For My Father's Release" – John Obi-Mikel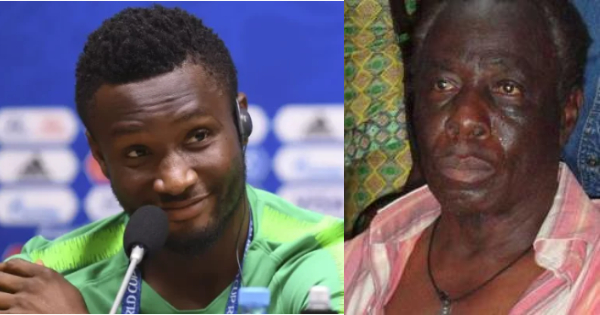 Former Super Eagles captain, John Obi-Mikel, has explained that in 2018, he spent an "insane amount of money" to secure the release of his father, Pa Michael, from a kidnapper's hideout.
Five years ago, the football hero's father was kidnapped along with his driver, Ishaya John, while they were traveling to Enugu from Jos in Plateau State.
In an interview with Dubai Eye 103.8 Sport, he recalled learning about his father's kidnapping about four hours before Nigeria's 2018 World Cup match against Argentina.
He described how a family member asked him to call the kidnappers on a specific number, which he did, and was then asked to pay a ransom.
The former Chelsea midfielder also revealed that while he was saddened by the news, he had to put it aside and play the game.
He said;
"I was emotionally distraught and I had to make the decision about whether I was mentally ready to play. I was confused. I did not know what to do but, in the end, I knew that I could not let 180 million Nigerians down. I had to shut it out of my head and go and represent my country first. I could not even inform the coaches or NFF staff and only a very tight circle of my friends knew.

I was told that they would shoot my dad instantly if I reported to the authorities or told anybody. I also did not want to discuss it with the coach [Gernot Rohr] because I did not want my issue to become a distraction to him or the rest of the team on the day of such an important game. As much as I wanted to discuss it with the coach, I could not.

The abductors then started calling the families to demand a ransom of N10 million but the operatives acting on intelligence information swooped on them. A gun duel ensued which forced the hoodlums to abandon their victims inside the forest and they were promptly rescued.

They [the kidnappers] said listen, we know, it is Mikel he would pay. If he doesn't, we are going to shoot his dad. They said they had nothing to lose. They would shoot my dad and dump him somewhere.

It was horrible. After the game, I got back on the phone, tried to negotiate with them and spoke with them. They were calling some ridiculous amount of money for a start, and in the end, I still had to pay some crazy amount of money to get my dad out.

Even now, I still go through it. Even when I got a flashback, I had to speak to the guys on the phone. There was a gunpoint at his head. They said they would shoot him, kill him. I have not told my kids about it, but a few months ago, they looked at my phone and saw the news about it. Obviously, I have not told them about it because they are young kids, 7 years, but one day when they grow up, I will be able to share the story with them."
"You're Old Like My Grandfather" – White Lady Responds To Carter Efe's Proposal (Video)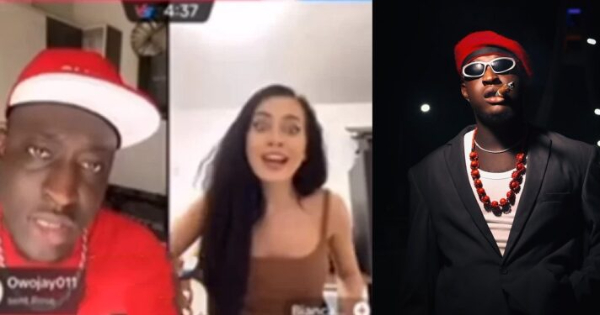 A Caucasian lady has shocked Nigerian content creator, Carter Efe, with her reaction when he tried shooting his shot at her during a live chat on Tiktok.
She said yes when the content creator asked her to marry him, adding that he reminded her of her grandfather.
Carter Efe yelled and cursed her in Yoruba while the two were talking, and continued by inquiring as to what she meant by it.
He asked; "Can you marry me"
She replied by saying that even though she has no issues with him getting married, it probably wouldn't happen because he is an elderly man.
"Yes, but you are like my grandfather," she said.
"Which kind talk be that, why do you say I look like your grandfather?" he queried.
Watch the conversation below,
BBNaija Star, Tacha, Excited As She Meets Veteran Actors, Pete Edochie, Kanayo O. Kanayo For The First Time (Video)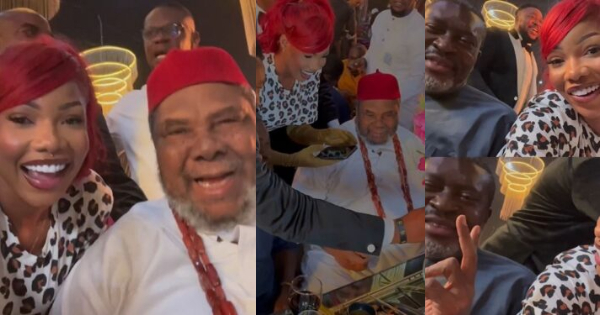 Big Brother Naija star and entrepreneur, Tacha, has taken to social media to express her excitement after first meeting with veteran actors Pete Edochie, Kanayo O. Kanayo, and Victor Osuagwu.
The reality TV star recently met the Nollywood legends at the 40th birthday dinner party of Elizabeth Jack-Rich, the wife of billionaire Tein Jack-Rich.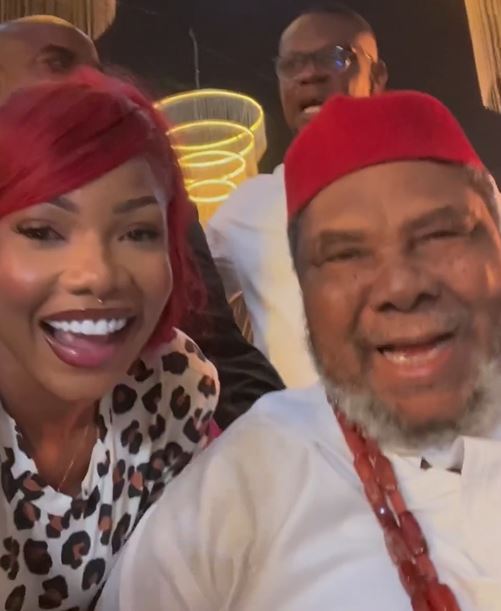 Tacha, who attended the birthday dinner as a valued celebrity guest, met with the legendary actors during the event.
Overjoyed, the Big Brother Naija Star took to her social media page to share a video of her exchanging pleasantries with them.
In the video, Tacha can be seen asking Pete Edochie for a photo and praising the 76-year-old actor for his timeless looks. She also expressed her admiration for Kanayo O. Kanayo, mentioning that she grew up watching him on screen as a child and was fascinated by his youthful looks.
Captioning the video, she wrote,
"Not YOUR REGULAR BIRTHDAY!!! It was such a great HONOR meeting @peteedochie. Happy Birthday once AGAIN @elizabethjackrich."
Watch the video below,
"The Lord Showed Me Yul Edochie Marriage Been Restored With May Edochie" – Prophet Reveals (Video)
A Nigerian prophet named Abel Boma has transmitted the revelation he received from God regarding the union of Yul and May Edochie.
Yul Edochie's marriage saga has been circulating on various social media platforms with unverified rumors that his marriage to his first wife had been annulled, which has been denied by Rita Edochie.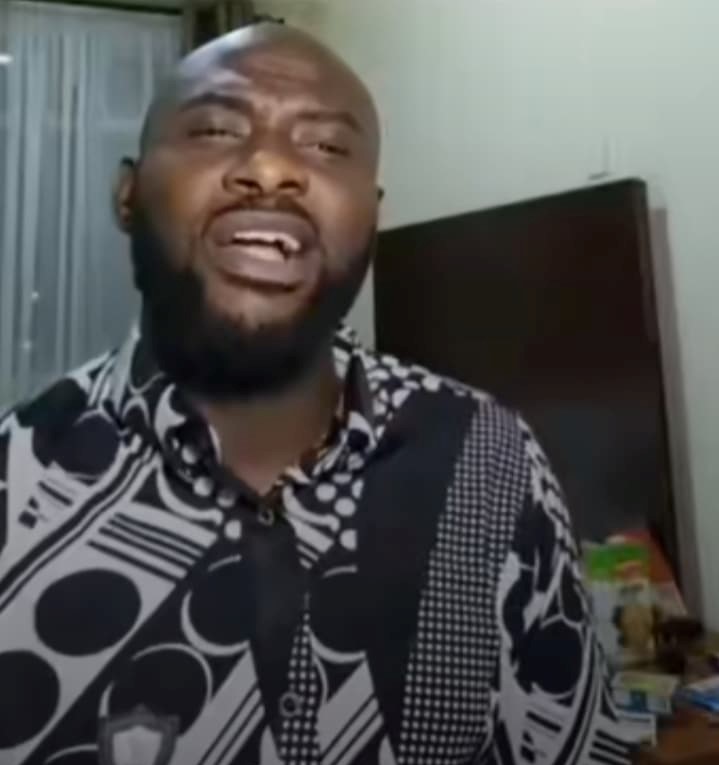 The Prophet also urged people not to interfere in Yul Edochie's marriage because they are the ones causing trouble for the couple.
He pointed out that since the troubles in their marriage began, God has promised to restore whatever was lost in the marriage.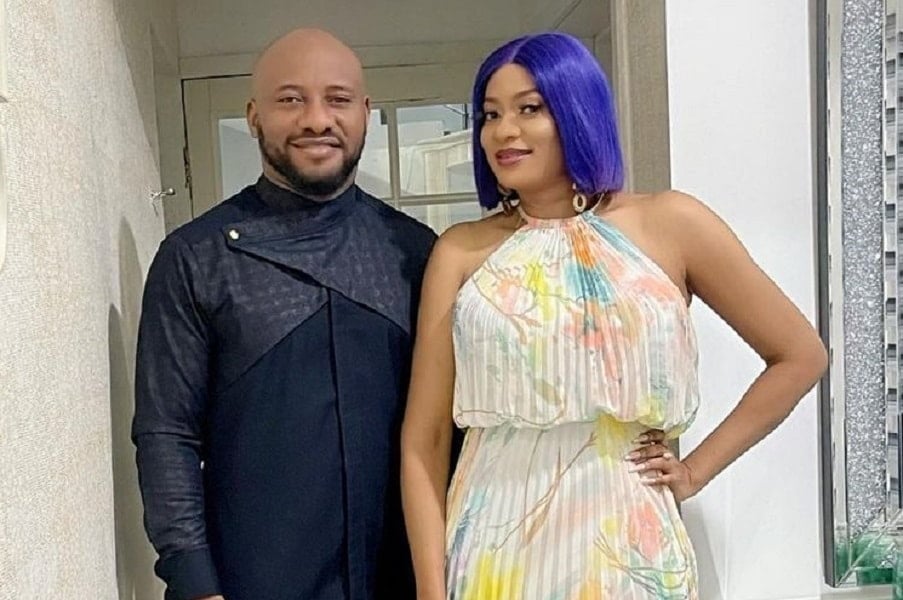 Watch the video below,