Fans Reacts As Gospel Singer, Mercy Chinwo Shares Private Chat With Husband, Pastor Blessed (Screenshot)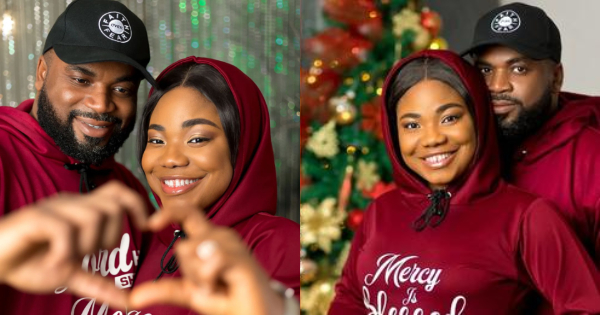 Popular gospel singer, Mercy Chinwo, took to social media to share her conversation with her husband, Pastor Blessed Uzochikwa.
In the chat, which drew hilarious reactions from their fans and followers, Pastor Blessed Uzochikwa confronted his wife, Mercy Chinwo for not acknowledging him in her last post.
The "Na You Dey Reign" singer shared some beautiful photos of herself on her Instagram page. In the photo, she wore a beautiful African print dress and her matching signature beret.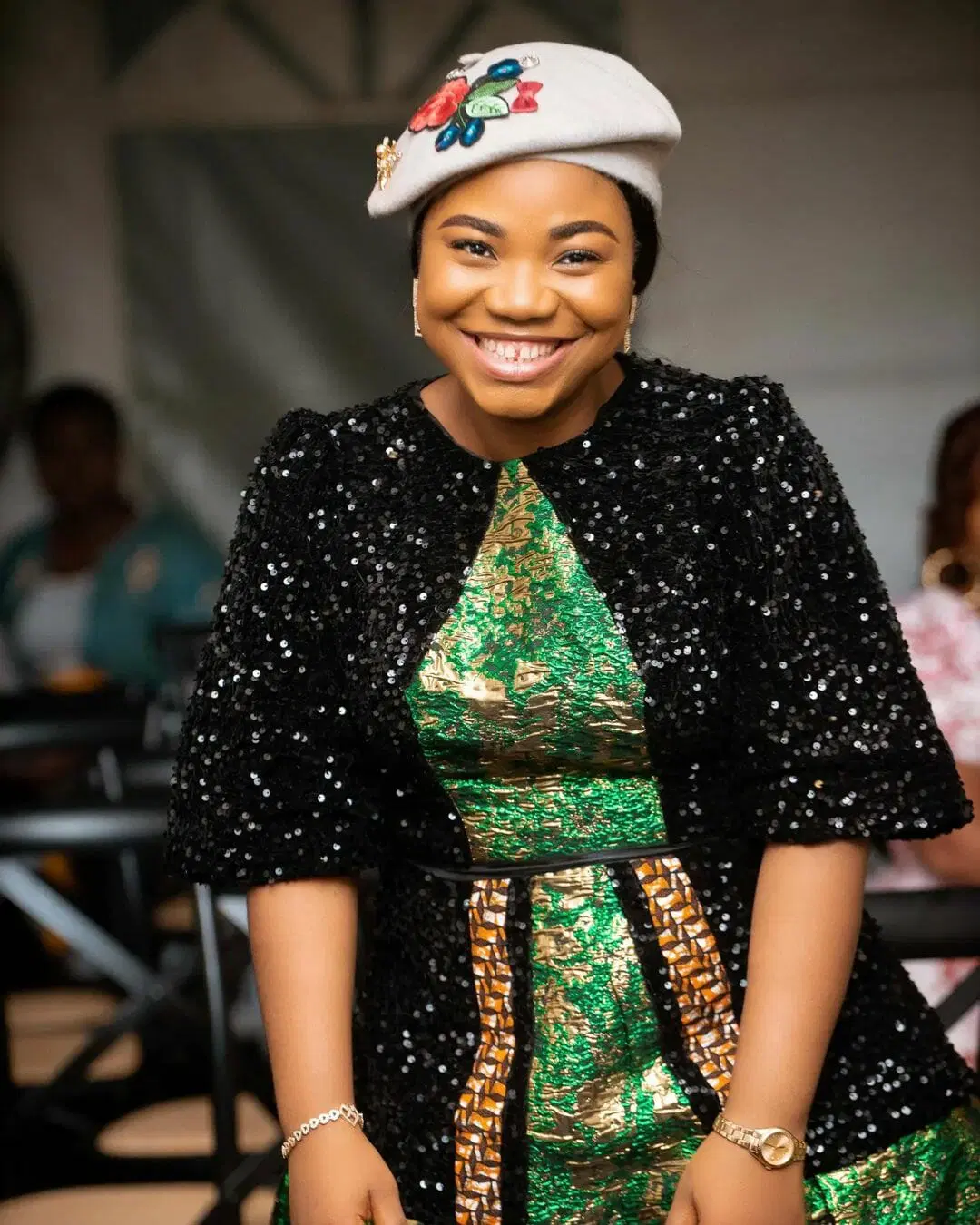 In her caption, she paid tribute to everyone who contributed to the stunning look, with the exception of her husband, who appeared to be doing her hair.
"May you always have countless reasons to SMILE
 My last slide though
, 
 by @dhbydhofficial, Beret by @mecempire, Styled by 
." She wrote.
Upon seeing that, she didn't give him credit for his style, Pastor Blessed slipped into his wife's DM to ask why she didn't mention him in the post.
Read their hilarious exchange below,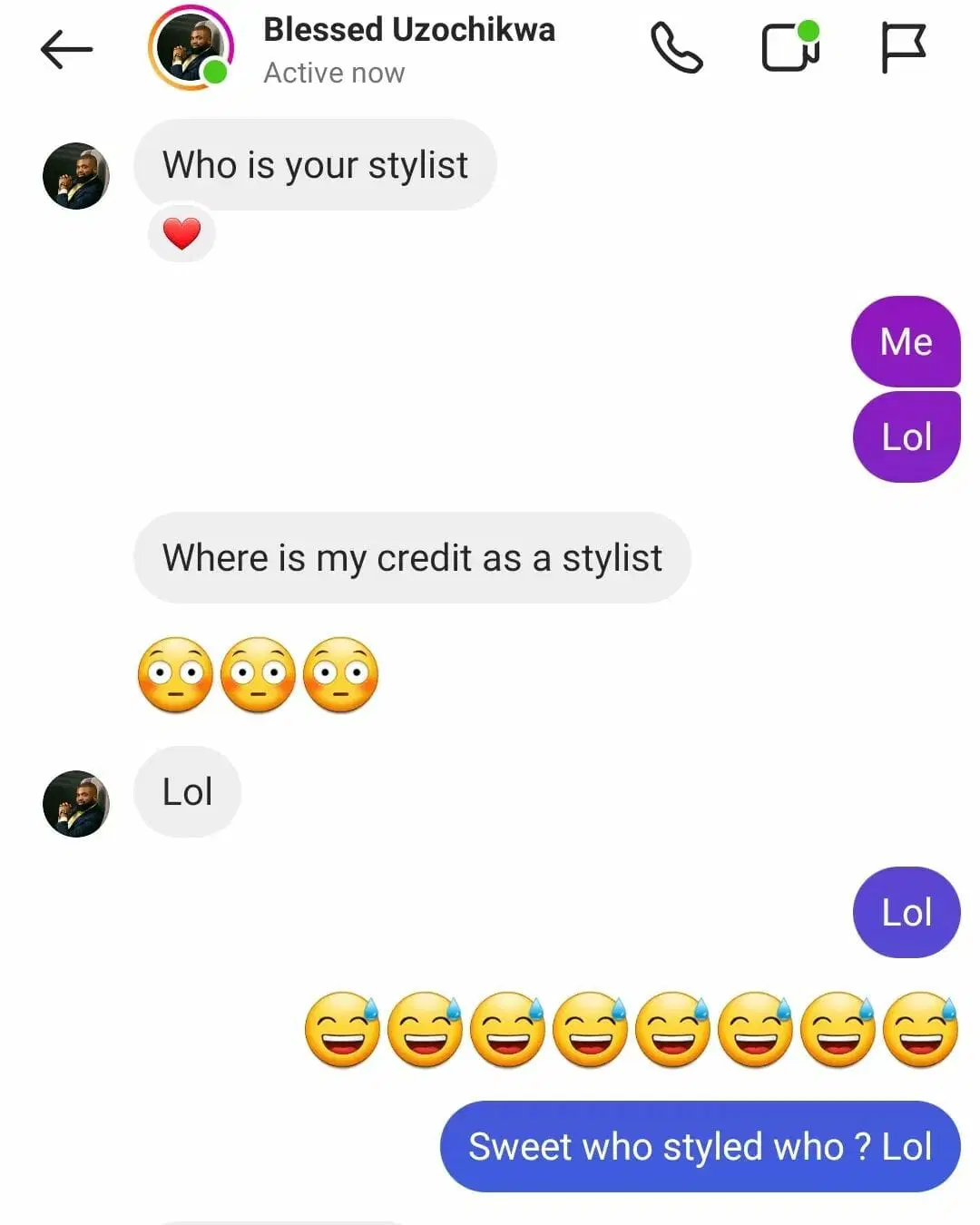 Social media users responded to the post with amusing comments begging her to give Pastor Blessed all the credit he deserves.
Actress Yvonne Jegede Reacts Following Secret Wedding With Colleague, Regina Daniels' Husband, Ned Nwoko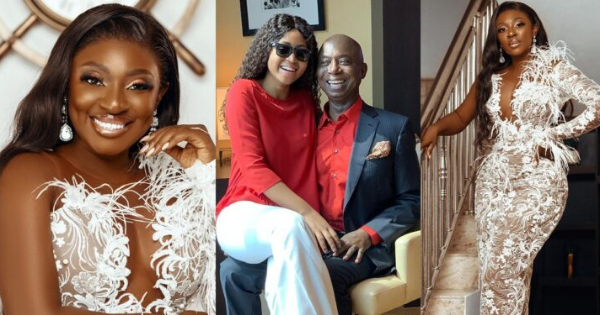 Popular Nollywood actress, Yvonne Jegede, has finally responded to reports that she has secretly married fellow actress, Regina Daniels' husband, Ned Nwoko.
A report recently made the rounds on the Internet that Yvonne Jegede had secretly married Ned Nwoko and become his latest wife.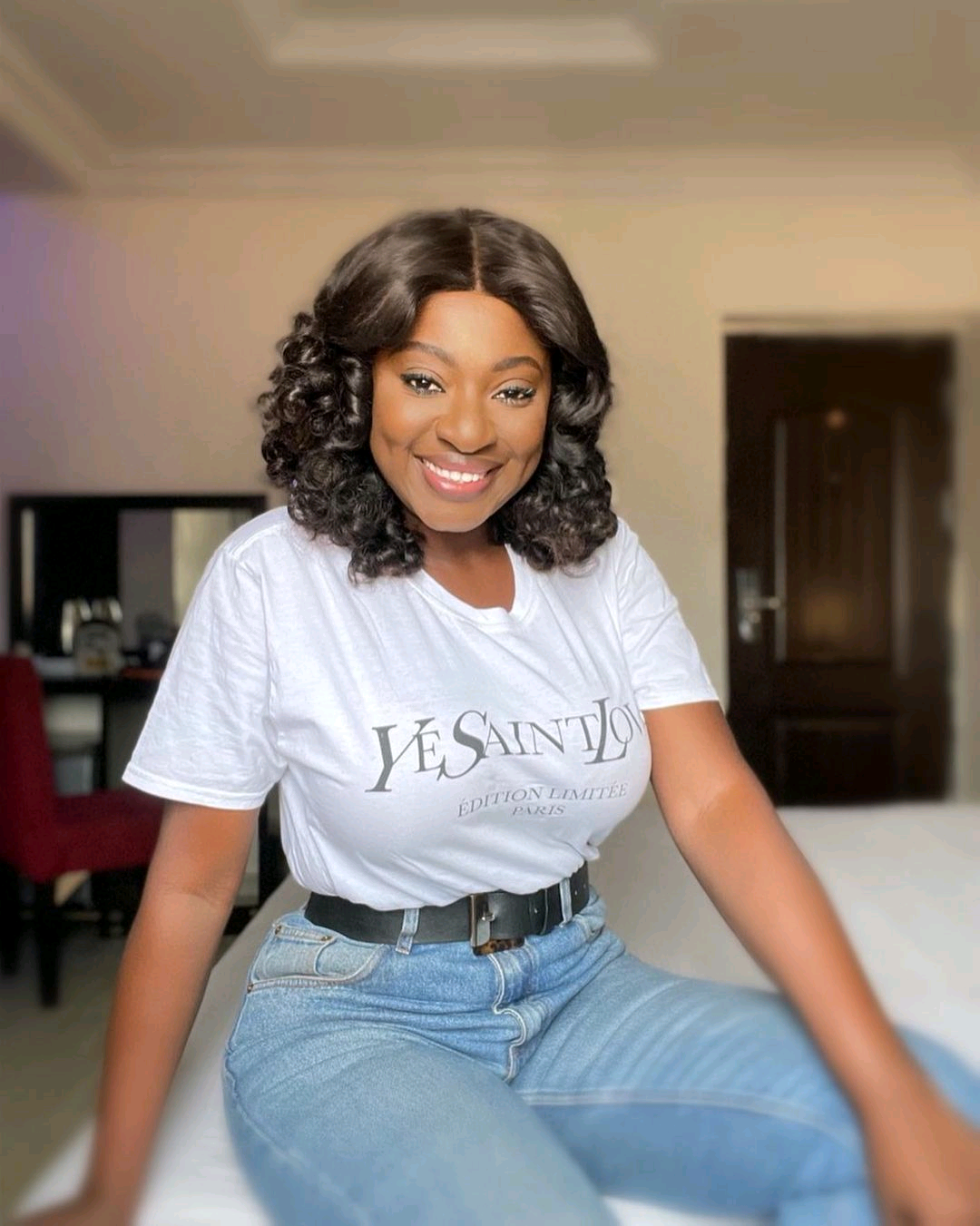 A blogger behind the rumor also claimed that Yvonne deleted all of her photos on her official Instagram page after the secret wedding.
However, in a post on Friday, Yvonne flatly denied the rumors, dismissing them as baseless and unfounded. She also urged the public to ignore such misinformation.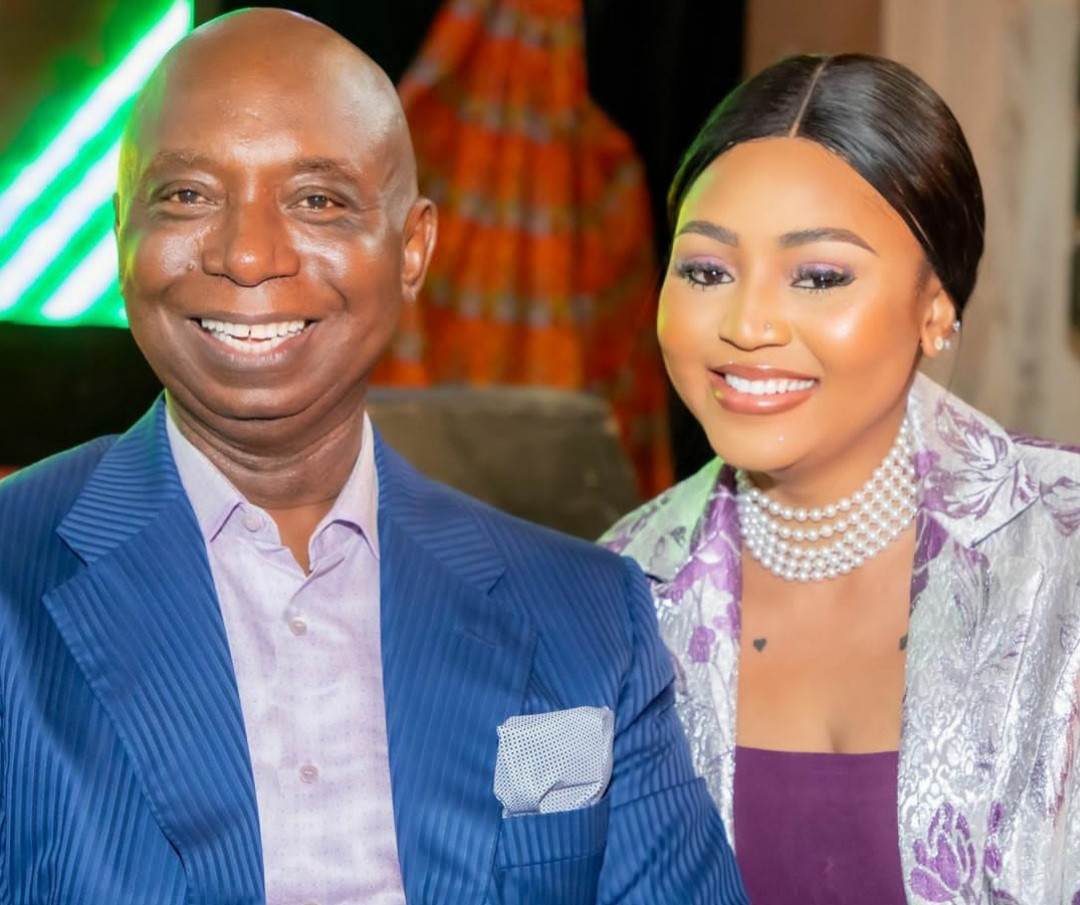 "When many people tell you they know 'something' is happening or believe something has happened, you ask them how they got to know, and they tell you they read or heard it on the Internet. Oftentimes, they heard it from idiots like the person talking in this shameless and false post.

"How could you be this bold about falsehood? How can you lie confidently? How can you intentionally tarnish people's images and damage relationships all because you want to attract people to your blogs?

"This funny post is evil and false in every sense." I won't dissipate energy fighting you. Karma is already dealing with your destiny because if you have one, you won't be all gassed up about other people's lives when yours is tattered.

"How does deleting my photos from my page give off anything?" The effrontery to mention my son set, I suppose give you one dirty slap." She wrote on Instagram.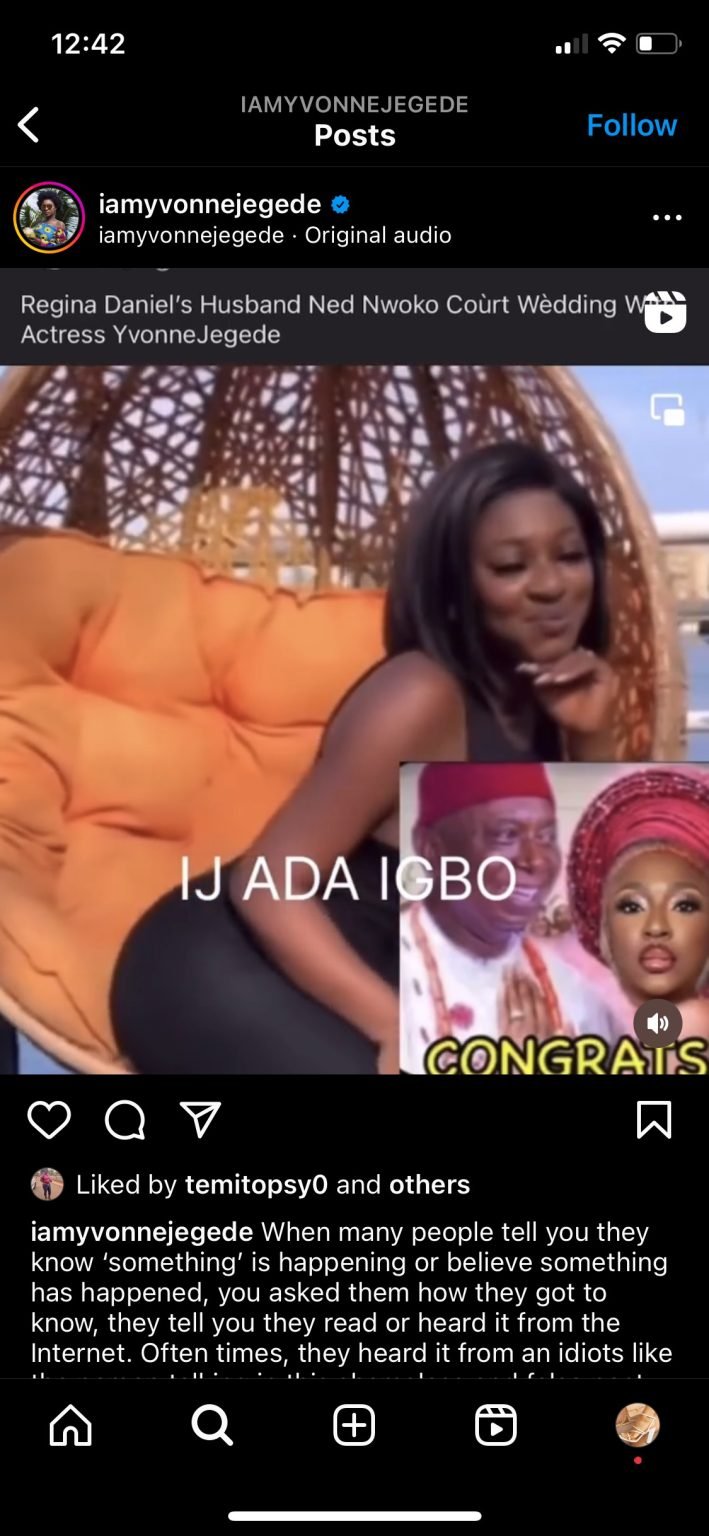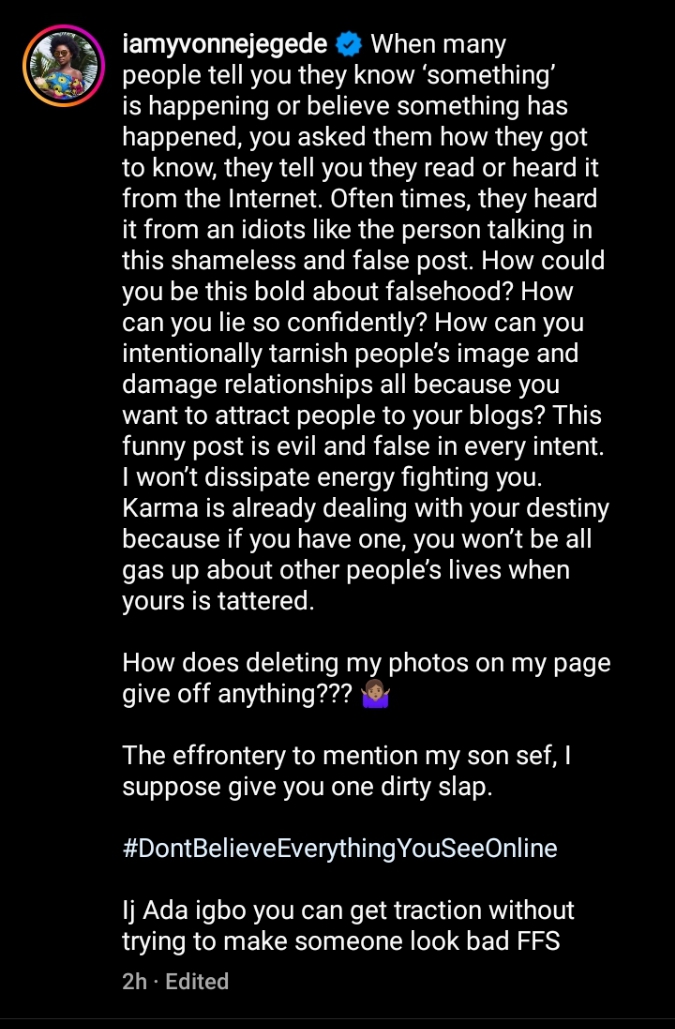 "Mercy Johnson Is My Biological Sister" – Ghanaian Lady Cries Out With Evidence (Video)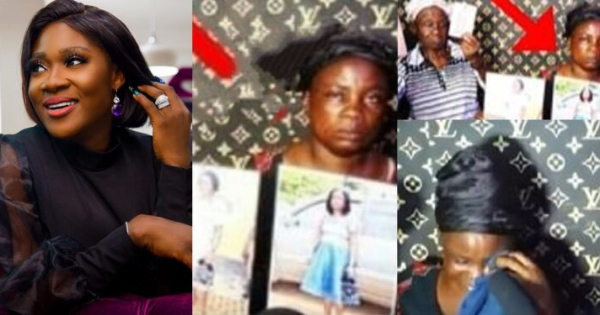 A Ghanaian lady who claims to be the biological sister of Nollywood actress, Mercy Johnson, has turned to the internet for help in locating her.
In a viral video, the lady confidently claims that she is Mercy Johnson's fourth sister from another father.
The lady and her mother were featured on a platform where she expressed her sorrow in her native language, which was translated by the presenter.
According to the presenter's statement, the family is desperately searching for Mercy Johnson and Daniel Johnson as they have been out of touch with them for some time.
Appealing directly to Mercy Johnson, the family implored her to reach out and restore their broken connection. To support her claim that she is in fact Mercy Johnson's sister, the lady submitted some alleged childhood photos.
Watch the video below,
"I Married My Best friend" – Actress Chacha Eke Celebrates 10th Wedding Anniversary With Husband, A Year After Announcing Split (Video)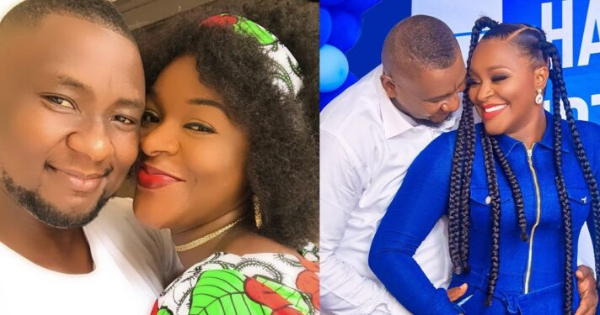 Nollywood actress, Chacha Eke, has taken to social media to merrily celebrate her 10th wedding anniversary with her husband, Austin Faani.
This comes a year after the mother-of-four announced the end of their marriage on social media, claiming that she is done pretending and living a lie.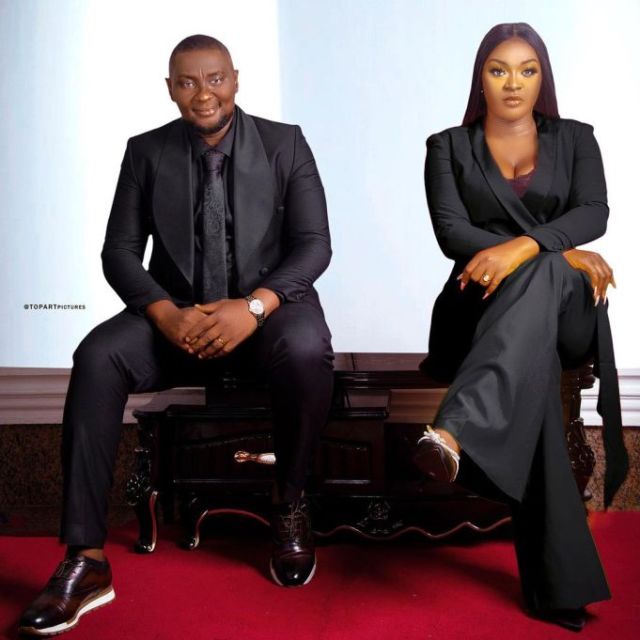 "I sincerely and publicly apologize for living a lie these past years.True to random speculations, there has been trouble in my "perceived paradise".

For the 2nd time in 2years, I am here again on social media boldly declaring that I am done with my marriage. My long overdue/relentless stance on this is of course no news to Austin Faani, the doctors and my parents," she wrote in part at the time.
Well, it seems the controversial couple has put their differences aside and fanned the flame of their love further as Chacha recently celebrated their 10th wedding anniversary.
On Thursday, June 1, Chacha shared a video from their wedding ten years ago and praised her husband, whom she describes as her best friend, for standing by her through all of her manic episodes.
"Today, 10 years ago. I married my best friend. 1st June 2013
…To he who has brought me great luck and fame, he who catches me every time I fall, my calculator & puzzle fixer in moments of confusion, my warrior in moments of weakness, the reason I am a mother, the reason I am still a Mrs. I say THANK YOU!!! I love you Forever AUSTIN FAANI
", she captioned the clip.
Watch the video below,