"If You Survive This Year, Thank Whatsoever God You Are Worshipping" – Mr. Macaroni Shares Scary Dɘath Thrɘat He Received Amid Election Saga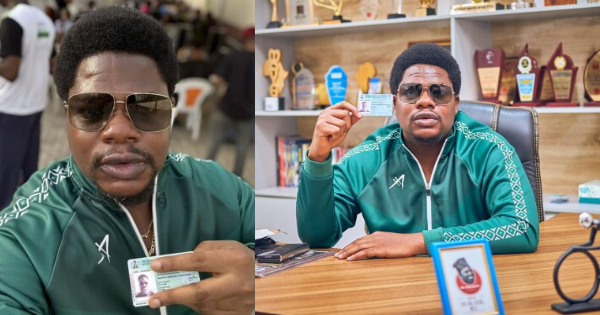 Nigerian content creator and activist, Debo Adedayo, better known as Mr. Macaroni, has shared the despicable message he received from a troll who threatened his life.
Mr. Macaroni posted a screenshot of the email on Twitter, in which the troll sent out a death threat and claimed that they are monitoring his life and movements in his area of residence in Lagos.
According to the troll, if the content creator lives until the end of 2023, he should be thankful because he's on their watch list.
The email reads,
"Omo ale Yoruba. You have been watched around Lekki and the environs. If you survive this year, then thank whatsoever god you are worshipping."
In response, Mr. Macaroni revealed that he is not afraid of the threat as he has received many threats since he started fighting corruption and injustice in the country.
He added that his loyalty can never be bought or compromised while he lives.
The activist tweeted,
"I am already used to threats…I have a record of all threats I have received, I also have recorded calls and messages of powerful politicians and their children that have ever reached out to me!!!
I always said No, Because as long as I still Dey, there shall be NO COMPROMISE!"
See below,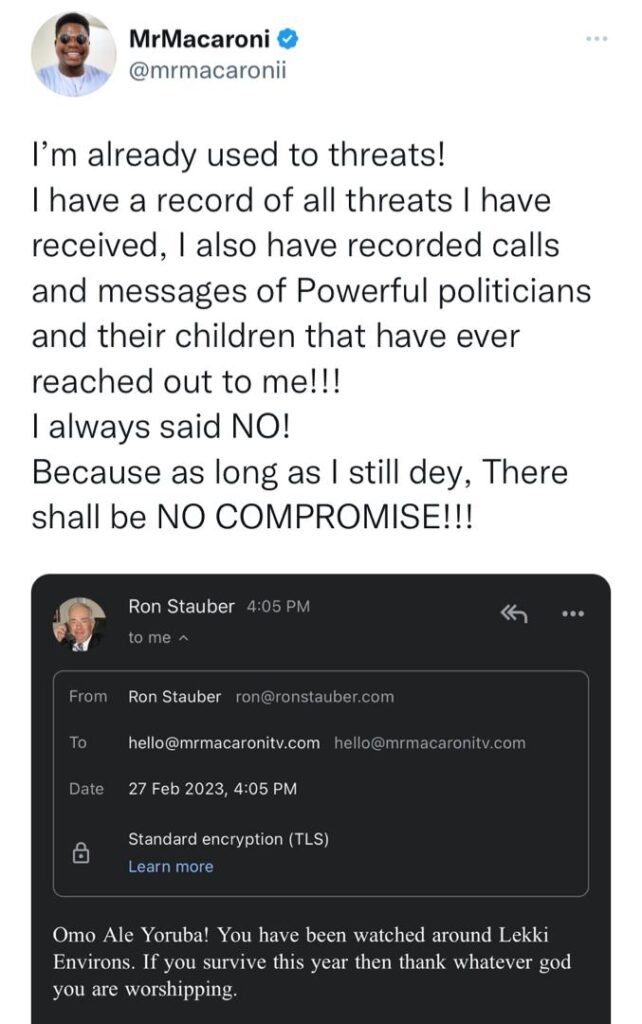 "You're Old Like My Grandfather" – White Lady Responds To Carter Efe's Proposal (Video)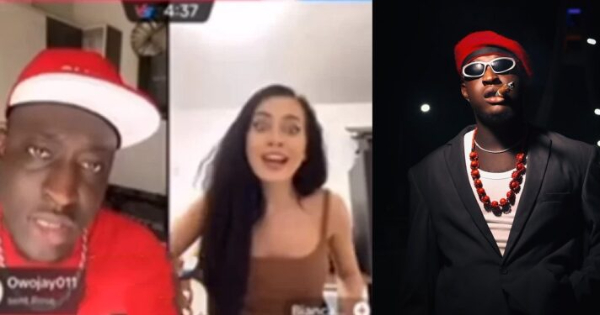 A Caucasian lady has shocked Nigerian content creator, Carter Efe, with her reaction when he tried shooting his shot at her during a live chat on Tiktok.
She said yes when the content creator asked her to marry him, adding that he reminded her of her grandfather.
Carter Efe yelled and cursed her in Yoruba while the two were talking, and continued by inquiring as to what she meant by it.
He asked; "Can you marry me"
She replied by saying that even though she has no issues with him getting married, it probably wouldn't happen because he is an elderly man.
"Yes, but you are like my grandfather," she said.
"Which kind talk be that, why do you say I look like your grandfather?" he queried.
Watch the conversation below,
BBNaija Star, Tacha, Excited As She Meets Veteran Actors, Pete Edochie, Kanayo O. Kanayo For The First Time (Video)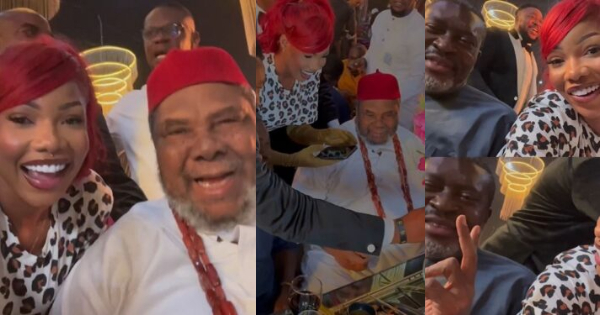 Big Brother Naija star and entrepreneur, Tacha, has taken to social media to express her excitement after first meeting with veteran actors Pete Edochie, Kanayo O. Kanayo, and Victor Osuagwu.
The reality TV star recently met the Nollywood legends at the 40th birthday dinner party of Elizabeth Jack-Rich, the wife of billionaire Tein Jack-Rich.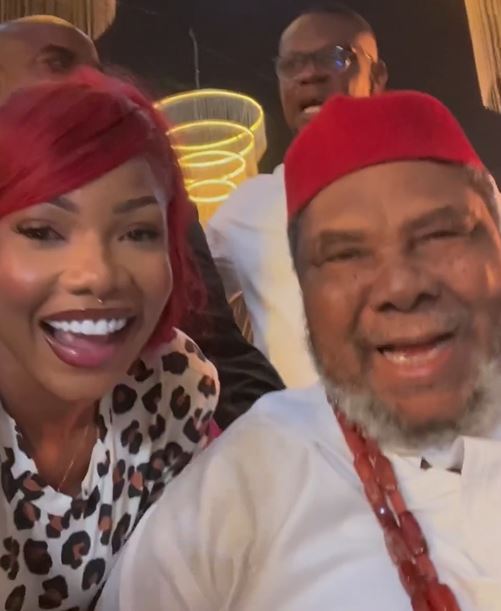 Tacha, who attended the birthday dinner as a valued celebrity guest, met with the legendary actors during the event.
Overjoyed, the Big Brother Naija Star took to her social media page to share a video of her exchanging pleasantries with them.
In the video, Tacha can be seen asking Pete Edochie for a photo and praising the 76-year-old actor for his timeless looks. She also expressed her admiration for Kanayo O. Kanayo, mentioning that she grew up watching him on screen as a child and was fascinated by his youthful looks.
Captioning the video, she wrote,
"Not YOUR REGULAR BIRTHDAY!!! It was such a great HONOR meeting @peteedochie. Happy Birthday once AGAIN @elizabethjackrich."
Watch the video below,
"The Lord Showed Me Yul Edochie Marriage Been Restored With May Edochie" – Prophet Reveals (Video)
A Nigerian prophet named Abel Boma has transmitted the revelation he received from God regarding the union of Yul and May Edochie.
Yul Edochie's marriage saga has been circulating on various social media platforms with unverified rumors that his marriage to his first wife had been annulled, which has been denied by Rita Edochie.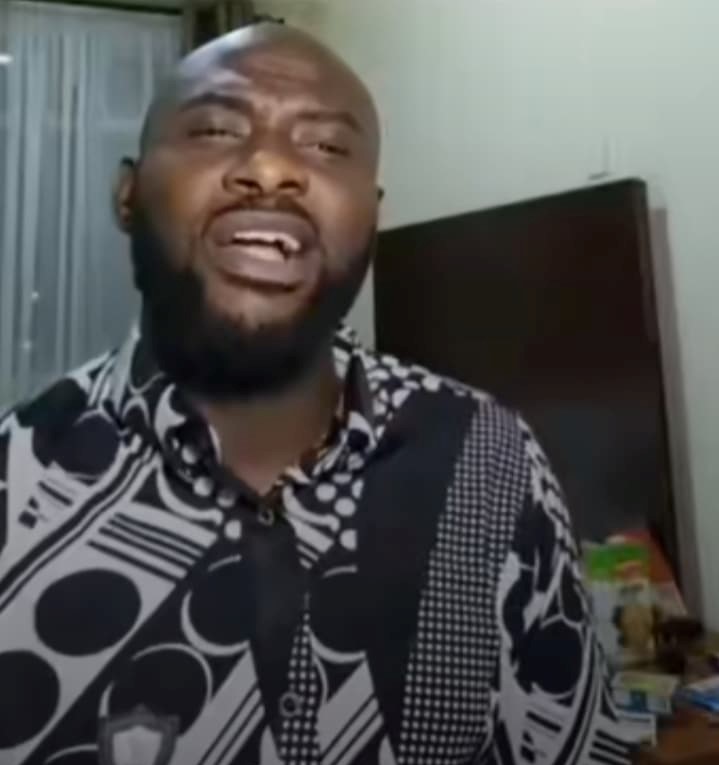 The Prophet also urged people not to interfere in Yul Edochie's marriage because they are the ones causing trouble for the couple.
He pointed out that since the troubles in their marriage began, God has promised to restore whatever was lost in the marriage.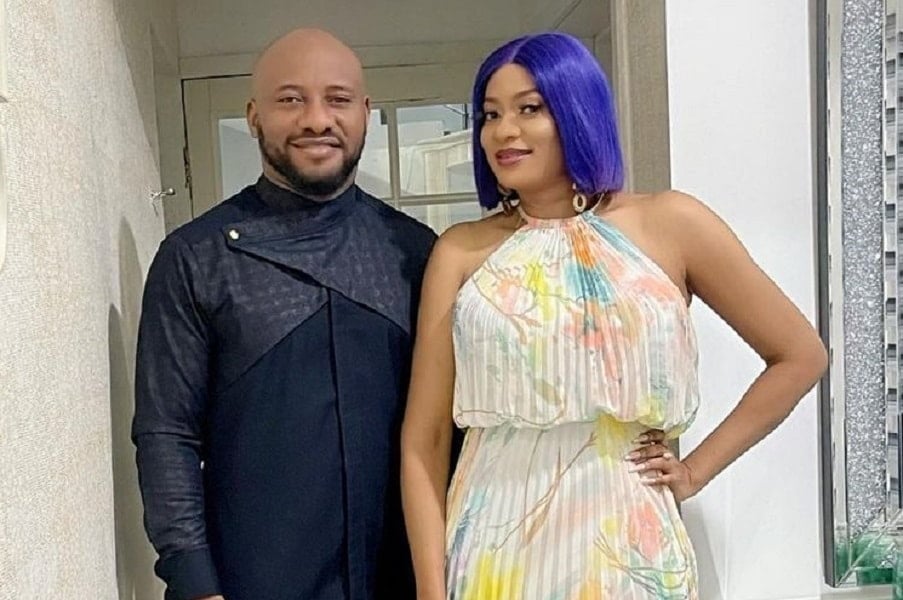 Watch the video below,