"Post Your Wedding Photos Too" – Netizens Drag Actress, Judy Austin Over Message To Newlywed Colleague, Nkiru Sylvanus (Video)
Nollywood actress, Judy Austin, has been heavily criticized by netizens for her congratulatory message to her veteran colleague, Nkiru Sylvanus.
The veteran actress, Nkiru Sylvanus, and her husband, Riches Sammy, got married on Sunday, January 15th, 2022, in a star-studded church ceremony.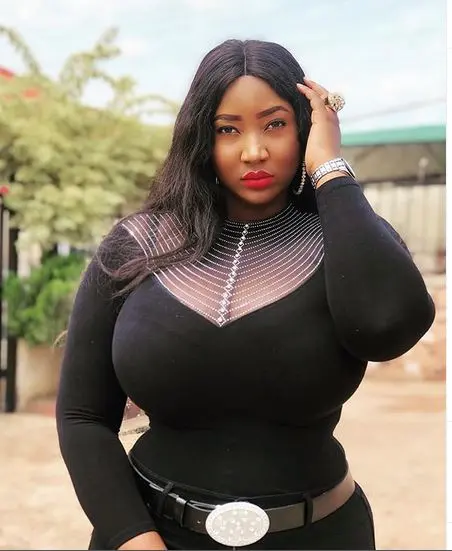 As fans, friends, and colleagues congratulated the newlywed couple on social media, the controversial actress, Judy Austin did the same, but her gesture didn't seem to go down well with social media users who were critical of her since she was revealed as the second wife of actor Yul Edochie.
Taking to her official Instagram page, Judy Austin shared a video of Nkiru Sylvanus's wedding ceremony and prayed for the blessings of their union.
"Your home is blessed beautiful bleble @nkirusylvanus_real. You made such a beautiful bride. Congratulations dear." She captioned the video.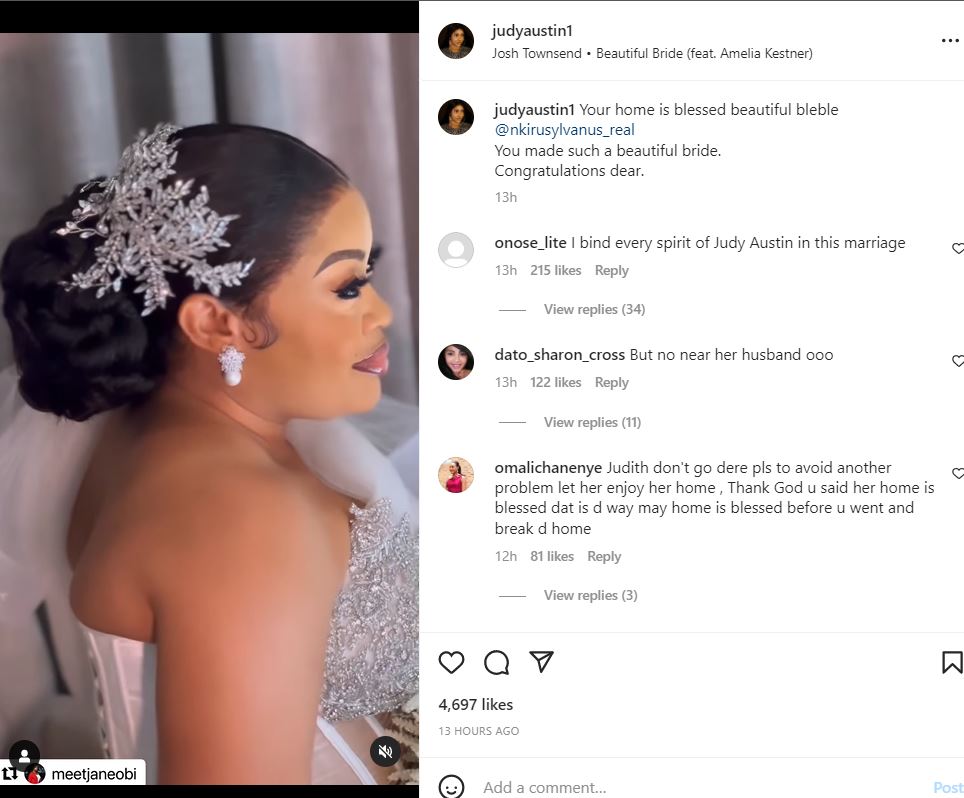 After the innocuous post, Judy Austin – who has been the target of social media trolls since her marriage to Yul Edochie – received a barrage of hateful comments, warning her and her likes to stay away.
An Instagram user wrote, "I bind every spirit of Judy Austin in this marriage".
@omalichanenye, "Judith don't go dere pls to avoid another problem let her enjoy her home, Thank God u said her home is blessed dat is d way may home is blessed before u went and break d home".
@zaritheablelady, "Judy where are your wedding pics to Yul?"
See more comments below,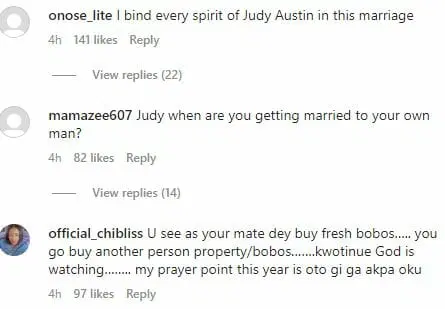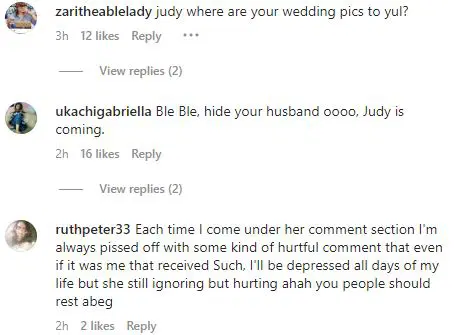 Actor Bolanle Ninalowo Steps Out With His New Girlfriend, Damilola Adegbite, Three Months After Divorce (Video)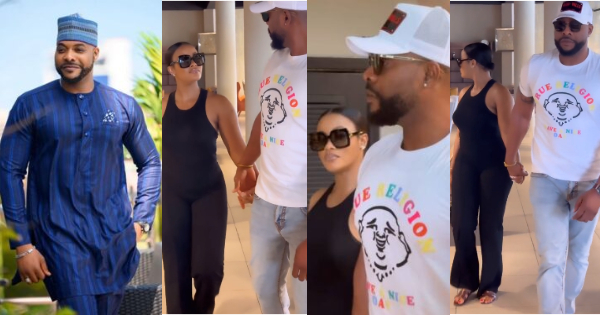 Bolanle Ninalowo Girlfriend
Popular Nollywood actor, Bolanle Ninalowo, has been in the headlines again as he steps out with his new girlfriend, actress Damilola Adegbite, just months after he announced his separation from his wife.
Keep in mind that the duo had recently sparked dating rumors after the handsome actor shared a series of posts about the beautiful actress. He first posted a cute photo of the curvy movie star on his official Instagram page and asked his followers to tag her.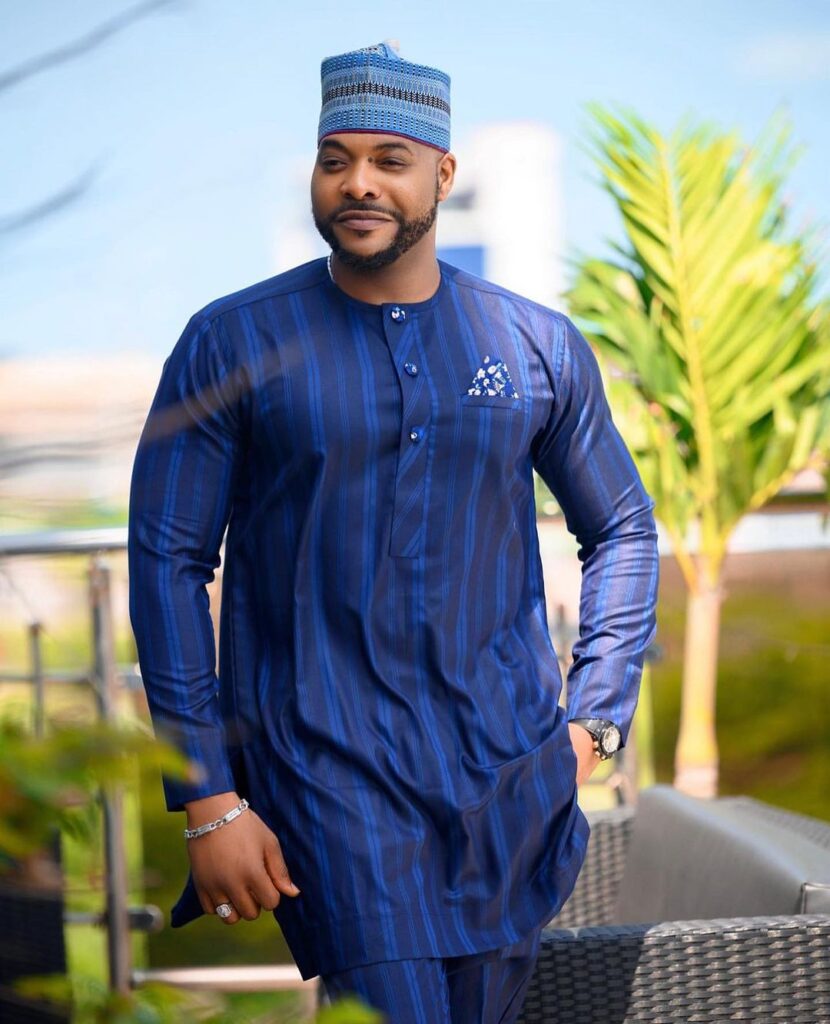 While that wasn't enough, the Nollywood actor, whose marriage collapsed just three months ago, shared a video of them working out together in the gym, further fueling speculations that they are dating.
However, 43-year-old Bolanle Ninalowo took to his Instagram page moments ago to once again share a new video of him and the 38-year-old actress hanging out together.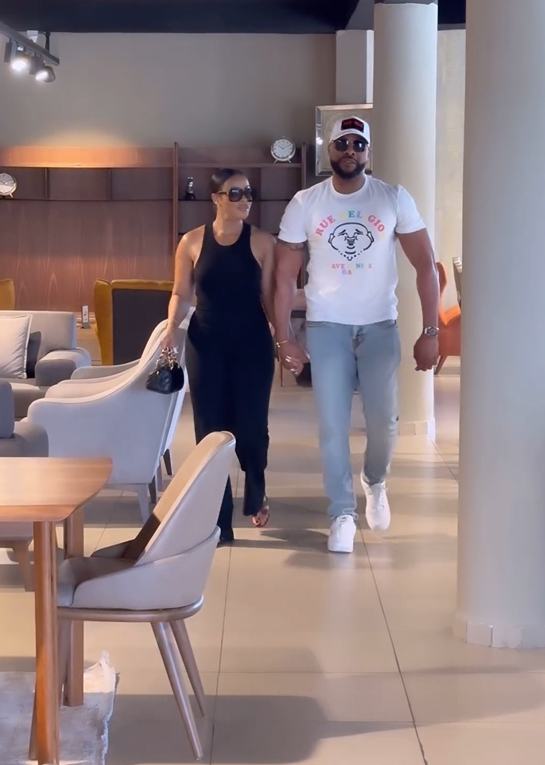 He captioned it,
"That hateful energy – too pricy!
Love dont cost a thang 
#LovePeaceAndLightOnly
Maka "
His recent video sparked discussions on the internet, with some social media users expressing disappointment in Bolanle for moving too quickly from his failed marriage, while others expressed doubts about his new love, suggesting it may be "a promotion for a new project".
Read some of the comments below,
@annigoh9 wrote: "Childish to be posting videos upandan… Una fit still Dey on low-key. I sha know say e go end in premium tears
"
@badtbishop wrote: "Keep your shiis out of social media young man, must you post? 2 months outside, you are already parading another lady. Now you're being seen as the real problem of your past marriage and it's unfortunate. Your insensitivity and that of Tinubu and Buhari speaks volumes
"
@joju_makeovers wrote: "This must be a movie But if it is not 
Love them together"
@chiomacontagious wrote: "I won't judge your life oo… but listen guys… staying with a man when he had nothing doesn't guarantee a happy ending…. I could remember how you held your wife and always told us how much she stayed and supported you when you had nothing
anyways you and your new bae look so good together"
Watch the video below,
13-Year-Old Emmanuella Causes A Stir As She's Captured Driving A Big Truck (Video)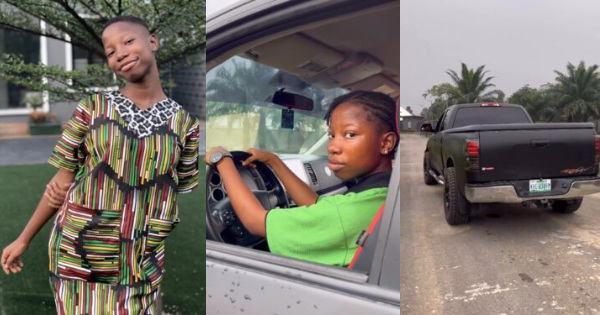 Emmanuella Truck
Kid comedienne and actress, Emmanuella, has caused quite a stir on social networks after she was filmed behind the wheel of a big truck.
Emmanuella, who rose to fame online through comedy skits, shared a video on her official Instagram page in which she confidently drove a large black truck.
The 13-year-old, who recently built a house for her parents, bravely turned the steering wheel with a serious expression and sped away.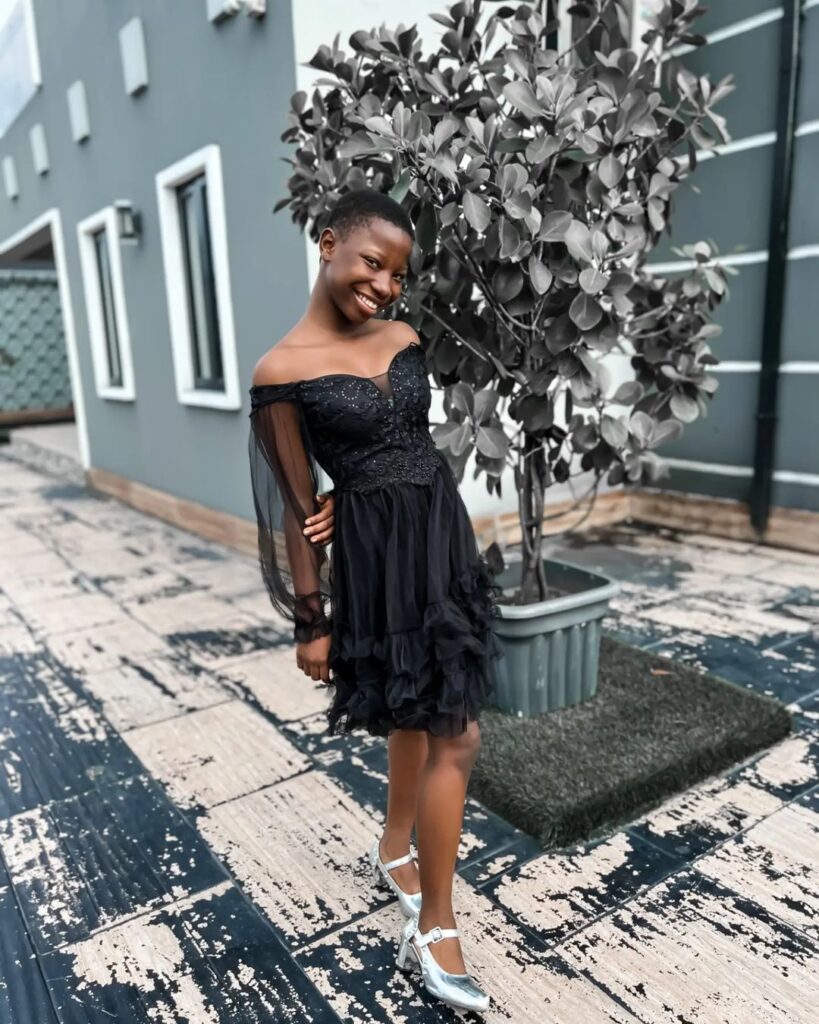 The young comedienne simply captioned the video, "Good Morning," while the viral song "Raise Am" played in the background.
The video sparked a wave of reactions from social media users who were surprised to see the former little girl boldly driving a vehicle.
However, some social media users expressed doubts and believed that the video might have been edited.
Read some of the comments below,
@infinitybuzz_79 wrote: "So you wan even drive you no look for your size na truck wey WRESTLERS dey drive you go carry 
"
@dotkay2010 wrote: "She's old enough to drive now. You are all very old 
"
@diekolawlah wrote: "Chaii and I never hold steering
 not to talk of I should press brake"
@legacy_izunco_official wrote: "Hit the button if you somehow still doubt she actually drove the truck, abi na editing.
"
Watch the video below,
Crossdresser, Jay Boogie Reacts To Allegations Of Lying And Scamming Nigerians With Fake Medical Diagnosis (Photos)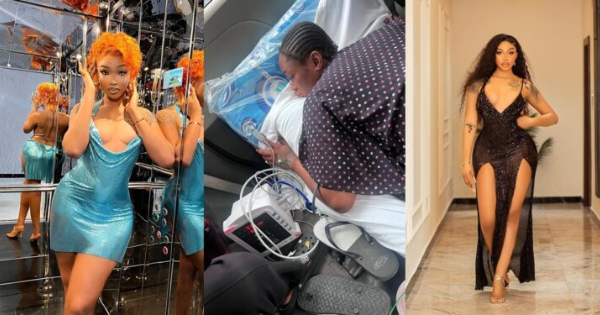 Jay Boogie Reacts
Nigerian crossdresser, Daniel Nsikan, better known as Jay Boogie, has responded to allegations of lying and defrauding Nigerians with a false medical diagnosis.
Jay Boogie has made headlines several times recently after going public about his health. He had revealed that he had undergone botched liposuction which had resulted in sepsis and acute kidney injury. He then applied for financial support for his medical treatment.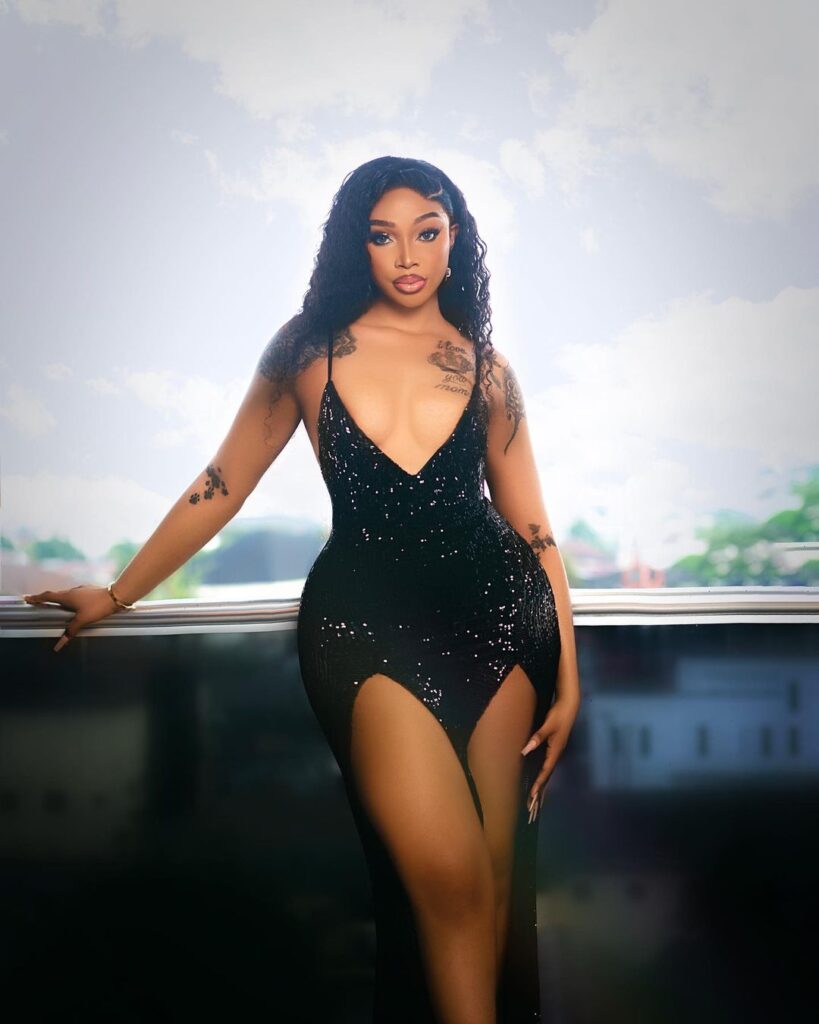 A supposed doctor friend later revealed that both of Jay Boogie's kidneys had failed and he would need a kidney transplant as soon as possible.
But days after the revelation, one of the GoFundMe organizers raised concerns about the authenticity of Jay Boogie's diagnosis and said he had refused to provide a medical report. She also announced that the funds would be returned to the public.
However, the crossdresser has now responded in a statement that he published on his official Instagram page. He clarified that he never said he needed a kidney transplant, but simply asked for financial support for the treatment.
He denied claims that he lied and misled the public for money. Jay Boogie gave an update on his health and announced that he was discharged on November 28th. He added that he no longer needs dialysis and is recovering.
Read his full post below,