Netizens Scold BBNaija Star, Uriel For Eating 'Swallow' With Glove, She Responds (Video)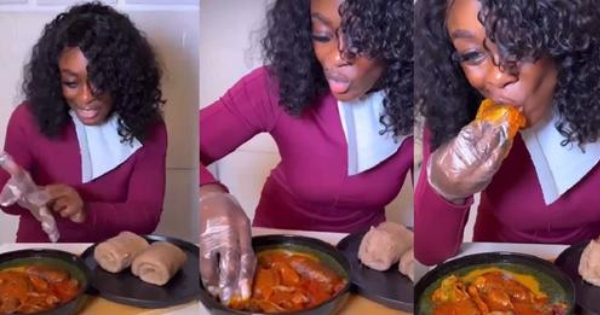 A video of a popular reality TV star, Uriel Oputa eating 'Swallow' while wearing a glove has caused a huge stir on social media.
The Former Big Brother Naija housemate and chef recently shared a video of herself devouring what appeared to be a plate of amala and ewedu soup on her Instagram page.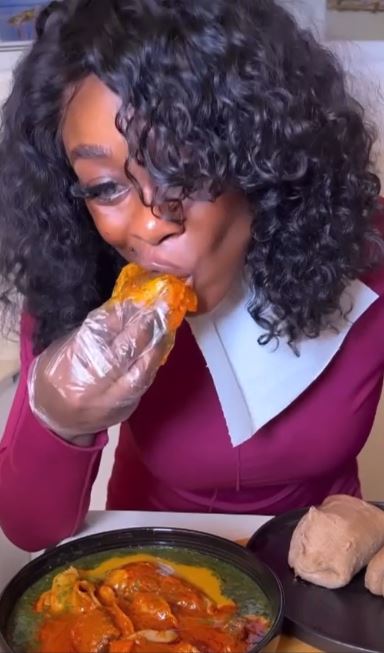 In the video that has already been making rounds on social media, Uriel Oputa, who had artificial fingernails on, ate her meal while wearing a nylon glove on her hand.
Many Nigerians found the idea of eating with a glove bizarre and didn't hesitate to drag her to filth.
An Instagram follower @shades_of_grains wrote: "Common girl! You lost my respect today (my respect might mean nothing to you) but being fake is not it!!! Cutlery would have sufficed!!!"
@enjay__masseuse wrote: "And you think this is healthy? Spoon or fork would have been better".
@maryann_jm wrote: "If she uses her hand now you guys will complain about the nails
she uses glove again, you guys are still complaining oga ooo".
@mzjessyfab wrote: "Should have just use spoon nah, not that gloves abeg."
@zenzaragold wrote: "What nonsense is this, disrespecting food, mtchewww".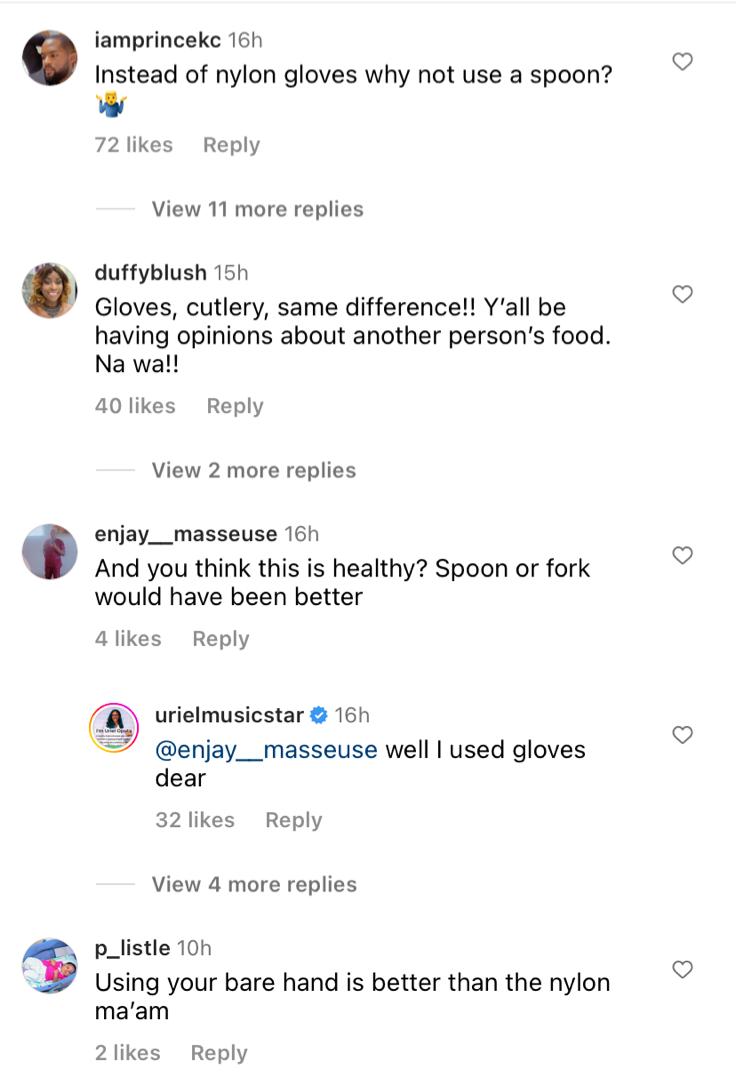 However, while responding to one of her followers who suggested that she should have used cutlery instead of a glove, Uriel clarified that she was wearing an eating glove.
"It's food gloves and I have long nails. Thank you dear", she wrote.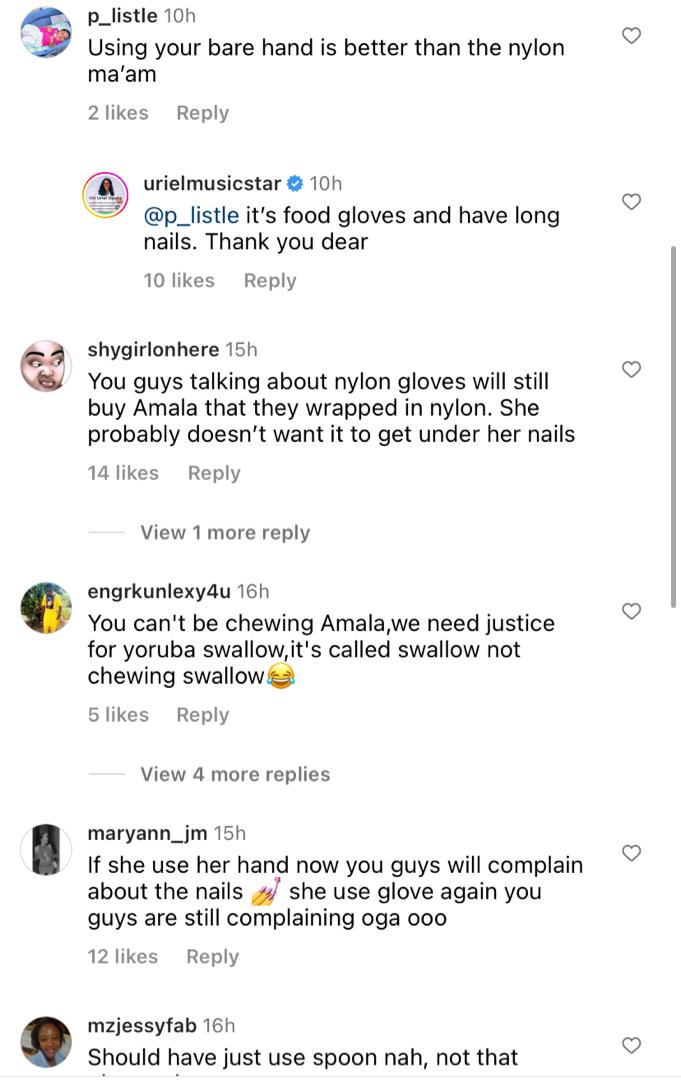 watch the video below,
Ex-BBNaija Star, Joseph Ada Is Dead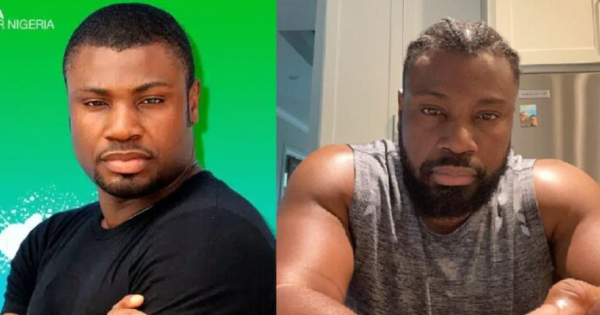 Joseph Ada, a former housemate on the Big Brother Nigeria reality TV show, now popularly known as BBNaija, has died.
Joseph, who participated in the first edition of the BBNaija show in 2006, is believed to have died on Wednesday, May 24 in Delare, USA.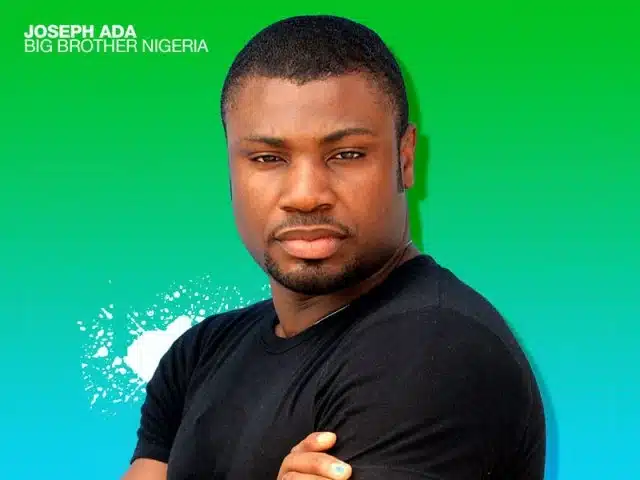 He was diagnosed with pancreatitis, which led to his early death. Joseph Ada, a former flight attendant with Virgin Atlantic, had relocated to the United States after the show.
He appeared on the reality show in 2006 alongside other housemates such as popular media personalities, Ebuka Obi-Uchendu, Maureen Osuji, and Gideon Okeke.
Earlier today, Big Brother Naija star and entrepreneur, Tacha, took to social media to express her excitement after first meeting with veteran actors, Pete Edochie, Kanayo O. Kanayo, and Victor Osuagwu.
The reality TV star recently met the Nollywood legends at the 40th birthday dinner party of Elizabeth Jack-Rich, the wife of billionaire Tein Jack-Rich.
Tacha, who attended the birthday dinner as a valued celebrity guest, met with the legendary actors during the event.
Overjoyed, the Big Brother Naija Star took to her social media page to share a video of her exchanging pleasantries with them.
In the video, Tacha can be seen asking Pete Edochie for a photo and praising the 76-year-old actor for his timeless looks. She also expressed her admiration for Kanayo O. Kanayo, mentioning that she grew up watching him on screen as a child and was fascinated by his youthful looks. (Watch the video here)
American Rapper, Cardi B Reacts To BBNaija Mercy Eke's AMVCA Outfit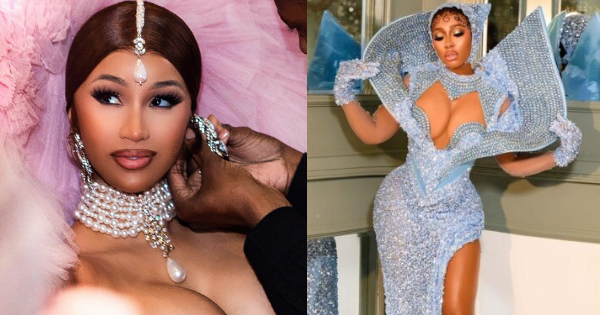 American rapper, Cardi B, has praised Big Brother Naija star, Mercy Eke's look at the 2023 Africa Magic Viewers Choice Awards (AMVCA).
The 9th edition of the Africa Magic Viewers Choice Awards (AMVCA) took place in Lagos on Saturday evening, 20th May. The glamorous event brought together many celebrities from the entertainment industry, all elegantly dressed in mesmerizing and exquisite fashion ensembles.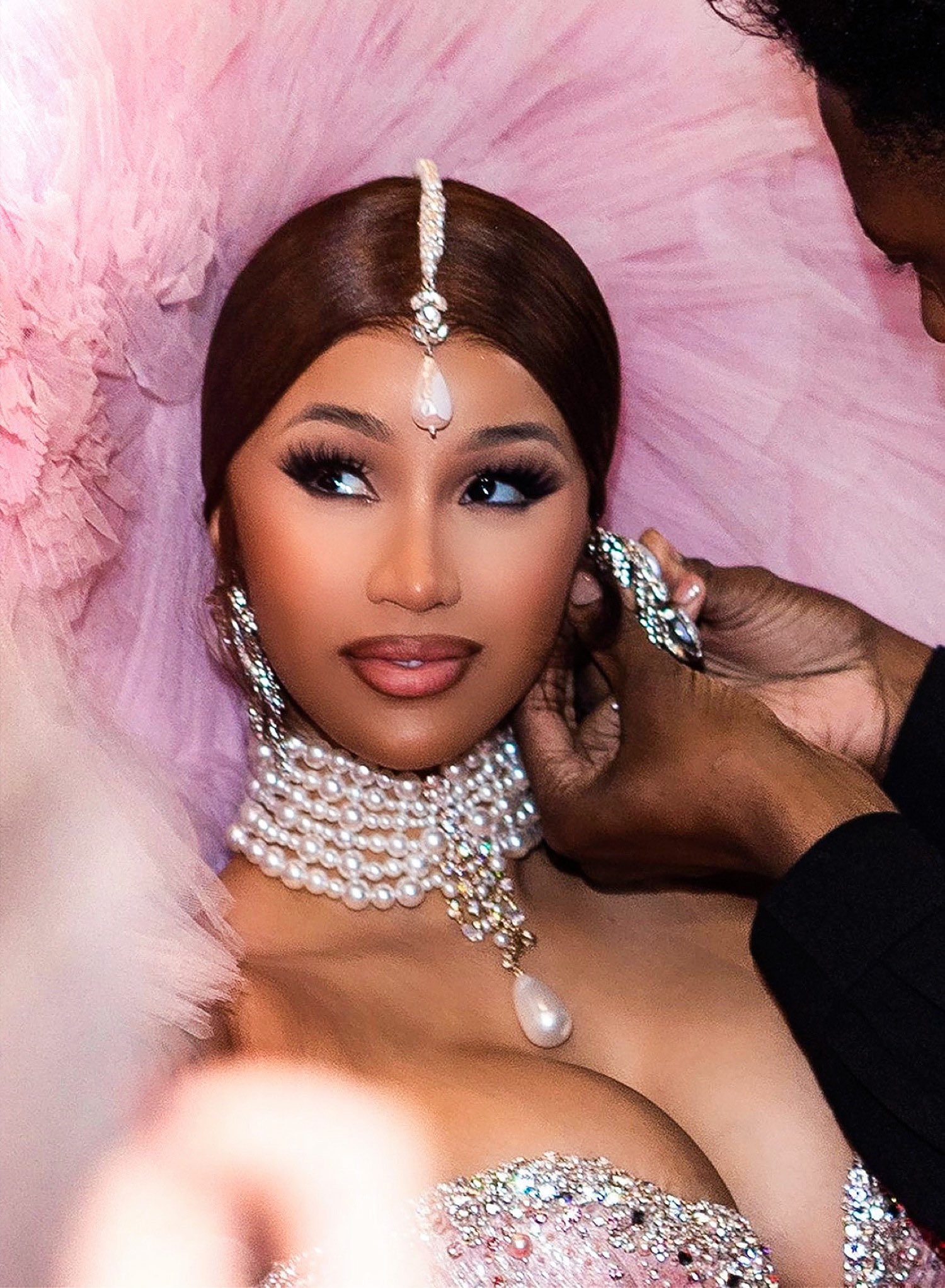 Reality TV star and entrepreneur, Mercy Eke recreated a look of American rapper Cardi B for the event, and she looked stunning.
Without a doubt, the Big Brother Naija season four winner was the center of attention in her stunning stone blue caped dress.
Interestingly, the dress caught the WAP singer's attention and she took to her Instagram Stories to express her admiration.
American rapper, Cardi B, has praised Big Brother Naija star, Mercy Eke's look at the 2023 Africa Magic Viewers Choice Awards (AMVCA).
She shared a photo of Mercy Eke wearing the dress and commented that she absolutely nailed the look.
See her post below,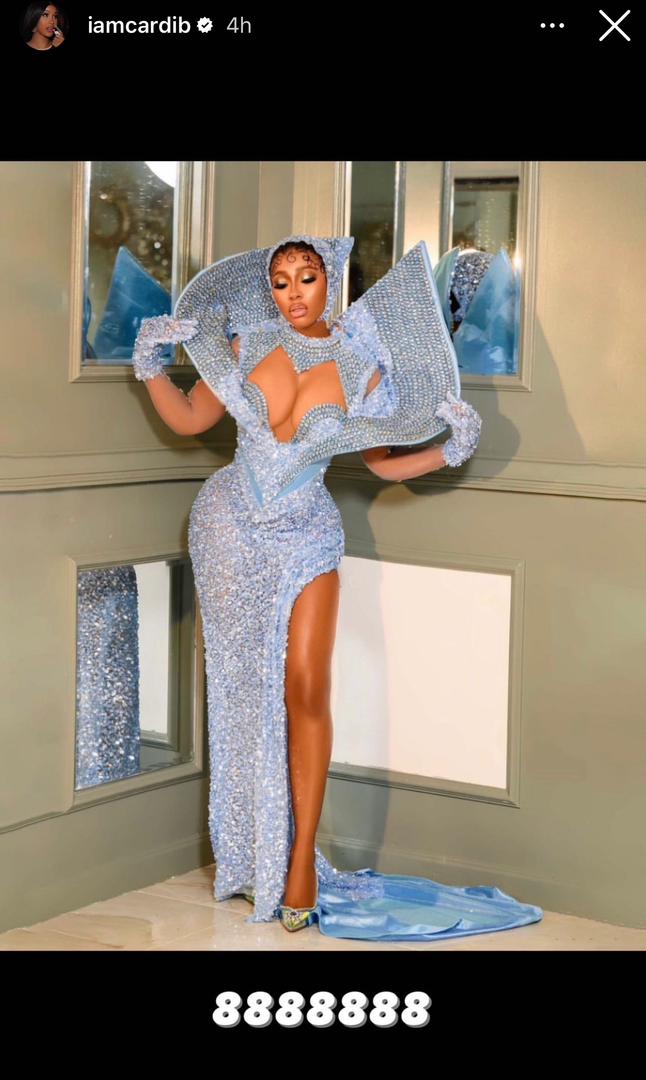 Watch As BBNaija Star, Ka3na Broke Down In Uncontrollable Tears During Her Husband, Mr. Jones' Funeral In London (Video)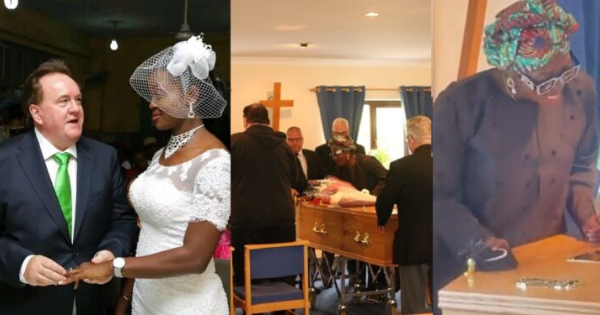 Big Brother Naija star and entrepreneur, Ka3na Jones is currently mourning the reported death of her Caucasian husband, Mr. Jones.
Although details of the incident reaching us at the moment are still unclear, it is said that Mr. Jones has been buried in London, United Kingdom.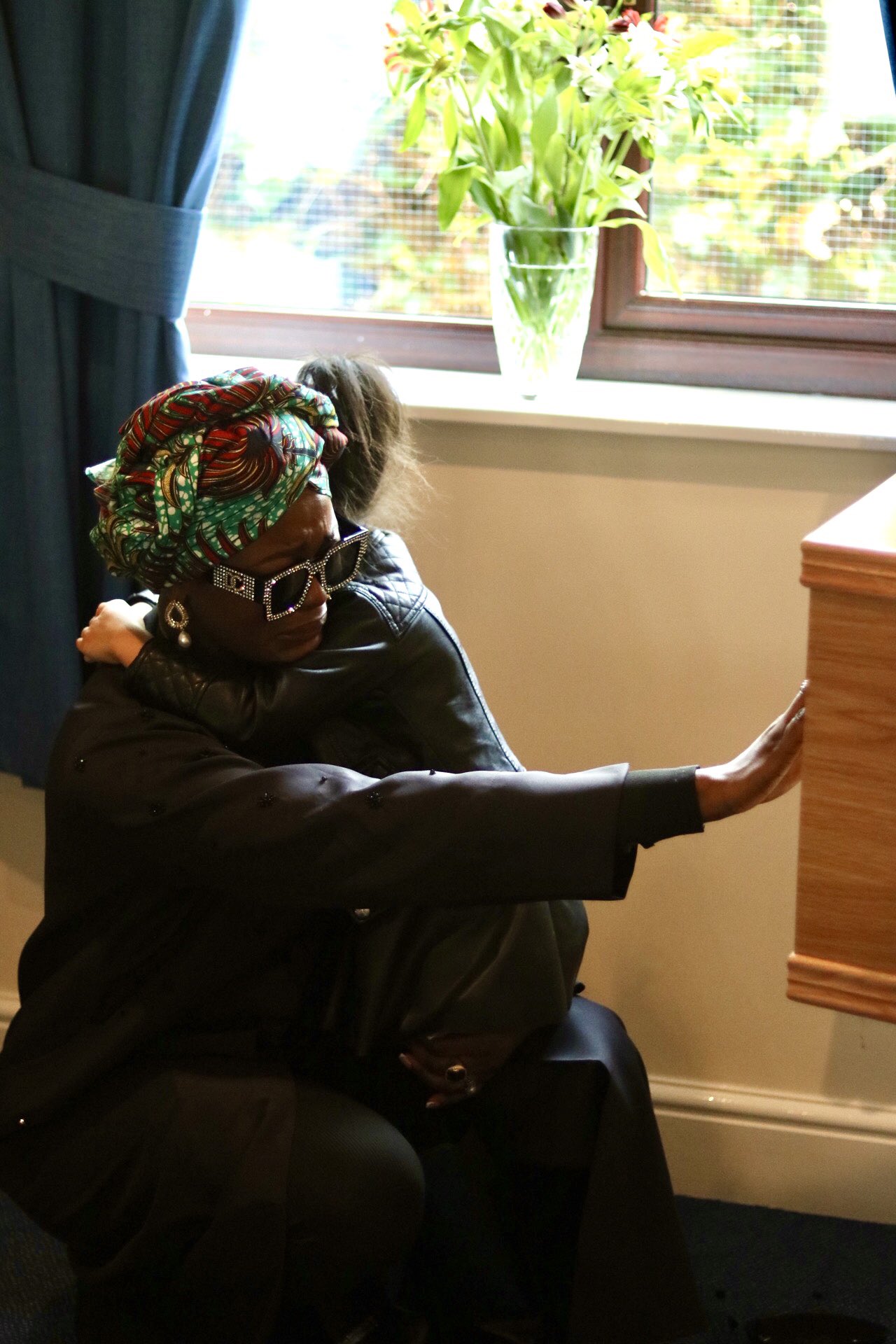 A video from the burial has surfaced on social media, capturing the heartbreaking moment the mother-of-one bursts into uncontrollable tears during the ceremony.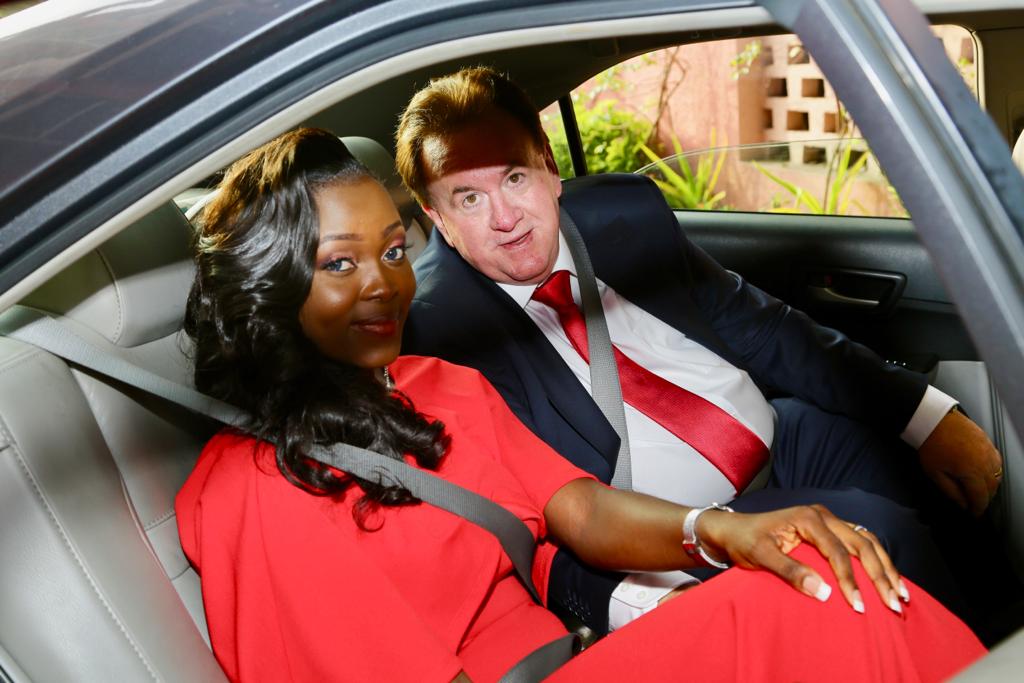 It is worth recalling that Ka3na and Mr. Jones got married in 2015 and have a child together. The self-proclaimed boss lady has not been seen on social media for some time and has not yet responded to the news of her husband's death.
Watch the video below,