Singer Zlatan Ibile Reacts To Reports That Segun Wire Has Gone Back To The Streets Begging
Popular Nigerian singer and rapper, Zlatan Ibile, has responded to viral reports that Segun Wire has returned to the streets to beg.
Bear in mind that it all started when an Instagram user @oreinlofty called out Zlatan Ibile on social media and claimed he used Segun Wire to make money and then left him.
Ore used his Instagram page to also post a video of Segun walking around the streets, and wrote;
"Zlatan IBILE na bastard, so na FAKE LIFE him dey make this boy live for INSTAGRAM???!! I met the innocent boy HOVERING on STREET and his Street friends confirmed it.
Zlatan IBILE is only using the boy for his personal pocket… The poor boy looks dirty and unkempt on STREET… Begging for common food to eat from people on STREET…
I actually gave him a little change from what I've got!! I swear this is not fair on the boy and his family, his elder brother looked the same, confirming it that @zlatan_ibile only comes from time to time to carry him away whenever he needs him to make money, money he won't share with him (Segun) at the end.
So if people think this @segun_wire boy is living a life of GLAMOUR I swear you are f*cking mistakes!! Shout out to all those bastards that make people think they are helping the helpless through social media while in real life, it's all BULLSHIT"
Now Zlatan Ibile has responded to that call, tagging Ore as an unscrupulous element, someone who is just trying to smear Segun's brand and Zlatan's name.
He shared a video of Segun at his school and a video of Segun's mother debunking rumors that her son has started begging again…
Zlatan also showed off Segun's school fees receipt.
He wrote;
"#SEGUNWIRE In appreciation to those who showed concern regarding the brand Segun Wire, we say a very big thank you for the consistent support. "
"However, addressing the controversial issues which went viral last night got a lot of people speculating out of ignorance. I would inform you all that Segun Wire is in good hands. "
"He went over the weekend to spend time with the mum which gave chance for an ignorant nuisance seeking for 30 minutes fame to do that, but we promise with immediate effect of the boy's security against such shenanigans to ever repeating itself. "
"Furthermore Zlatan Ibile's brand has done nothing more but show support to a boy who's not even his siblings by rendering it upon himself to take care of his education without anybody's support, which he is still doing regardless. So one seeking fame trying to bring another man's reputation down isn't healthy. "
"Segun is currently in school developing himself in education with all standards of expanding further than the street identity. "
"So please people let the boy be so he can focus. And we would like to assure you that the brand-coded records entertainment in conjunction with Zlatan Ibile is working with Segun wire's school to improve the boy further. "
"That's all it is, God helps the boy with the 30-minute fame. At least Segun Wire's brand has assisted the needy in trending to his delight. Now we move to more exciting projects coming up."
"Unilorin are you ready Segun Wire is going to be live Dec 1st at the event with Kunbi black? Blessings."
"You're Old Like My Grandfather" – White Lady Responds To Carter Efe's Proposal (Video)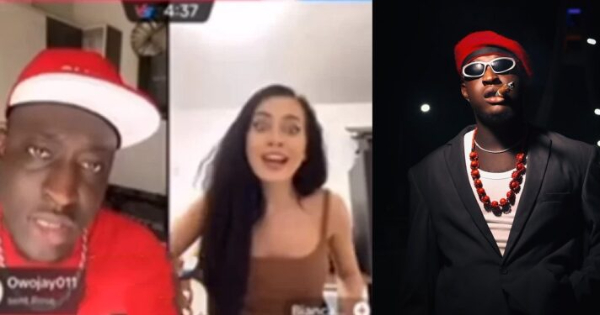 A Caucasian lady has shocked Nigerian content creator, Carter Efe, with her reaction when he tried shooting his shot at her during a live chat on Tiktok.
She said yes when the content creator asked her to marry him, adding that he reminded her of her grandfather.
Carter Efe yelled and cursed her in Yoruba while the two were talking, and continued by inquiring as to what she meant by it.
He asked; "Can you marry me"
She replied by saying that even though she has no issues with him getting married, it probably wouldn't happen because he is an elderly man.
"Yes, but you are like my grandfather," she said.
"Which kind talk be that, why do you say I look like your grandfather?" he queried.
Watch the conversation below,
BBNaija Star, Tacha, Excited As She Meets Veteran Actors, Pete Edochie, Kanayo O. Kanayo For The First Time (Video)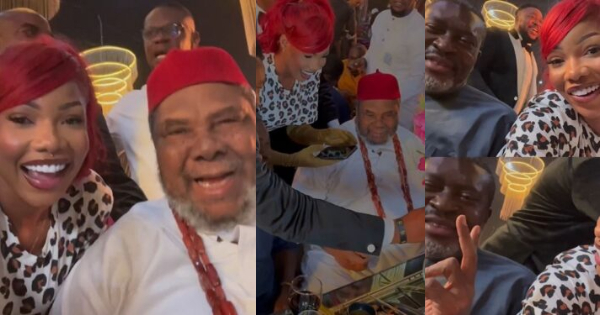 Big Brother Naija star and entrepreneur, Tacha, has taken to social media to express her excitement after first meeting with veteran actors Pete Edochie, Kanayo O. Kanayo, and Victor Osuagwu.
The reality TV star recently met the Nollywood legends at the 40th birthday dinner party of Elizabeth Jack-Rich, the wife of billionaire Tein Jack-Rich.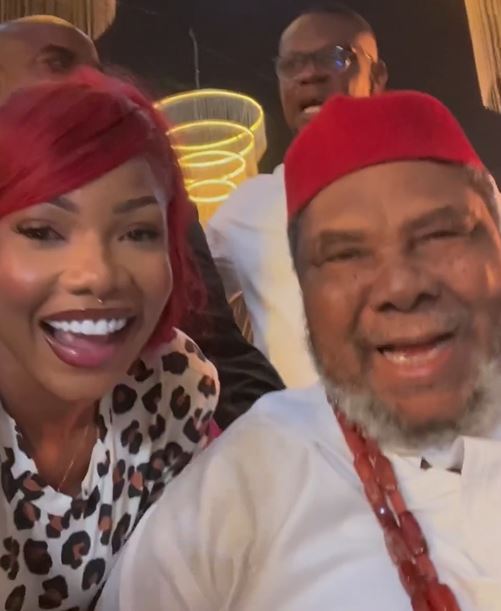 Tacha, who attended the birthday dinner as a valued celebrity guest, met with the legendary actors during the event.
Overjoyed, the Big Brother Naija Star took to her social media page to share a video of her exchanging pleasantries with them.
In the video, Tacha can be seen asking Pete Edochie for a photo and praising the 76-year-old actor for his timeless looks. She also expressed her admiration for Kanayo O. Kanayo, mentioning that she grew up watching him on screen as a child and was fascinated by his youthful looks.
Captioning the video, she wrote,
"Not YOUR REGULAR BIRTHDAY!!! It was such a great HONOR meeting @peteedochie. Happy Birthday once AGAIN @elizabethjackrich."
Watch the video below,
"The Lord Showed Me Yul Edochie Marriage Been Restored With May Edochie" – Prophet Reveals (Video)
A Nigerian prophet named Abel Boma has transmitted the revelation he received from God regarding the union of Yul and May Edochie.
Yul Edochie's marriage saga has been circulating on various social media platforms with unverified rumors that his marriage to his first wife had been annulled, which has been denied by Rita Edochie.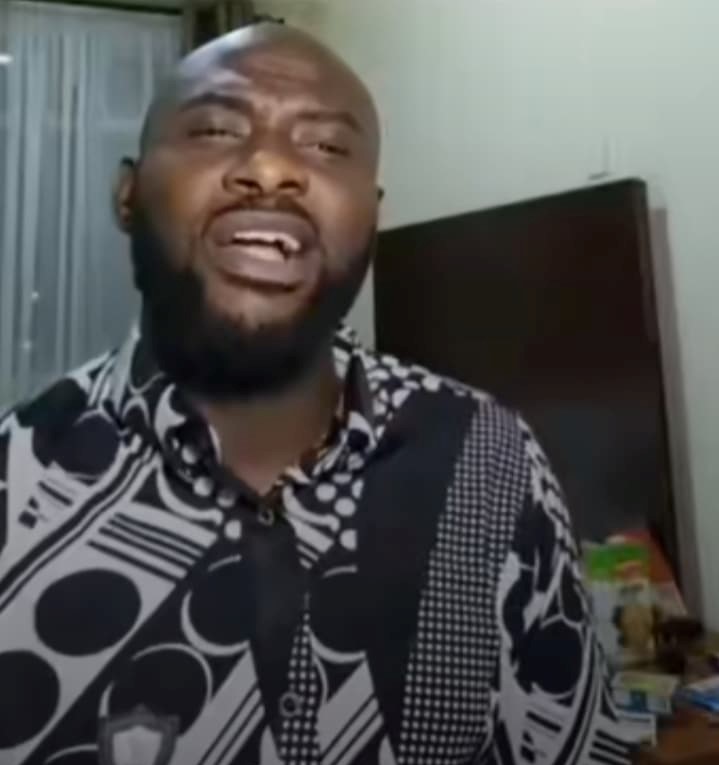 The Prophet also urged people not to interfere in Yul Edochie's marriage because they are the ones causing trouble for the couple.
He pointed out that since the troubles in their marriage began, God has promised to restore whatever was lost in the marriage.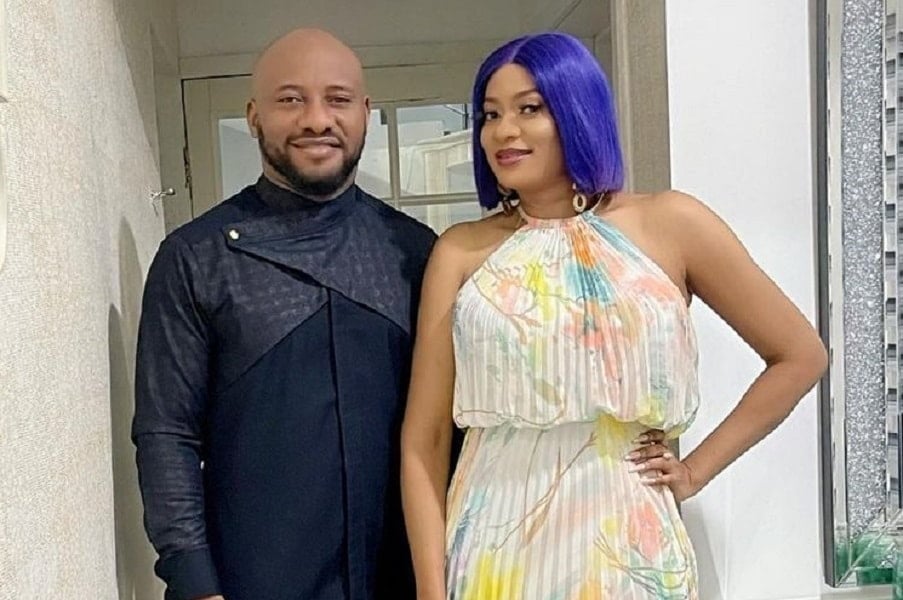 Watch the video below,