A popular video on social media captures the shocking moment a groom slapped his bride on their wedding day in front of their guests.
In the trending video, the couple exchanged their wedding vows in front of the acting minister when the groom leaned in to kiss his bride.
She hesitated, however, refusing to lift her head to accept his kiss. The groom impulsively hit the bride in the presence of the minister and their wedding guests.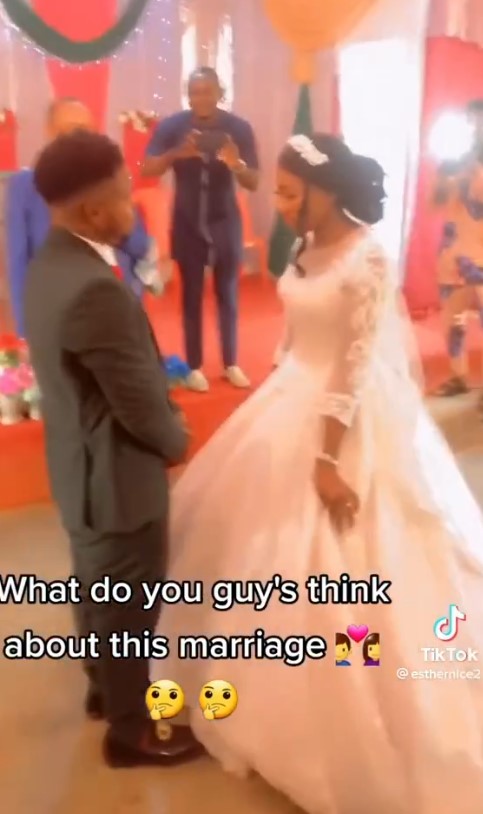 The video has since sparked major controversy on social media, with internet users expressing outrage at the groom for assaulting his bride during their wedding ceremony.
However, some internet users have claimed that the acting minister told the groom to hit his bride to test her endurance level.
See how some of them responded below,
@vivianfelix wrote: "Even if it's a joke, play, skit, cruise… I will save our faces and patiently wait for the wedding to finish, oga I dey go my papa house
"
@miriam.jacob wrote: "Na there and then I go divorce, but I'm sure she has seen the red flag before now
some of them love it though like this."
@xojeme wrote: "Very soon she'd come and start showing us videos of her blue and black eyes on Instagram. All the signs dey show now but na till you don almost die before you go gree comot. Hope they don't bring kids into this nonsense, if she wants to suffer let her suffer alone"
Another IG user wrote: "Na the pastor say make him slap else why they all laughed afterward"
Watch the trending video below,