A trending video shows the moment a Nigerian lady, identified simply as Grachi, was caught with her friend's boyfriend in a hotel room in Port Harcourt, Rivers State.
Grachi reportedly visited her friend's boyfriend unbeknownst to her to "comfort" him after she found out he lost some money.
Unfortunately for her, the man's girlfriend got wind of her plans and stormed the hotel to confront her with other ladies.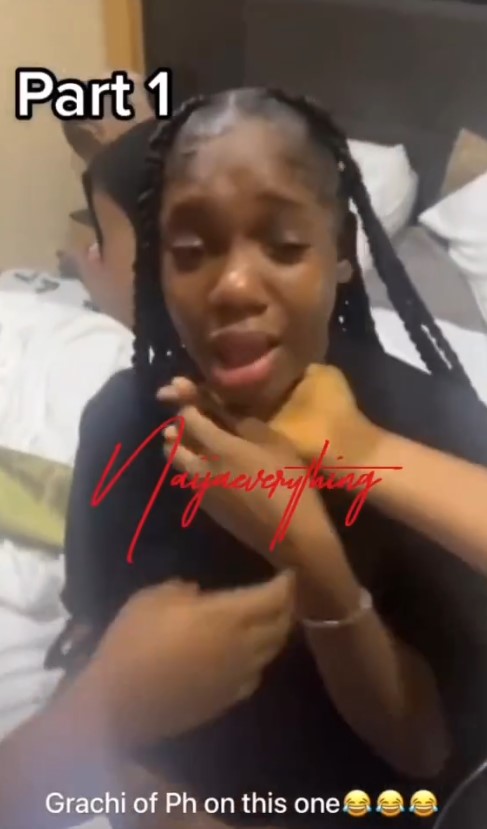 In the trending video, the ladies were seen embarrassing Grachi for going behind her friend's back to visit her boyfriend undercover to "comfort" him.
They also claimed that Grachi lied to her own boyfriend that she was going to visit her female best friend. She was seen crying profusely in the video as a man believed to be the boyfriend they were fighting over, was pressing his phone on the bed.
Watch the video below,
In other news, a video circulating on social media has captured the moment a Nigerian man deliberately prevented his girlfriend from showing him off.The lady and her boyfriend were lying in bed while she shot a short video of herself and decided to feature her boyfriend in the video.
The young man, who was initially unaware that his girlfriend was trying to capture his face in her video, was stunned when he realized it.
He screamed and quickly turned off the light in the room and everywhere went dark.
The lady then asked him why he turned off the light since he is her boyfriend but the video ended before he could reply. (Watch the video here)